Guess what? Which type of rubbish is this innovative material made of?

Malàkio is a young company specialising in upcycling waste for the design- and architecture sectors. Join the guessing game to find out what kind of trash it recycles and repurposes.
Instead of using new materials, French company Malàkio wants to focus on resources that are already available. Founded by Hugo Kermarrec and Morgan Guyader, the company recycles a kind of waste material that's hardly ever been recycled before. You might be able to figure out which one by reading the following clues. All will be revealed afterwards.
Guessing game
The component we're looking for can be found all over the world. Malàkio, however, gets it from Nantes, in Brittany. Sometimes as individual pieces, sometimes in huge quantities. But even if the company only has one piece of the material in their sights, the component we're looking for always has a better half. Its surface shimmers depending on the light, and its rounded, sometimes angular shape is a popular motif for coats of arms or the corporate logo of a well-known oil corporation.
The big reveal
You've probably already guessed it, but here comes the big reveal. Malàkio recycles shells and turns them into a composite material made of about 60 per cent recycled shells and 40 per cent mineral matrix. «In France, 250,000 tonnes of shells end up in incinerators or landfills every year,» says Co-founder and Sales Manager Hugo. With this in mind, the company has developed a process to recycle them. It sources raw materials from oyster farms as well as Breton restaurants and shreds them. After the shells are dried naturally, they're processed in Nantes. «Because each shell is shaped differently, there are numerous ways to process them and colour them with natural pigments.»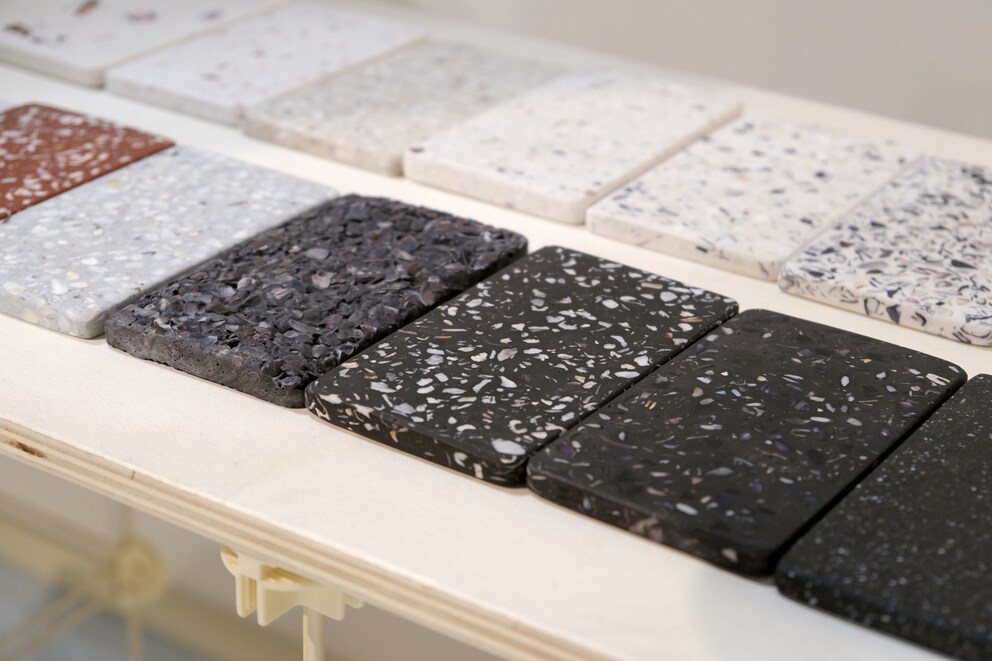 The specially developed low-tech process for drying the material only produces low CO₂ emissions. «Because we're in close proximity to the raw materials, we're able to produce unique objects or product lines using this composite material, and maintain a very low carbon footprint,» Hugo says. The MA01 lamp was the first object Malàkio designed in collaboration with Breton design company Ammó. Tables, vases, candleholders und other home accessories followed later. The material is also suitable for construction. Because of this, the designers are keen grow their local network and show others what responsible new design can be like. «We developed the process for this special composite material to spark ecological change in both design and architecture.»
This is the tenth instalment of the «Guess what?» series, in which you can use my clues to guess a design piece's «secret ingredient».
Header image: Pia Seidel
---



Like a cheerleader, I love celebrating good design and bringing you closer to everything furniture- and interior design- related. I regularly curate simple yet sophisticated interior ideas, report on trends and interview creative minds about their work.
---
---
---