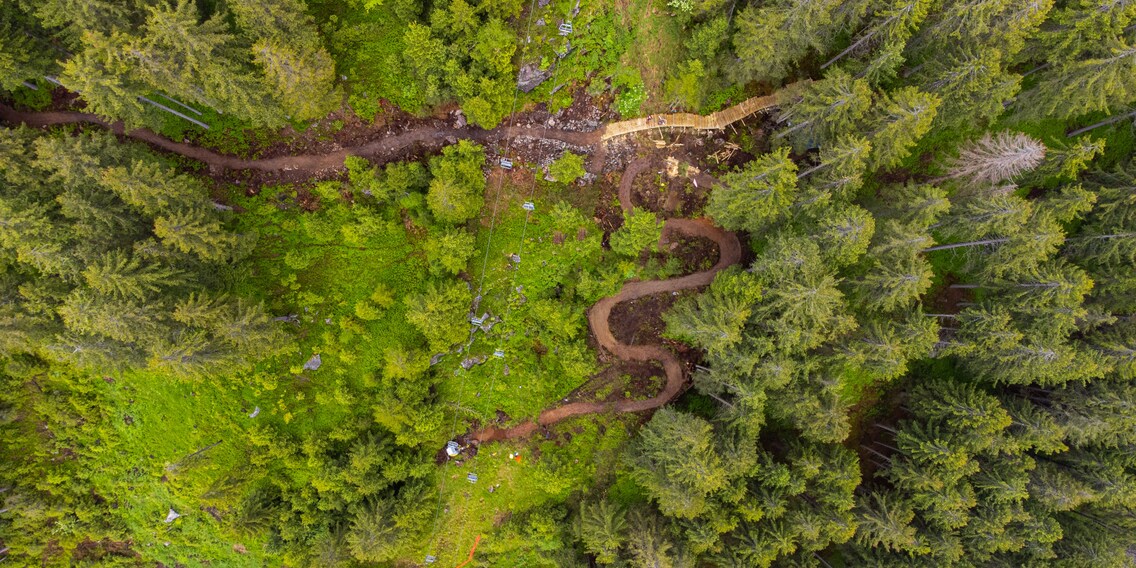 From planning to the finished MTB trail: two trail construction specialists explain how they apply Swiss know-how to tourist destinations worldwide

Allegra Tourismus has been supporting the development of various mountain bike destinations since 2003, and today the company from Engadine operates worldwide. The team not only advises its customers on planning the entire infrastructure, services and market positioning; it also takes care of the construction and maintenance of trails and hiking paths.
In the early 2000s, mountain bike tourism in Switzerland was still in its infancy, in contrast to countries such as the USA and Canada. In 2003, Darco Cazin from Engadine returned to Pontresina after a lengthy trip to North America, where, having been impressed by the mountain bike boom overseas, he founded the company Allegra Tourismus with his father Fadri.
One of the company's first customers was Livigno in Italy, which hired the Engadine-based firm as a consultant for the 2005 Mountain Bike World Championships. And Allegra Tourismus is still advising its customers worldwide today, while also planning the entire infrastructure for a destination or at a regional level, such as for the canton of Graubünden. The company can also take on the construction and, on request, the maintenance of trails and hiking paths. And Graubünden has progressed to become the number one biking canton in Switzerland over the last 20 years, in no small part thanks to Allegra Tourismus.
Biking is in the company's DNA
Allegra's current managing director is Domenico Bergamin. The father from Lenzerheide has held various positions in the tourism industry during his career, including as an interim director of tourism in Lenzerheide. The sports and business science graduate has been responsible for operational matters at the company for six months. I met the 41-year-old for a chat in his office in Zurich Wiedikon, a far cry from zippy single trails.
Domenico, do you only employ bikers?
If a person fits the job description, I'd hire them if they're not a biker. However, I don't think anyone would apply to work with us if they didn't have a connection to MTB. I think that's a given. Everyone in the company bikes, no matter whether they're a beginner or an advanced rider.
How would you sum up your company philosophy?
Ultimately, our aim is to enable people in the mountains to make a sustainable living through outdoor sports. Initially, Darco Cazin's passion was biking, but today we provide our customers with comprehensive support. We plan and build trails and also maintain them if required, but we also build hiking trails, develop master plans for tourist regions and authorities, design offers for different target groups and help our customers to understand what bikers want in their free time or on vacation.
And what are bikers looking for on holiday?
First and foremost, a scenic experience in nature. That's clear from multiple surveys. It doesn't matter whether you're a biker, hiker or trail runner: everyone's looking for the same thing. The entire Alpine region offers a great experience. On the one hand, that's great, but, on the other, it makes individual destinations interchangeable. This makes a varied network of paths particularly interesting for cyclists. Their main motivation is: where can I ride beautiful trails in a varied landscape?
What's the impact of the e-bike trend? Does it change the type of trails you build?
Generally speaking, it has no impact on trail building, because the handling on e-bikes is similar to that of models without electrical assistance. What is changing is the way in which, or the speed at which, an e-biker rides up the mountain. This sometimes leads to conflict with other people on the trail. As a result, we try to separate pure uphill and pure downhill trails.
Let's stay with the e-bike for a moment. It's a polarising topic. What do you make of the development in general?
In recent years, many trail centres have been built in the agglomerations of larger cities, where you can learn the basics of biking. It's all about learning basic techniques. Swiss Cycling, for example, is putting a lot of effort into getting people interested in riding courses before they get on a rental e-bike and set off in the summer holidays.
That can have fatal consequences.
Absolutely. E-bikes enable many people to get to places where they could never go under their own steam. But there's often a lack of relevant technique. You see it occasionally with tourists who rarely, if ever, ride a bike, renting a bike during their holidays and then getting stranded helplessly on the mountain.
What else is important to these people? Regardless of whether they're using pedal power or electrical assistance.
It's a question of where riders can be on the road and avoid as much conflict as possible. People who have been mountain biking for a long time, for example, will rarely go to Appenzell Innerrhoden. I've heard horror stories of farmers attacking bikers with pitchforks, barbed wire being stretched across paths, and more.
Separation: the solution to crowding?
There's increasing pressure on the alpine region. More and more people are cramming into the mountains in search of either relaxation or adventure, which means more and more stress on hiking trails and mountain bike trails. How can conflicts between individual user groups be avoided?
The magic word in recent years is separation, heralded as the panacea for this problem. Domenico Bergamin isn't wholly convinced. You can't completely separate all paths and keep them exclusive for the respective user group because there are hikers, riders, people with dogs, trail runners and bikers. Then there could be e-bikers, who would have different needs to organic bikers, gravel bikers and so on. It's almost impossible to separate everyone.
According to Domenico Bergamin, Allegra Tourismus takes a different approach. At the beginning, the priority is taking a holistic view of the space, whether it's an entire canton, a city or a village in the Alps. Which areas would need complete protection? Where would there be scope for people to stay? Secondly, they work to identify the most popular hiking and bike tours in the area.
The aim is to determine the needs of individual user groups as precisely as possible as early as the planning stage. Relying on the peaceful coexistence of different groups can often be quite feasible, but if there are paths which get crowded and, for example, bikers and hikers get in each other's way, this is where separation would come into play.
From Zurich to Schruns
Time for a change of scenery. A few weeks after my visit to the director of Allegra Tourismus in Zurich, I'm in Austria. The company is building some trails here for a new customer. They're pure MTB tracks, known as single-flow trails. This is the ideal time to get an impression of the work on site. The construction site above Schruns in Montafon is where I meet Allegra's construction manager, Colin Leutenegger.
Colin, we're sitting on a section of a trail that you have recently built and is due to open shortly. What challenges have you and your crew had to overcome here in Montafon?
The biggest challenge is definitely the terrain, as we often have to work in very steep areas. But trail building is pretty much all challenges (smiling).
Can you give me any examples?
For example, a section of trail we're building at the moment goes through an area that cows walk through all the time. I can't finish designing this area yet, otherwise the cows will keep eating away at the little flags I use to mark out the trail. So I have to keep the whole section in my head without being able to mark it out. This makes the work very tedious. As I said before, the biggest challenge is the terrain when you have to make a bend in a steep section.
Does it make a difference for you as a site manager whether you're building a trail in Switzerland or here in Austria?
As we have a branch in Innsbruck as well as our headquarters in Pontresina, we're very familiar with the local conditions. The same goes for the somewhat different legal situation. And our customer here, the Silvretta Montafon mountain railways, wants the same thing as our Swiss customers.
And what's that?
As a rule, they want a new tourist attraction on their mountain. Mountain railways have an interest in people buying a ticket, using their infrastructure and creating jobs as a result.
Are there still differences?
The special thing about Silvretta Montafon Holding GmbH as a customer is that, in addition to the mountain railways, it also owns many restaurants and hotels as well as bike rentals in the valley. This means that the new trails create more added value compared to purely mountain railway operators such as in Lenzerheide. Hotel accommodation, bike rental and dining bring in multiple times what a mountain railway ticket does.
Building a trail is one thing, but planning it is another. How long did it take until you could start up the excavators?
The initial planning for the project began in 2015. The following year, the first small skills centre for children was built here on the mountain. The big challenge then was talking to all the property owners involved and the various authorities. The customer managed this and received the building permits in 2017. It wasn't until 2021 that we got involved again. Then there were still some details to clarify due to various line choices before we were finally able to start construction work this spring.
Years of planning, rapid construction
All in all, Colin Leutenegger and his team are building three trails with different levels of difficulty over a distance of around seven kilometres on the mountain. From the simple flow trail for beginners to the advanced single trail with jumps for experienced bikers, there's something for everyone. The trails will be completed and opened in mid-August. The customer is then responsible for maintaining and operating the trails.
An interesting detail: in Switzerland, building a metre of trail costs between 50 and 100 francs, depending on the terrain on which it's built.
Speaking of building, I watched the trail crew at work and also picked up a shovel and rake myself. Stay tuned to find out what happened. If you don't want to miss anything, click here to follow me and stay up to date.
---



What matters isn't how well you play when you're playing well. What matters is how well you play when you're playing badly.
---
---
---
These articles might also interest you
Skeleton Loader

Skeleton Loader

Skeleton Loader

Skeleton Loader

Skeleton Loader

Skeleton Loader