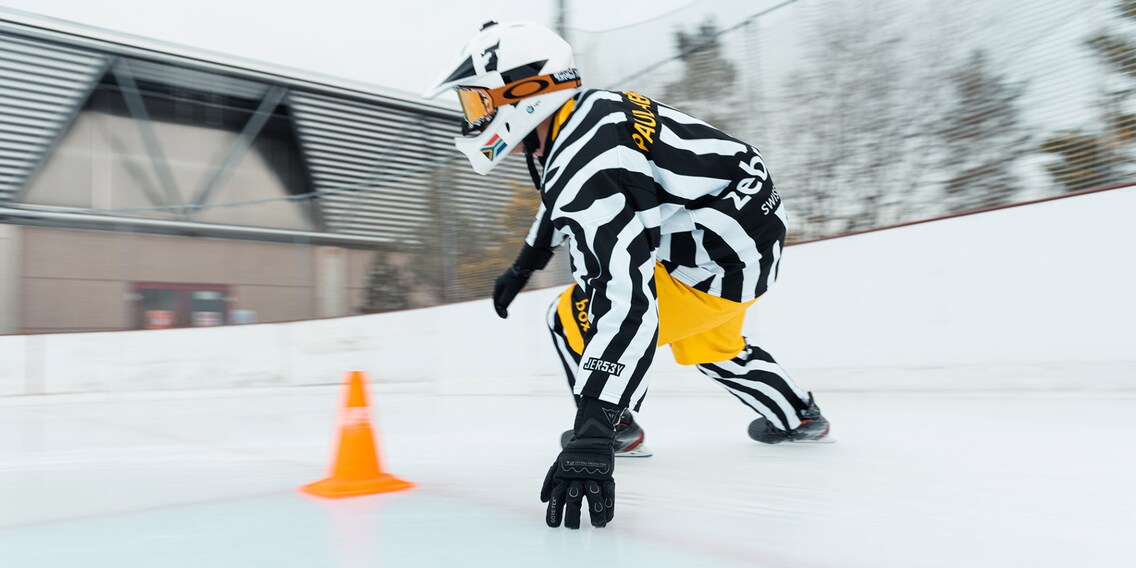 Cool Runnings: the South African version

Paul Aegerter has a dream: competing at the Olympic Games. He wants to make his debut by representing South Africa in ice cross downhill. What follows is my encounter with an unusual sportsman.
It's a frosty morning in Küsnacht, Switzerland. The person in charge of looking after the ice at the local ice rink was up early so we could circle around on perfectly prepared ice. Today I'm paying a visit to Paul Aegerter aka iceXpaul while he's training. The South African-Swiss dual citizen has a big goal in his sights, the Winter Olympic Games.
South Africa and winter sports, though... really? The country of the Cape of Good Hope is best known for its rugby team, the legendary 1995 Rugby World Cup and the name of its homegrown Springboks. But for ice cross downhill? A sport that's a blank canvas for a lot of people. Having said that, the rapid descent on two narrow blades is a sight that's becoming increasingly popular. With Red Bull in the backdrop as probably the most powerful sponsor to date in the sporting world.
From Johannesburg via Lausanne to Zurich
Paul's parents met in Johannesburg. And at ice skating, of all things. With a South African mother and Swiss father, Paul was born in Zurich and grew up in Western Switzerland. 44-year-old Paul has since returned to German-speaking Switzerland where he now lives with his 8-year-old son. Paul started ice skating at the Montchoisi rink in Lausanne when he was five. While other children his age regularly went skiing, he would cut across the ice rink many times a week. He later added freestyle skating and ice hockey to his repertoire. «Skating was like breathing for me,» recalls Paul.
But when he carried on his higher education and then got a job, it was time for him to hang up his skates for the time being. Once he left French-speaking Switzerland a few years ago to return to Zurich, Paul found himself living near the Küsnacht skating rink, and he started playing ice hockey again. That's when he discovered ice cross downhill and decided to race for South Africa. That way he'd have the opportunity to represent his mother's native country in this still young sport. A bit like the film Cool Runnings with a South African flavour.
Paul, the ice cross rookie
Two years ago, he got in touch with a few ice cross downhill sportspeople along with the ATSX, the international All Terrain Skate Cross Federation. Shortly afterwards, Paul went down an ice cross track for the first time in his life. But after just a few training sessions, he wanted to put his dream of the Olympics on ice. «My body was hurting all over, to the extent that I wanted to give up,» he says. No wonder. The ice on the track isn't flat like a smooth carpet as it is here in Küsnacht. The tracks are normally made of natural ice, which is often very uneven.
After a night of being in a lot of pain, Paul got up and tried again the next morning. If there's one thing he knows, it's that he can skate. And so he plunged himself down the ice track again. By his second race in France, Paul was already in the top 64. His talent didn't go unnoticed by the officials at the Red Bull Ice Cross World Championships, and he received an invitation to big events in Russia and Japan. In his first season as an ice cross downhiller (2019/20), Paul Aegerter started in 374th place in the world rankings. Five races later, he was 95th.
Some of the races have been cancelled because of the pandemic, so Paul can only compete in part of the season. And corona still casts a shadow over future events, which makes planning ahead difficult. But Paul is fairly calm about it, when he says: «It is what it is. I just try to make the best out of the situation.»
There are blades and then there are these blades
Paul goes round again on the perfectly prepared ice on the Küsnacht rink, doing short sprints and explaining what makes his blades unique. They have a special cut to them, which makes them less aggressive than the blades on normal ice skates. They've got more contact area and less of an edge. This lets you skate faster in races, but it does make taking corners in training more difficult. And louder. Paul's specially cut blades make much more of a racket than standard ice skates. He smiles when I mention it and confirms the impression I had. His skates can be heard a mile off.
Apart from that, Paul's equipment consists of a mix of hockey and BMX kit: protectors from hockey, and the helmet and gloves from BMX.
Ice cross downhillers thunder along tracks of a few hundred metres wearing this kind of kit. But it's not a haphazard approach. The most important thing is not falling over. It sounds simple, but it's one of the biggest challenges in this sport. «To qualify, you complete two races alone. They take your best time and see if that puts you among the fastest skaters. If you take too many risk and fall, your chances of winning are greatly reduced,» explains Paul. That's what became his downfall last season in Yokohama. In the most important competition of the year, he risked too much in both of the qualifiers, falling twice and missing the knockout phase by one place. It's a sore topic.
In the knockout round, there are four skaters racing along the narrow track. Only those who come in first and second place make it to the next round. Scrambling for the top two places is expected, which is why falls are inevitable. But you're better to skate at 95% and not fall over. And what about at the start? «The fastest of the four in the qualifying stage gets to pick their start gate first, then second and so on. The two gates in the middle are usually the best. The start is extremely important. If you come out the gate badly, it's difficult to qualify for the next round,» continues Paul.
Once in the race, Paul focusses on the line he wants to or can take. He focusses on his opponents, the jumps and the state of the ice. Or the holes in the track that the skaters in front have left. «If you catch yourself in one of these holes, that's usually game over.»
No pain, no gain
Ice cross downhill doesn't just look spectacular; it's also dangerous. Athletes get injured relatively often. In fact, Paul has issues with one of his ribs at the moment. It's a bit cracked or something like that. He doesn't really want to talk about it. He just says «you can't avoid getting injured.» At the Russian championships in Moscow last year, he tore two ligaments during training. The meniscus on his knee was also damaged but he still took part. After the race in Russia, he travelled on to Japan for the next competition. But he paid for it with six months in sports rehab. The most common thing to break in this sport is your shoulder. But as yet, Paul has managed to remain unscathed in that area.
It's not just the right kit that helps avoid injuries. You also need a good level of fitness. Thats why Paul Aegerter does exercise four to five times a week. Like today, he trains on the ice. But he also plays hockey, he often skates in the skate park, jogs and does regular strength training.
Paul has a regular job on top of all this training. In fact, he has two jobs. He's a marketing manager in telecommunications at UPC and he works as a freelance photographer. How does he do it all? He admits to being a permanent juggler, especially given the current situation in the pandemic. The last season – which was, in fact, his first season – was severely affected by coronavirus. Of the eight competitions he was meant to take part in, only five went ahead. Not to mention the wild ride that is travel planning. He juggles life at home in Zurich before the Russian championships while spending three days booking flights and hotels.
In Japan, he has two important championships. One in Yokohama and one in Nagano. A few days before the event, the competition is downgraded a category at short notice. Because the outcome of this race now won't affect his world ranking, it's no longer of interest to him. So he decides to cancel and fly to a race in Canada instead. But there aren't any spots left. Meanwhile, a friend recommends he take part in the Russian championships in Moscow, which are on the same weekend as the race in Nagano. So Paul makes new plans and, instead of flying to Nagano or Canada, he sets off for Moscow. It's during that championship that he tears the two ligaments in his knee and damages the meniscus,as previously mentioned. He then flies to Yokohama, where he falls twice in the qualifier and misses the main draw by one place.
The new season is also shaped by a lot of uncertainty. Everything happens last minute. For Paul, this is almost normal. He doesn't know it any different. But there is light at the end of the tunnel. Because of coronavirus, races will be assigned to continental zones this year to minimise travelling. That's why Paul only plans to take part in competitions in Europe.
The budget for an entire season is more than 10,000 Swiss francs. What about the prize money? Paul takes a moment to think about it. «I think in Yokohama the winner gets several thousand dollars.» But he doesn't seem so sure about it. It's no surprise really, as for him right now, it's more about just qualifying for the competition itself, getting through the knockout phase and working hard to collect more world ranking points. He's not (yet) in a position to set his sights on the big prize money. But in general, the winnings are enough to cover the entry fee. That's why having at least one if not a few sponsors is very much welcome. It's the equipment but mostly the travel and hotels that gobbles up most of the budget.
I have a dream
And then there's Paul's even bigger dream, which is representing South Africa in the Winter Olympics one day. Before he can do that, his sport has to be officially recognised at the Olympics. That's normally a long process. There's also the fact Paul is in his mid-40s. So it's uncertain whether he'd be able to take part in the Olympics during his career.
A lot of Paul's competitors are so young they could be his sons. But that's exactly why there might be a chance he could still fulfil his dream one day – if not as an athlete then as a coach. «One of my long-term goals is to set up a small team in South Africa for fresh, young talent,» Paul adds. «If I can get three or four young people from my home country into this sport and make them enthusiastic about it, that'd be great. The ultimate dream would be seeing one of them skating on the Olympic team.»
You can find out more about Paul Aegerter on his website: iceXpaul and on his social media: Instagram, Facebook and TikTok as @icexpaul.
---



From radio journalist to product tester and storyteller. From jogger to gravel bike novice and fitness enthusiast with barbells and dumbbells. I'm excited to see where the journey will take me next.
---
---