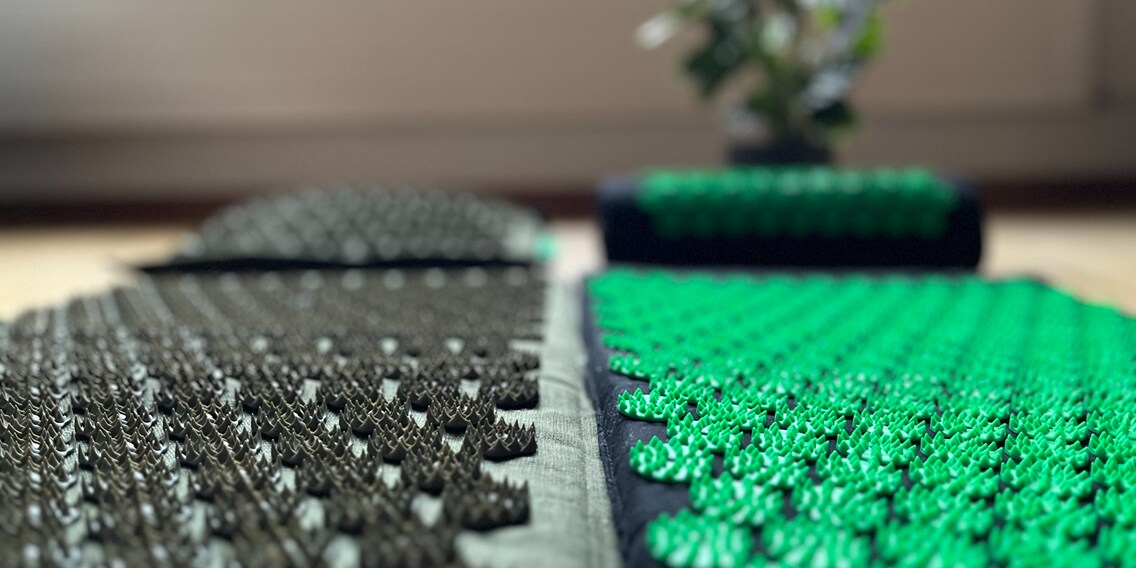 Expensive vs. cheap: testing two acupressure mats

Acupressure mats vary wildly in terms of price. The idea that quality comes at a cost holds true here. However, if you've got a low pain tolerance, you should think twice before reaching for a premium model.
Acupressure mats. I keep seeing them everywhere – on my Instagram feed, in the window of my pharmacy, in my friend's living room ... The mats are covered in thousands of hard, plastic spikes. Why would anyone voluntarily subject themselves to that? Well, they're supposed to offer health benefits.
Acupressure mats are designed to ease tension, stimulate circulation and relieve pain, which is why they're also touted as an alternative to a massage. Alright, I'm sold. I want to give it a go.
Which one to go for?
No sooner said than done. But looking through the Galaxus range already presents the first challenge. There are two price classes: one around 30 to 70 Swiss francs and the other around 200 to 230 Swiss francs (as of March 2023). What's the difference between them?
Taking a closer look, I realise that the «expensive price class» consists of one brand only: Pranamat. The family company, which was founded in Latvia, specialises in acupressure mats.
On the other hand, the cheaper price class includes brands such as Gorilla Sports, TecTake and Moveit. These are sports and health gadget manufacturers that don't exclusively produce acupressure mats. But I still can't tell what actually distinguishes the price classes.
To get to the bottom of it, I order two models for my review. I'm feeling the colour green, so I opt for the Pranamat ECO in dark green and the Quick Aid mat in black-green.
What's inside the box and getting started
The Pranamat ECO comes in a spiffy cardboard box. Inside is the 76 × 45 centimetre mat and 44 × 35 centimetre lined pillow, along with a multilingual brochure with tips and tricks on how to use the mat.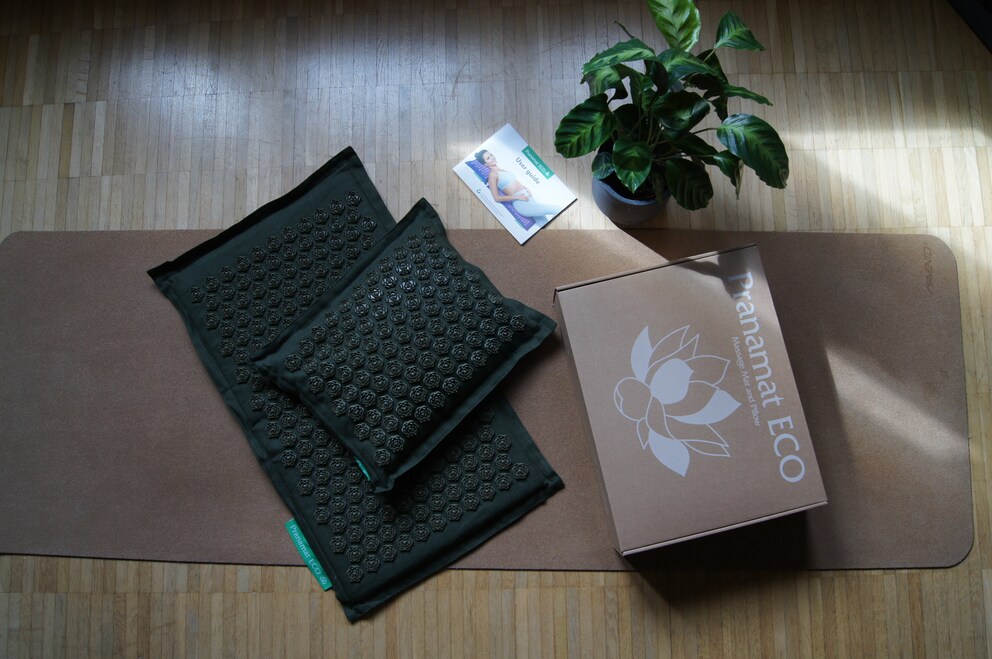 The 65 x 39 centimetre Quick Aid mat comes in a black plastic shoulder bag, bundled with a 37-centimetre neck roll and two spiked balls.
Now that I have both models in my hands, I'm noticing some first differences. The Pranamat ECO's finish is beautiful, and its materials are of high quality. In addition, the mat's spikes create a pattern of flowers. A wolf in sheep's clothing, as they do still look dangerously pointy. By comparison, the Quick Aid mat looks like a loveless project. The fabric looks cheap, and the green spikes are alarmingly bright. The spikes on the Quick Aid mat are flatter and less dense.
The agonising beginnings
After my visual inspection comes the time for an initial walking test. Carefully, I place one foot on the less threatening Quick Aid mat, then the other. I've got this! I wouldn't quite call it comfortable, but the spikes definitely feel interesting to the soles of my sock-covered feet. I even manage a bit of a walk back and forth without issue.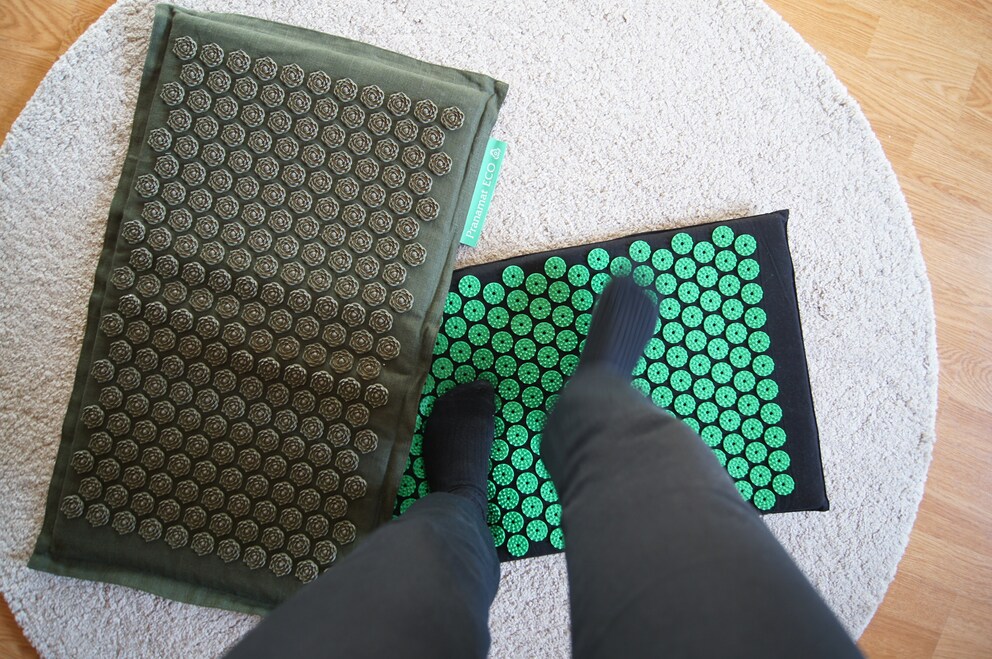 Not so with the Pranamat ECO. The flowers reveal themselves to be real instruments of torture. With my level of pain tolerance, I'm frankly not able to walk across the Pranamat ECO (yet). Out of curiosity, my first impulse is to see if this holds true for my back. Wearing a shirt, I gather my courage for the lie-down test. And it turns out to be surprisingly tolerable.
A quick glance at the brochure dampens my enthusiasm. Ideally, I'm to lie down on the acupressure mat with my bare skin. I give it a try – but am forced to admit defeat again because of my sensitivity. It's just so ridiculously painful to lie on that mat.
The Quick Aid mat is beginner-friendly
The next day, I buckle down on the Quick Aid mat. This goes much better; on my very first try, I can lie on it for 25 minutes straight. That's right in the recommended range of 15 to 45 minutes per session.
After a while, I notice a slight, but not unpleasant, stinging sensation. Overall, it feels good. When I get up after 25 minutes, I feel a tingling and slight burning sensation on my neck and back. A glance in the mirror has me sober up in a flash. My neck and back are bright red and covered in little dots!
To complete my session, I stand barefoot on the Quick Aid mat. It stings a bit more than when lying down, but it almost feels like a very intense tickle. Cautiously, I take a few steps.
The intense massage on the soles of my feet feels good. After a few minutes, however, the sensation becomes too intense, prompting me to switch back to my hardwood floor. I continue to feel a pleasant tingling sensation on the soles of my feet. The massage has a long-lasting effect. Even two hours later, I still feel the spikes.
The Pranamat ECO's prickly flowers
After my positive experience with the Quick Aid mat, I challenge myself to face the dreaded Pranamat ECO. This time, I come equipped with a thin kitchen towel. My plan? Put it on one half of the mat, so that only half of my back is directly in the spikes' line of fire.
Lo and behold, the ordeal is much more bearable this time. In fact, after two minutes, I decide to remove the kitchen towel altogether. Now I'm actually lying unprotected on the evil mat – but I'm not immediately looking for an escape.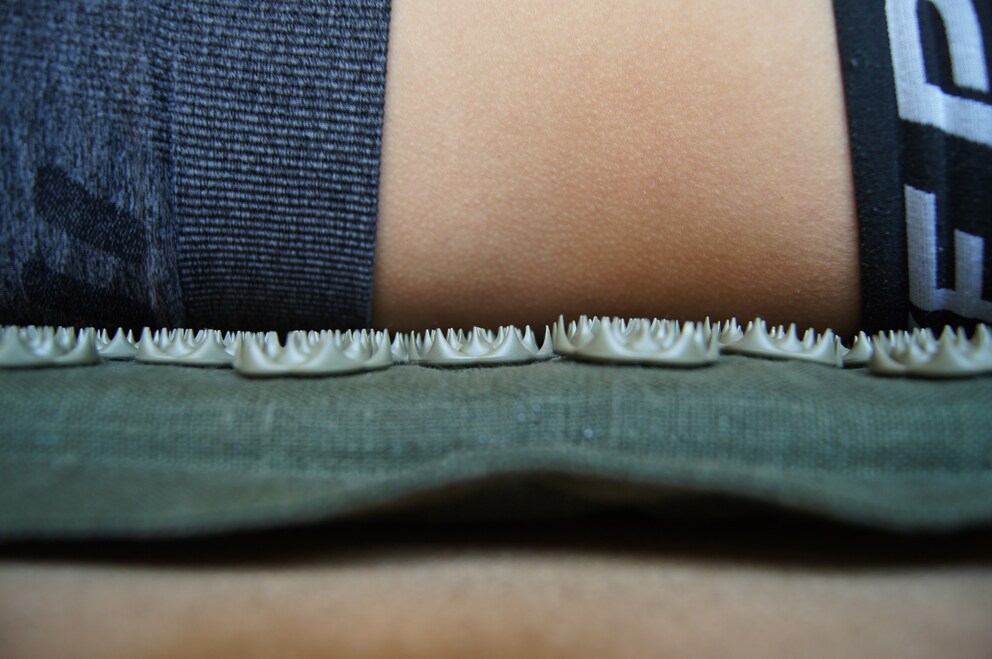 I feel like I'm floating on a lake of flames – and I mean that in a more positive way than it sounds. I only experience limited pain in certain places that are exposed to more pressure. But it's surprisingly pleasant.
And then I make my mistake. Lying on the Pranamat ECO, I reach over to grab my headphones. I reach back diagonally, shifting my weight to my right side ... and immediately regret my decision.
«OWWWW!»
A numbing wave of pain washes over me from the side. It takes me about half a minute to recover. Moral of the story: abrupt shifts in weight and movement are not a good idea on the Pranamat ECO.
Looking at the clock offers some consolation; I, again, managed 25 minutes on the evil thing. Whether this is due to my prep work on the Quick Aid mat, my form on the day or the weather, I couldn't say.
Getting up from the spines, a final wave of pain flows over my back. I feel an intense tingling – and am again confronted by my bright red skin in the mirror. It looks like a really bad sunburn, coupled with hundreds of little holes. It's no pretty sight, but has me feeling cosy and warm. There's still a slight burn, too, but it's very subtle and refreshing.
Time to put my bare feet to the Pranamat ECO test. That still proves difficult. With my full weight, I manage just under three seconds on the mat. The middle of the foot especially becomes very painful. Enter my dresser aka crutch; supporting myself on it makes walking on the Pranamat ECO feasible.
Other exercises and applications
Lying down isn't the only thing you can do on an acupressure mat. You can also perform gentle stretching exercises and even light yoga. I tried doing so on the Quick Aid mat. I found it was a good way to spice up certain yoga exercises. My sun salutation got an additional tingling note. But exercises like the cat-cow or any moves that press the spikes into your shins are torture even on the less painful mat.
On the Pranamat ECO, I don't even dare to attempt such experiments. Instead, I test out the suggestions from the enclosed brochure, where the manufacturer suggests using it on surfaces other than the floor. For example, in bed.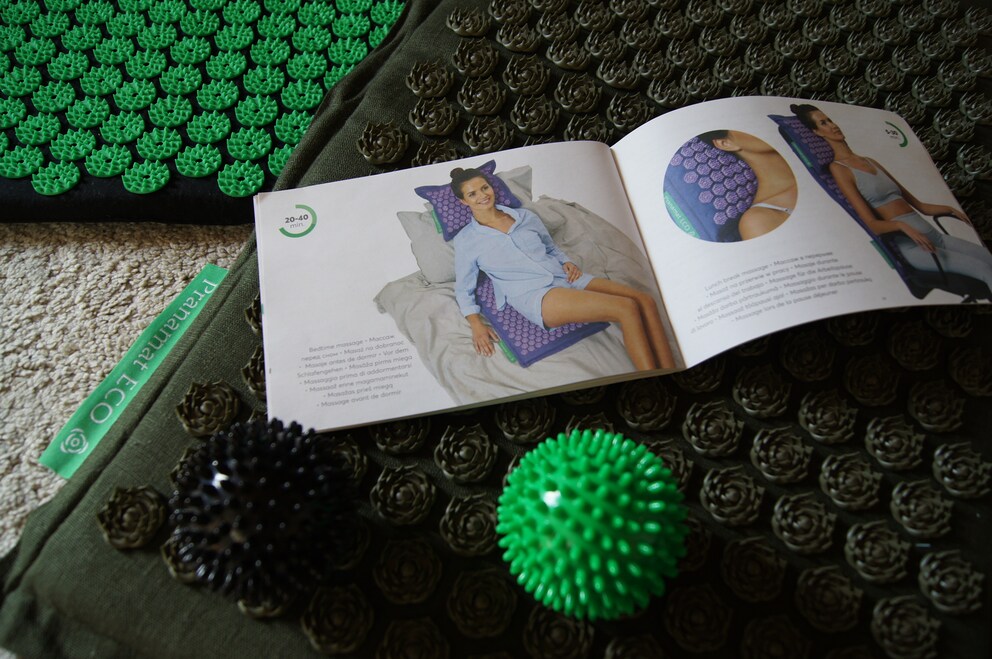 This proves difficult. I have less control over my movements on the soft surface of my mattress and end up unintentionally dragging my legs across the prickly flowers. Hello, scratches!
The Pranamat cushion, on the other hand, turns out to be the perfect footrest for home office use. It gives me a pleasant massage as I answer my e-mails. I like it. I'd gladly keep it there for longer.
You can also lie on the acupressure mat belly down – an interesting experience. However, my ribs get in the way too much, creating pressure points that prevent me from breathing calmly like you're supposed to.
If you want more inspiration for simple exercises, you can check out Pranamat's YouTube channel for short videos with tips and tricks for various uses.
Care and use
Both acupressure mats can and should be washed every now and then. I simply have to remove the outer layer from both models. When I open the mats, I again see the difference in quality. The inside of the Quick Aid mat is made of cheap foam. The Pranamat ECO, on the other hand, reveals a coconut-fibre mat, in turn wrapped in a cotton cover.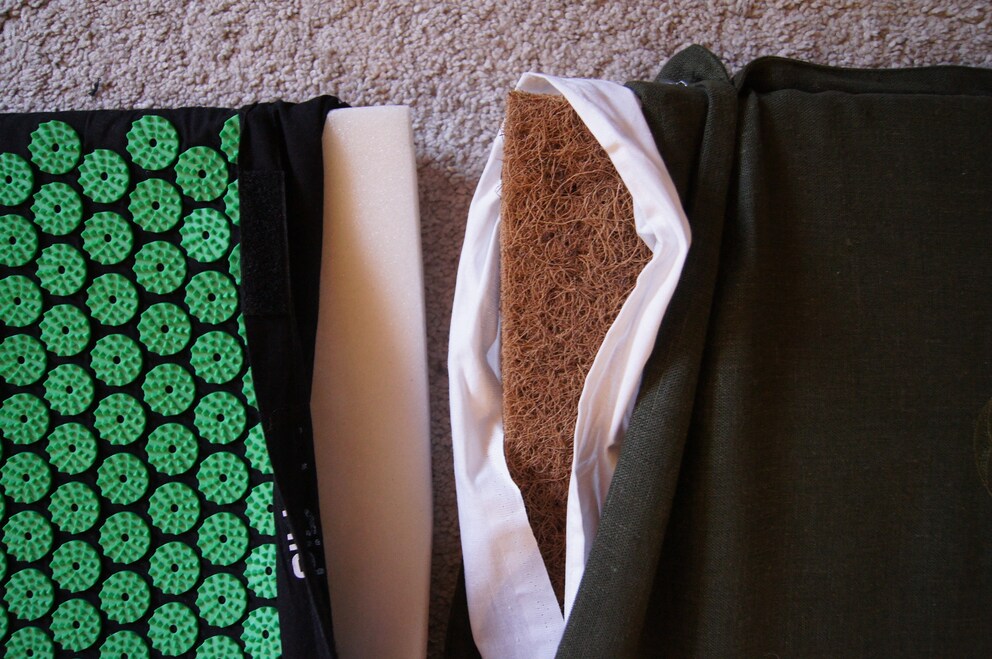 Pranamat recommends the outer linen cover be hand washed and air dried. I assume the same applies for the Quick Aid mat.
As time goes on, my pain tolerance increases, and my time on the acupressure mats becomes more and more tolerable. Maybe that'll be the case with you, too. Still, don't fall asleep on the mat or stay on it for too long. If you're pregnant, you shouldn't use acupressure mats at all. And if you have a skin condition, you should check with your doctor how and if you should use the mat.
Is the prickly experience worth it?
After lying on the spikes every day for several weeks, the answer to that is «yes». I can't say if I actually am less stressed, more relaxed and clearer in the head. But what's really valuable to me is my time on the mat.
The intense experience really forces me to focus on my body – and I find that therapeutic. In the hustle and bustle of everyday life, I easily forget to be present and breathe properly. The acupressure mat puts me in a state of mindfulness almost like a switch. I lie down, I breathe – and I feel.
The fantastic feeling I get directly after each prickly encounter rounds off the beneficial experience. In addition, I find it exciting to see just how adaptable my body is. In the beginning, it felt impossible to lie on the spikes any longer. And then, suddenly, I just did. Fascinating! A realisation that can be helpful in other areas of life.
The lowdown: quality – and pain – come at a price
The price difference between the Pranamat ECO and the Quick-Aid mat is substantial. However, after testing both products, I absolutely understand it. The Pranamat ECO has a very nice finish. Its linen cover and flower-like spikes look pretty. However, it takes effort and perseverance to use, because its spikes are really sharp and longer than those on the Quick Aid mat.
Factors that speak in favour of the Quick Aid mat are the lower price and flatter spines, which should be more pleasant for beginners. But keep in mind that your pain tolerance will increase over time – which is why you may want to reach for the more advanced model eventually.
If you want a beginner-friendly mat that won't strain your budget too much, I can recommend the Quick Aid mat – or the comparable models from TecTake, Moveit or Gorilla Sports.
If you prefer high-quality materials and want a product that also looks good, I highly recommend the Pranamat ECO. Just be aware that your first sessions might prove a bit more prickly.
---



«I want it all! The terrifying lows, the dizzying highs, the creamy middles!» – these words spoken by an iconic American TV celebrity could have been mine. It's a take on life I also apply to my job. What does this mean in concrete terms? That every story has its charm; no matter how small, large, exciting or trivial. The more eclectic the mix, the better. 
---
---