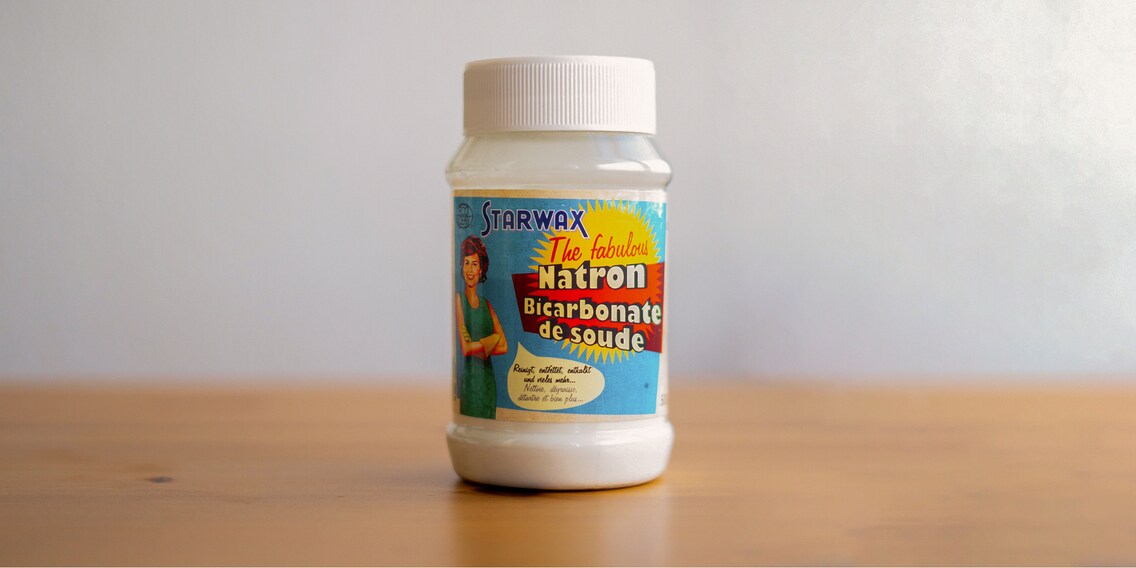 Everything you can do with baking soda (spoiler: a lot)

In many households, using baking soda, or «natron» as it's referred to in this country, is a long-standing tradition. But with an enormous range of less old-school cleaning products, the white miracle powder is falling into oblivion. Here are seven ways you can use the sustainable all-rounder. And there's a bit that explains the terms.
In my home-office setup, I recently had a clumsy accident. I spilled a full cup of coffee on my white sofa. After soaking up the lake of coffee, I asked myself: how do I get these huge stains out of the light material? After a bit of research, I soon realised that baking soda seemed to be the way to go.
The packet with the fastest delivery date and a slightly sexist label contained half a kilo of baking soda. Way too much for my purpose! All I needed for my sofa was four tablespoons. That's what got me looking into other areas of use. Heads up: baking soda isn't the same thing as washing soda. However, they are very similar. I explain the difference in the following article:
Know-howHome

Mix-up alert! «Natron» baking soda, baking powder, washing soda
Seven ways to use baking soda
1. All-purpose cleaner
You can clean almost anything with baking soda. To turn the powder into an all-purpose cleaner, simply mix together in a large pot five tablespoons of baking soda with five litres of water and two tablespoons of grated curd soap.
Briefly bring the mixture to the boil before allowing it to cool down. Now you have a natural, yet effective cleaning agent. The mixture works best in the kitchen and bathroom when it's in a spray bottle.
2. Cleaning windows
I wish I'd known about this hack earlier: a few days ago, I took on the laborious task of cleaning my windows and was left frustrated with the resulting streaks and smears. Adding a bit of baking soda to the water would've prevented this. All you need is to do is mix together three tablespoons of the powder with about five litres of lukewarm water, stir a few times and there you have it.
3. Drain cleaner
Clogged drains can also be cleared with the help of baking soda. If the water in your sink is struggling to drain, pour a cup of baking soda down the plughole followed by a cup or two of vinegar. The mixture produces carbon dioxide, which removes light build-up. It's fun to watch the foam rise up like a bubbly volcano. Give the mix 20 minutes to act before pouring one litre of boiling water down the drain.
This hack only works if your drain is just slightly clogged. If it's totally blocked, you'll have to bring out the big guns. An air compressor's worked for me in the past. Here's an article about it.
Know-howHome

Compressed air: unexpected solution for a clogged drain
By the way, I've often come across recipes for making your own cleaning products that combine baking soda and vinegar. Professor Dr Freisinger explains that mixing the two makes no sense. This is because vinegar destroys the base of the sodium. The substances cancel each other out, producing only water and carbon dioxide.
4. Washing detergent
If you've had enough of bog-standard washing detergent, try using baking soda instead. One cup of the stuff is enough to tackle moderately stained clothes. Just pour one cup of baking soda into the main wash compartment. When I tried this, my clothes smelled neutral.
5. Pan cleaner
Burnt something on the stove? Pour a litre of hot water into the pan followed by one tablespoon of baking soda. Leave it to soak for ten minutes. The baking soda should have dissolved the burnt spots.
6. Removing unpleasant odours from shoes
Since I've stopped working from home every day and am out and about all day, I've noticed that my shoes don't smell particularly fresh when I get home. Guess what? Baking soda! Just two to three teaspoons of the stuff will do. Sprinkle it into your shoes and let it sit overnight.
The following day, you can take the soles out and tip the shoes upside down to empty out the powder. Or, if everyone else in your household is up, give the shoes a quick vacuum clean.
The baking soda treatment also has a pleasant side effect if you have squeaky shoes. It silences the squeak.
Know-howFashion

Mit diesen 4 Hacks vermeidest du quietschende Schuhe
7. Carpet cleaner
Baking soda is great for both spot cleaning or deep cleaning carpets. For a spot clean, sprinkle baking soda on the affected area, pour a little warm water over it and dab with a rag after a few hours. For a deep clean, baking soda can be sprinkled all over the carpet. Use a tea strainer for an even distribution of the powder. Let it sit for a few hours before vacuuming the carpet.
And there you have it. Seven hacks for your household. Fun fact: you can also build a rocket with baking soda and vinegar. Try at your own risk. There are also many great ways to use the powder as a beauty product.
Know-howArts and crafts

Surprisingly good: homemade alternative to deodorant
Not to mention uses in the kitchen. Let me know if you'd like to read more about the magic of baking soda!
---


Testing devices and gadgets is my thing. Some experiments lead to interesting insights, others to demolished phones. I'm hooked on series and can't imagine life without Netflix. In summer, you'll find me soaking up the sun by the lake or at a music festival.
---
---
---
These articles might also interest you
Skeleton Loader

Skeleton Loader

Skeleton Loader

Skeleton Loader

Skeleton Loader

Skeleton Loader