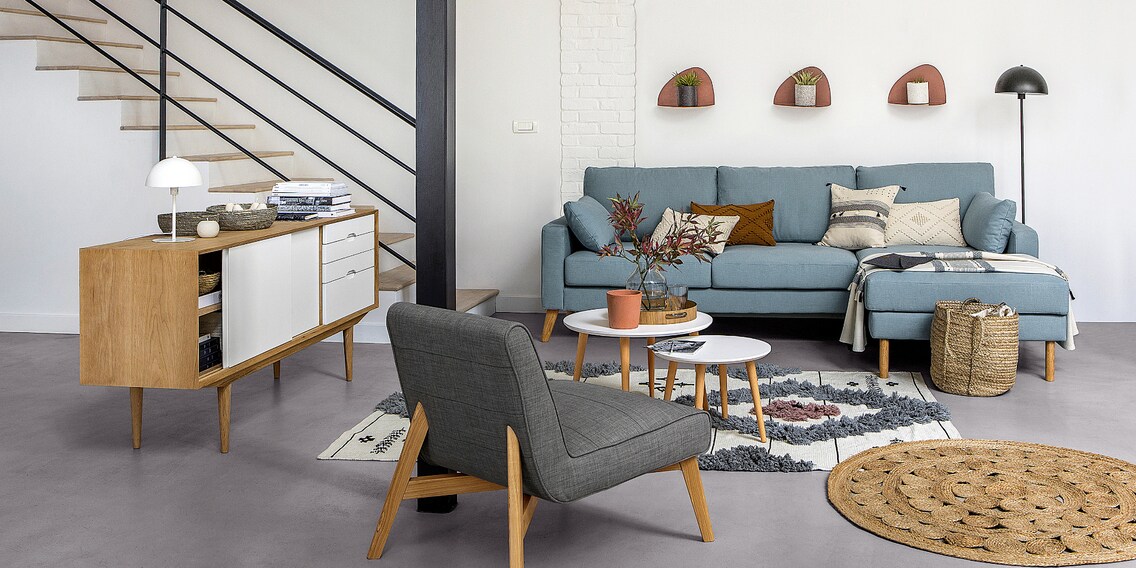 Et voilà: furniture from La Redoute now available at Galaxus
Galaxus now carries furniture from La Redoute. With it, the leading Swiss online department store introduces a dose of French savoir-vivre. Newest additions included, the home and living range at Galaxus now counts around half a million articles. Find out below which furniture proved most popular in the last five years.
The La Redoute brand has been a household name for quite some time in French-speaking Switzerland. Since then, it has also captured the attention of many interior design fans in the German-speaking part of Switzerland. The French fashion retailer and mail-order company – which initially sold only furniture at Galaxus – now sells around 2,400 of its products on the Galaxus website. That's reason enough to take a closer look at the online retailer's home and living range.
Lounge around at home – with comfort and style
Looking back at the last five years, the «Interior» range at Galaxus shows continual growth. This year, Galaxus sold six times more «Interior» products than in 2017. The online retailer even recorded a 50% increase compared to last year, which was dominated by the pandemic and saw record sales of furniture. In vogue this year are all manner of decorative pieces for your home («Home accessories») as well as matching lighting («Lamps + Lighting») and hygge-inspired blankets, carpets, etc. («Home textiles»).
Home and living: let there be light!
What kinds of products are we talking about here? The diagram below shows the following: in recent years, bulbs have consistently ranked first in terms of the number of units sold. What's interesting is there seems to be an increased need for order; storage boxes were the second most popular item in our customers' carts. Demand for alarm clocks, on the other hand, has slumped dramatically – so much so that they've been knocked out of the top 10 by cell phones. Third place, meanwhile, goes to picture frames. Picture frames have typically taken a backseat, but have gained a lot of popularity during the pandemic. Customers are evidently looking to spruce up their bedside tables or walls.
Order is in vogue
If we look exclusively at furniture over the last five years, we discover that the ranking has flipped. In 2017, beanbags, chairs and air beds were the top-selling products at Galaxus. Today, it's coat racks, shelves and clothes stands. Marie Kondo sends her regards – or where else could this penchant for organised living have come from?
We'd love to hear from you! Where do you buy your furniture? Which piece of furniture is near and dear to you? And is there anything you're still missing in your home? Let us know in the comments!
Graphics made with Flourish.
New to our rangeInterior

Everything you need for a beautiful home: Am.Pm and La Redoute Interieurs
---
Studies claim that we have a shorter attention span than goldfish. Ouch! My job is to get your attention as often and for as long as possible. How? With content you enjoy. Outside of the office, you'll find me on the tennis court, curled up with a book, Netflixing or travelling. 
---
---
---
---
These articles might also interest you
Skeleton Loader

Skeleton Loader

Skeleton Loader

Skeleton Loader

Skeleton Loader

Skeleton Loader