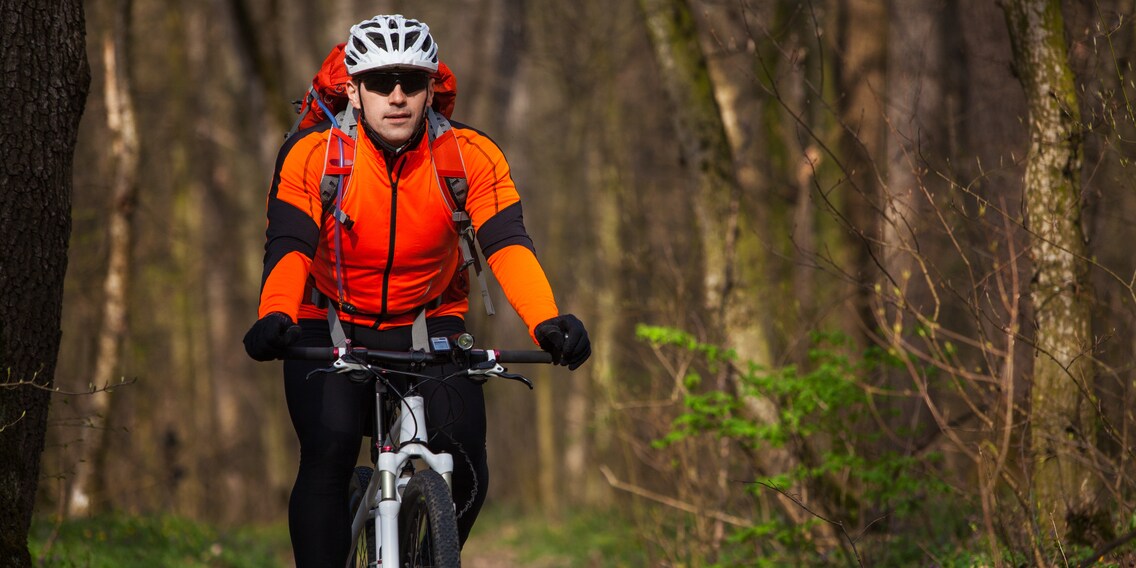 E-biking to work: how to get the season off to a good start
If you choose to commute by bike, you're doing your body a favour. And wearing the right clothes makes the journey even more fun. Here are my recommendations.
Over the past year, I've developed a taste for commuting on two wheels, heading to the office by e-bike as often as possible. For me to hit the saddle, it's got to be dry, warmer than five degrees and light outside, so the day the clocks go forward is a magic date for me.
Maybe you're in the process of becoming an e-bike commuter too. In which case, you'll be needing a bike (here's mine, by the way) and a few other pieces of kit. Here's what I recommend.
Head protection: the all-important helmet
Let's start from the top. If you don't have a helmet, you shouldn't be on the roads. Although wearing one is only mandatory when riding fast electric bikes i.e. ones with pedal assistance up to 45 km/h, I'd still recommend wearing head protection when riding slow e-bikes too. And the Swiss Council for Accident Prevention (BfU) will back me up on this. Even crashing at a speed of 25 km/h can cause very serious injuries. Cycling in this country isn't yet like cycling in the Netherlands, where dedicated lanes for bike traffic reduce the risk of collisions with cars or trucks. In Switzerland, the number of accidents involving e-bikes is actually on the rise. So keep your noggin protected!
In terms of shape and colour, there's a wide range of helmets to choose from. As a fair weather rider, I personally prefer helmets with good ventilation. If, on the other hand, you only tend to cycle a few kilometres and value style more, a closed helmet might also be a good choice. When it comes to safety, there are essentially three types:
Helmets certified according to EN 1078, the European standard. This is the minimum standard, and demonstrates that helmets tested offer protection from an impact occurring at a maximum speed of 20 km/h.
Helmets with advanced safety technology, which, however, aren't certified according to a blanket standard. These include, for example, MIPS, which minimises the impact of crashes involving rotational forces.
Helmets that meet the NTA 8776 standard. These are compulsory in the Netherlands for anyone riding a motor-assisted bicycle with speeds of up to 45 km/h.
Helmets with additional features can be found in all three of these categories. There are helmets specifically for ponytail wearers, helmets with fly screens in the vents and helmets with GoPro mounts. What I'd really recommend is the following:
Padding and lining that you can remove and wash. Anything else is unhygienic.
A strap adjustment system and size adjustment. No two heads are alike. For your helmet to fit securely and comfortably, it should be as adjustable and customisable as possible.
Here are three models I can recommend – and customers usually rate them the most highly too.
The Abus Pedelec 2.0 Ace has a feature that I personally find handy: a visor. This protects against insects on a collision course with your eye, which I think is smart. After all, it saves me from having to wedge the frames of my sunglasses between my head and my helmet, usually causing them to dig into my skin. And unlike my sunglasses, I won't leave the visor lying around somewhere by mistake.
Eye protection: cycling glasses
Helmets equipped with visors are pricey. Cycling glasses, however, are a good, inexpensive alternative. What you shouldn't wear are regular sunglasses; lenses with too dark a tint limit your perception in traffic. If you're biking at dusk, this can be particularly dangerous. Your cycling glasses should only have a slight tint, preferably yellow or orange, as this will give you the best contrast. Alternatively, you can opt for flexibility and find a pair that allows you to change the lenses depending on the brightness.
Regardless of how cautious you are, you could still fall off your bike. With this in mind, you should steer clear of glass lenses, opting instead for ones made of the sturdiest possible plastic. Thin frames, ideally made of a soft material, will avoid any pressure at the sides of your head. A rubber coating on the temples ensures they won't slip off if you get sweaty.
Forget about your fashion preferences when choosing a pair of glasses. If you're zipping around on two wheels, it's important to give your eyes the best possible protection. Insects, pollen, dust particles and gusts of wind can all get into your eyes, so your cycling glasses should cover as much of the area as possible.
Got a thing for sophisticated tech and want to invest a little more? Maybe these glasses (which my colleague Patrik Bardelli is a little bit in love with) would be up your street.
For the cold and rain: hats and covers
At the beginning and end of biking season, early mornings are often chilly. If your helmet doesn't have ear covers and you don't want your ears to freeze off, you'll need a thin hat. I have one that I ordinarily wear when jogging. Depending on the temperature and how cold you get, you can find numerous versions of these hats.
If you even e-bike to work when the weather forecast is uncertain, you'll need to reckon with rain. Anytime it turns the vents in your helmet into waterfalls is annoying. This considered, a rain cover, which can simply be pulled over your helmet, should be part of your standard kit. Choosing a neon colour makes you more visible and therefore safer.
Layered up like an onion
On my way to work, I come across e-bike commuters in all sorts of clothing. There are some clad head to toe in functional garb, as well as cyclists in office clothing who've simply popped on a helmet before setting off. The clothing you need depends on the length of your commute and the pace at which you choose to tackle it. And, of course, the weather. Subsequently, I'm only able to give you a couple of general clothing tips:
Choose clothes that are as comfortable as possible.
Go for breathable materials.
Make like an onion, combining clothes in layers.
A base layer has the job of keeping you at a comfortable temperature and wicking sweat from your skin. Undershirts that have a percentage of merino wool have proven their worth in this regard. However, Odlo undershirts are good at removing excess moisture too.
When it comes to mid layers, I'm glad to have built up my own little selection. It allows me to choose the right jacket depending on the outside temperature. Incidentally, when I'm e-biking, I also shamelessly wear hill walking jackets. It's not like my mid layer knows whether I'm hiking or biking.
Finally, I need a suitable jacket to go on top of all my layers. This basically means having a rain jacket for potentially wet days, with 2.5 layer ones proving reliable. There are rain jackets tailored specially for cycling, i.e. with longer sleeves, an extended back and a shorter cut at the waist. Hooded rain jackets are useful if the hood is large enough to go over your helmet. That's if you've decided to do without one of the helmet covers described above.
If you're expecting dry conditions for your cycle, a windbreaker or softshell jacket is the way to go. The latter has the advantage of letting out moisture and offering light rain protection.
But it's not just your upper body you'll want to keep dry. Your legs need rain protection too. If you've ever worn jeans to cycle through the rain, you'll know the chilly feeling of wet, heavy trousers on your thighs. Waterproof trousers can be pulled on over your work ones when you're e-biking to the office. If you choose a breathable material, you won't get sweaty. It's also handy to go for a pair you can roll up or fold so they're nice and compact. That way, they won't take up as much space in your rucksack or bag. My current favourite pair is Vaude's Drop II, which even has a small cycling pad sewn in. A convenient feature of the Commuter Compact trousers is the addition of long zippers on the trouser leg, which allow them to be slipped on over your shoes.
Rather than going for a jacket and trousers, there's still an all-in-one solution available to you when it rains: a poncho. If it's long enough, it'll cover not just your upper body, but your thighs too. When I'm on the road, ponchos flap about too much for my liking. But for shorter distances, they're worth considering. Rain capes are even more budget-friendly, but I wouldn't recommend them to e-bike commuters as a long-term option.
We've now reached the very bottom of the body: the feet. My first ever e-bike ride took place in the pouring rain. The inside of my rain jacket stayed reasonably dry. Since I didn't have any waterproof trousers at that point, I expected to get wet legs. What surprised me, however, was that my feet got absolutely soaked. Since then, I've realised gaiters aren't a bad investment. These water-repellent shoe covers keep your feet dry, particularly if you pull your waterproof trousers on over them. I'm speaking from experience when I say there's little use in doing it the opposite way round.
Is there anything you think is missing from my guide to e-biking gear? Do you have a better alternative to one of my tips? Feel free to let me and the Community know in the comments. Still have unanswered questions? Hit the comments and fire away.
Header image: Shutterstock
---



Journalist since 1997. Stopovers in Franconia (or the Franken region), Lake Constance, Obwalden, Nidwalden and Zurich. Father since 2014. Expert in editorial organisation and motivation. Focus on sustainability, home office tools, beautiful things for the home, creative toys and sports equipment. 
---
---
---