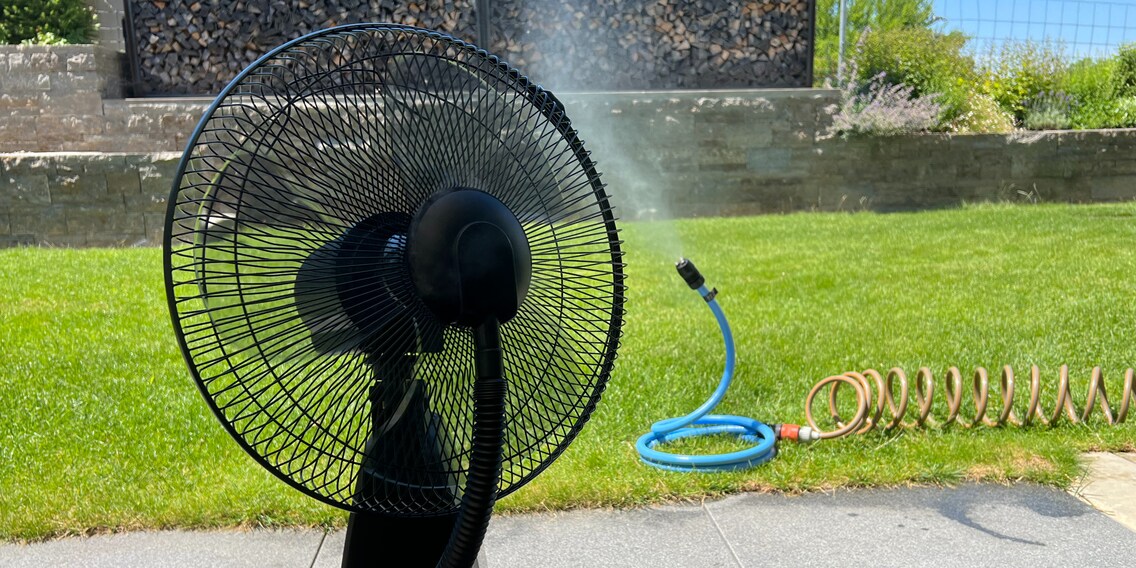 Cooling your balcony or terrace: what ultrasonic nebulisers and spray mist systems are capable of
Spray fans or hoses with nozzles promise cooling on hot days. But do they deliver on their promise? A comparison of both systems using three devices.
Summers also have their dark side: unbearable heat. I feel more comfortable around 26 degrees, both air and water temperature. The first heat wave of the year reminded me that things can get a lot warmer quite quickly on the sitting area of our house. Dark WPC decking boards and a glass roof overhead do create a comfortable living environment for subtropical plants. But not for me. Where I sit must be cooler.
Summer evenings in restaurants and bars in Ticino or on the Mediterranean come to mind. Restaurant owners spray a kind of cooling water mist to keep guests happy and consuming. Sure, these are expensive industry-grade solutions with compressors and high pressure that require electricity. A bit oversized for home use.
In our store, I found alternatives that don't cost thousands of francs and still promise cooling. The products work with ultrasonic nebulisation and a water tank, or provide a spray mist only needing a connection to the garden hose.
Sichler's table fan: a fog machine
Candidate number one promises cool and moist air at the same time. The «mist function» denotes devices with a water tank at the bottom. Water is sucked out of it via a hose, atomised by ultrasound and distributed via the rotor blades.
In my practical test, the stand fan moved around air quite decently, using its 80 watts of power in three stages. After pressing the «Spraying» button, the device accesses its water tank with a capacity of almost one and a half litres. It then creates a mist of very fine water droplets by means of vibrations in the ultrasonic range. It's the same principle used in inhalers. Its mist is so fine that nothing drips or gets wet. The water particles are only about 5 micrometres in size; a micrometer is the millionth part of a meter. This actually creates a pleasant freshness. Its effects can be felt up to a distance of about two metres, in calm conditions. If you sit further away, you only feel the wind.
However, before the operation, there's the set-up. And it's no fun. Your instructions must be lifted directly from an undergraduate engineering thesis. The text on all nine steps of the instructions looks like the operating manual for a Cesna. At least, that's how I imagine it. The blurred printed diagram detailing the fan's construction next to it is also of limited help. Above all, it's annoying that the fan cap – the magic word – can't simply be unscrewed, as the axle rotates along with it. A pair of pliers is required. And the spray mist cover is screwed. Back to the tool cellar to grab a Phillips screwdriver as well. I'd prefer knowing what tools I need before assembly. Saving me time and patience.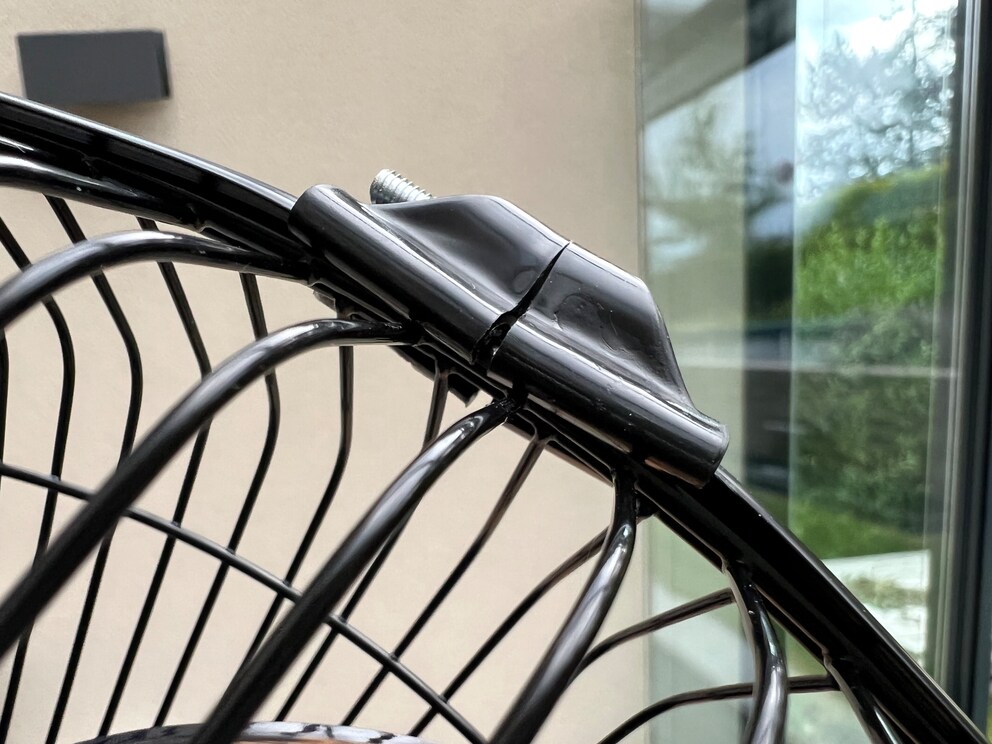 The Sichler fan isn't a highlight in terms of quality, nor is it eye-catching visually. Cheap plastic dominates. The front and rear protective grilles are thin and look unstable. Both elements are held together by a plastic strip that has to be tightened with a screw nut. The hose from the water tank to the nebuliser makes the whole thing look like a misguided interpretation of Darth Vader by HR Giger. Devoid of any artistic merit.
In the foot of the device, you'll find the control buttons. The glossy and thus fingerprint-prone cover yields when you press on it. It just feels cheap. I prefer using the remote control – the two necessary AA batteries are, of course, not included. However, the range of the remote is rather short; it doesn't work further than three metres away from your device. The radius of action of Sichler's stand fan is also limited by its short power cord. It's just under 1.80 metres long, ending in: a German Schuko plug. Normally, our logistics people provide you with the appropriate adapter. In my case, unfortunately, that didn't work out.
What I like
The tank lasts for at least five hours in nebulisation mode, even longer if you turn down the water volume.
Its many operating modes allow for a variety of uses, and thanks to the timer, you can set up the ventilator in your bedroom at night to fall asleep.
The fan produces a very fine spray without dripping. A slight cooling effect from the mist, more from the decently strong fan.
What I don't like
The design… it's a matter of taste – I don't like it.
Its build quality leaves a lot to be desired.
There's an acute danger of losing one's nerve with the assembly instructions.
«Thanks to» the remote control and short power cord, it sports a rather limited operating range.
Overall rating
Price
💰💰💰💰
Assembly and use
🔧🔧
Cooling performance
❄❄

Royal Gardineer water atomiser: the spray snake
If Sichler's table fan was a setup nightmare, the Royal Gardineer water atomiser is just the opposite. Basically, it's a garden hose reinforced with wire mesh so you can bend it into the shape you want.
However, our colleagues in Purchasing are working to ensure that this changes in the near future.]]
I'm inspired by the way the hose emerges from its packaging looking like an Indian snake charmer's viper when unboxed. I simply bend the solidly made plastic and metal spray attachment with its three nozzles to shape.
On the other side of the hose, I connect a proper garden hose, turn on the faucet, and a few seconds later I'm sprayed. My experience here is significantly different from the ultrasonic nebuliser. Importantly, the spray snake makes me wet when I get too close to it. At the very least, however, it produces a puddle of water where its spray falls. This isn't surprising, since 140 millilitres of water per minute sprayed out of the nozzles when a faucet was on full blast in my test. By the way, the amount depends on the water pressure of your pipes, so it can be higher or lower for you.
Additionally, from a purely technical point of view, a system that works only with water pressure cannot produce water particles small enough to avoid direct drenching. The limit here is 45 micrometres.
So the «Gooseneck Water Atomiser Hose for Evaporative Cooling» – that's its official name – is less suitable for discreet refreshment at the table or in the garden lounge, but rather something for your offspring, who will have fun jumping through the mist repeatedly.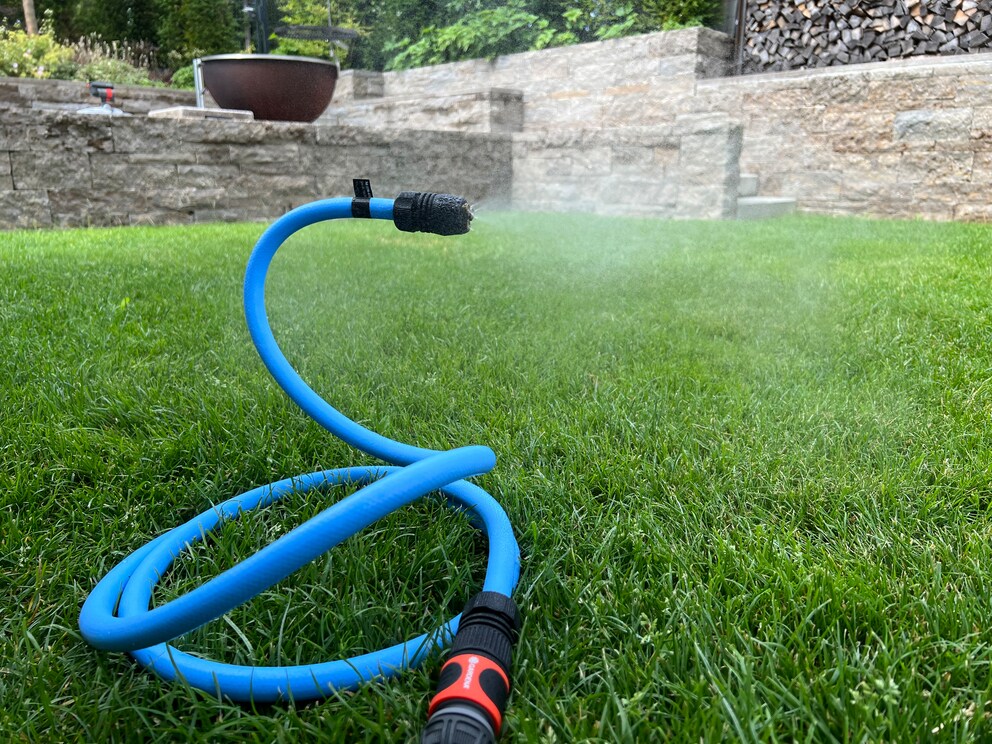 What I like
It's very simple to use, connecting to all standard garden hoses with a click system.
The flexible hose also bends well around posts, trees or the like and leaves its mist wherever you want it.
What I don't like
Rather high water consumption and puddling.
The hose is just under two metres long, so depending on where it's used in your garden, you'll need a correspondingly long garden hose of your own as a supply line.
Overall rating
Price
💰
Assembly and use
🔧🔧🔧🔧🔧
Cooling performance
❄❄❄

Gardena's spray mist set: an in-betweeny humidifier
Instead of just under 30 francs for the driplet-prone Viper from Royal Gardineer, you can also spend two and a half times that amount on Gardena for an outdoor spray set including a controller. For the higher price, you get seven misting nozzles, ten metres of hose, a regulating valve plus a control unit for step-controlled humidification. This system also works purely using water pressure.
The set isn't ready to use right away, you have to assemble it first. Depending on the location, mount a nozzle in the hose every 90 centimetres. Cut off each end with a pair of solid scissors or a sharp knife, attach the end of the hose and twist it tight. I mounted all seven nozzles to cover our seating area well, which is just under seven metres wide.
In order to attach the hose to the mounted nozzles, Gardena supplies fixing clamps. Fortunately, the brackets fit the metal of the seat canopy. After a few minutes, the hose was properly placed. Not pretty, but sufficient for a first usage test. I could also tightly install the mounting clamps with the supplied screws for continuous use.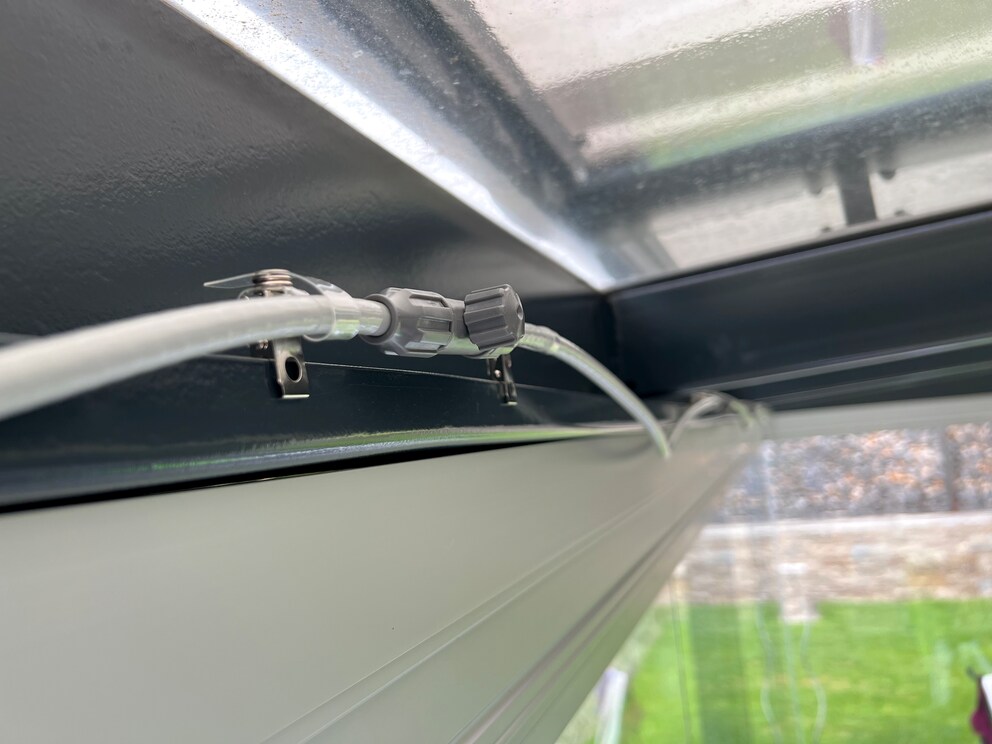 I connect the beginning of the hose with the inserted fog nozzles directly to the water tap, or, if that's too far away, to the garden hose with the coupling also included in the set. Then it's «Open the flood gates!» again, and the humidifying mist descends on me. The seven horizontally adjustable nozzles spray a good amount of water – 80 millilitres per minute each, a good half litre of liquid with seven nozzles. As a result, the seat cushions in my lounge are drenched, the backs of the garden chairs are wet and there are small puddles on the floor under the nozzles. Gardena's set clearly drips.
Gardena's control system doesn't prevent dripping, but allows reasonable intervals between mists. Ten or 20 seconds is quite enough for a seated area, in my opinion. Longer wet mist phases are useful when the people to be cooled aren't standing or sitting too close to the nozzles.
What I like
Hose and nozzles can be fitted to suit individual use.
Practical fastening solution with clamps.
Useful controls for interval switching are included in the set.
What I don't like
The nozzles drip and produce puddles.
Hoses and nozzles must first be cut and screwed before use.
Overall rating
Price
💰💰💰
Assembly and use
🔧🔧🔧
Cooling performance
❄❄❄❄

Verdict: Ultrasonic mist is too subtle, nozzles too wet
If it's really hot, hose systems that produce a spray mist by means of nozzles and water pressure around a usual maximum of four bars provide fast and effective cooling by a few degrees, but at what price? When the mist is so moist and lush that your white wine becomes a spritz, your system is simply too much of a good thing. Your only consolation: insects are reliably held back. Spray systems are better suited to gardens than balconies or sitting areas and useful where neither food nor make-up can be soaked.
The fan with ultrasonic nebulisation that I tested is more discreet, almost too much so. Here, air moved by the propeller does the cooling, more so than the fine mist. If there's even a little wind, it easily carries away the fine water particles. Therefore, I cannot really recommend any of the devices. No wonder other systems are used in the catering industry, simultaneously more pleasant but much more expensive.
So-called adiabatic or evaporative cooling works using high pressure. In this process, water particles are released into the environment via nozzles that are between 15 and 20 micrometres in size, and therefore perceived as «non-wetting», but still provide a good cooling effect – up to ten degrees Celsius. These solutions require pressures around 50 bars and more. They'll therefore quickly run you several hundred or thousands of francs, require a power connection and are more suited to catering, events, businesses or urban areas. For example, the city of Zurich has initiated a three-year project for Turbinenplatz, basically a concrete and asphalt wasteland, to test the cooling effect of an artificial cloud fog. At the beginning of July, the installation was completed and was put into operation. But it doesn't perform miracles there either, as SRF reports (only available in German).
---



Journalist since 1997. Stopovers in Franconia (or the Franken region), Lake Constance, Obwalden, Nidwalden and Zurich. Father since 2014. Expert in editorial organisation and motivation. Focus on sustainability, home office tools, beautiful things for the home, creative toys and sports equipment. 
---
---
---
These articles might also interest you
Skeleton Loader

Skeleton Loader

Skeleton Loader

Skeleton Loader

Skeleton Loader

Skeleton Loader