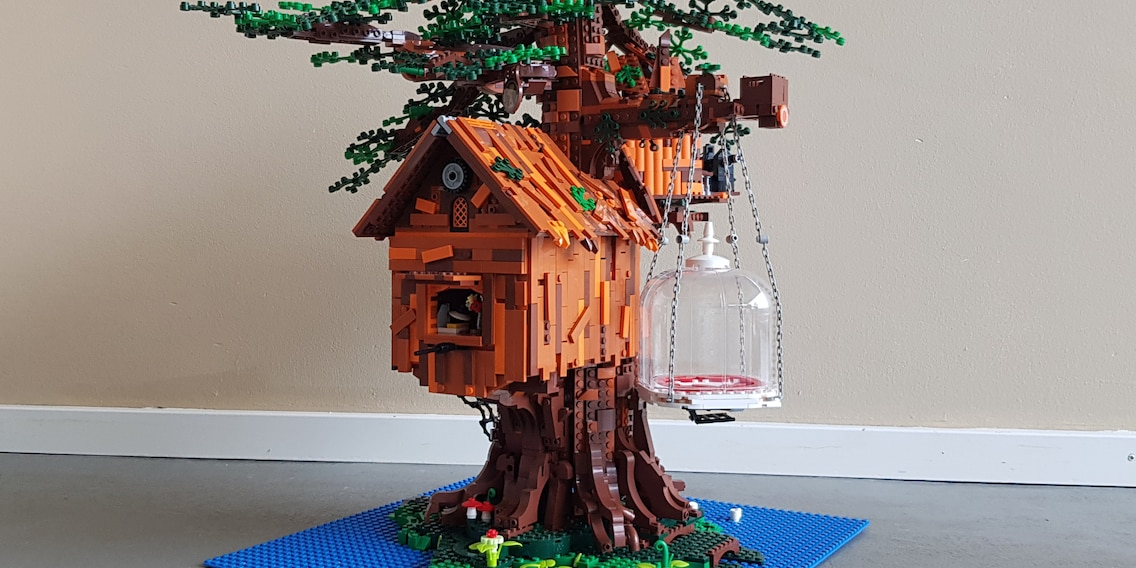 This article was translated automatically.
Building tree house for couch potato
I love building huts and smaller tree houses in the forest with my children for life. But what good is the bad-weather plastic version made of 4000 parts?
Slowly but surely my children, aged seven and nine, are getting to an age where the announcement of an excursion into the forest to build huts and barbecue no longer automatically causes storms of enthusiasm. It's no use pointing out that we're not building a new cabin, we just need to maintain the one we've had for over five years. Now, it's not that my kids don't like cabins and tree houses. But they love playing with Playmobil or Schleich treehouses just as much as they love playing in the woods.
Recently, I came across the Mould King tree house in our store rather by chance.
Mould King are plastic building blocks designed and manufactured in China that are compatible with those of the market leader Lego from Denmark. Since Lego's patent on the bricks has expired, others are also allowed to manufacture and sell such clamp-on bricks. Galaxus also sells sets from Mould King. So my colleague Martin Jungfer assembled the "Japanese Castle" at the beginning of the year and wrote about his experiences with the Lego imitation.
Product presentationToys

Putting Mould King's Himeji Castle to the test: how does the Lego alternative fare?
What one Martin can do, the other Martin should also be able to do. No sooner said than done: I set to work on the "Treehouse" with almost 4000 parts - after all, almost 1000 parts more than the "Japanese Castle". I'm not so much interested in a comparison with Lego. I simply lack the experience that distinguishes our Lego expert Ramon Schneider, for example. No, I'm more interested in the question of whether building a tree hut in the warmth of a living room can match the experience of building a tree hut in the forest outside. And what also makes me wonder: Would I trust the part to a 14-year-old child, as stated on the package?
The packaging material fills (almost) a whole garbage bag.
The 4000 parts are packed in ten larger plastic bags, each containing about five to seven smaller plastic bags. In other words, the packaging material almost fills a 17-liter garbage bag. Well, what else did I expect from a Chinese "Lego" manufacturer? At first I think to myself that this many packages probably make sense. But far from it, and doubly so. Not only are the parts of the individual bags not to be assembled in chronological order. No, even more peculiar: There, where in the 240 (!) pages long building instructions the opening of a new big bag is arranged, not all parts of the last big bag are built in. This confused me quite a bit in the beginning. I thought I had forgotten to assemble some parts.
The building instructions are otherwise quite similar to Lego and are all in all quite understandable. What's more, unless I missed something, there was only exactly one mistake in the 240 pages, which impressed me a lot. I was equally impressed by the fact that not a single one of the nearly 4000 parts was missing. Perhaps one should take that for granted, but I was impressed.
Speed before accuracy - a capital mistake
After about three hours, I finished the first large package. I calculate: I will have finished the work in about 27 hours. But it should probably be less, since I expect to increase my efficiency. Because as a beginner, I make classic mistakes at the beginning. For example, I give more weight to speed than accuracy, and it doesn't take long before this short-sighted attitude is punished. That is, when I try to place an assembled part on a platform. Just because I didn't place a block in exactly the right place on the platform, nothing fits on top of each other anymore.
Fortunately, the lapse is quickly remedied. But this additional loop has taught me to work more precisely. In addition, it is relatively tedious - and here I can make the comparison to Lego - to detach two once assembled parts from each other again. So laborious is actually understated, with bare hands it is much more a thing of impossibility (which is perhaps also due to my extremely well-groomed, ie cut fingernails). Fortunately, the nail file of my wife was nearby, which served me from then on as an important tool.
Mould King could learn something from Lege. Because Lego supplies a particle separator with some sets.
Child labor at Galaxus? Of course not!
As I continue building, I find myself meditating more and more. Focusing on just one thing has a calming effect on me. I don't want my wife to disturb me during my highly demanding work by asking me what I still have to buy. That's when I really go into a rage (ok, it doesn't take that much to do that). I would have been happy to let my nine-year-old son join in the construction. But firstly, child labor is frowned upon at Galaxus and secondly, the level was obviously too high for him. And since my wife doesn't have the time - she has to go shopping - the whole drudgery falls on me.
But as I said. The longer I build the tree house, the more work becomes free time. And what happens to me is something that all Lego and other brick aficionados know. Certain construction stages are more fun and enjoyable than others. And certain components one likes particularly with the time, while one would like to tip others at the best from the assortment. As a rule, these are the ones that you always have to search long and hard to find. By far the least fun for me in building the tree hut is attaching the wooden facade. Monotonous and drab. I also see through certain construction stages as pure occupational therapy. That is, when the assembly of individual parts fulfills neither a practical nor at least a visual purpose.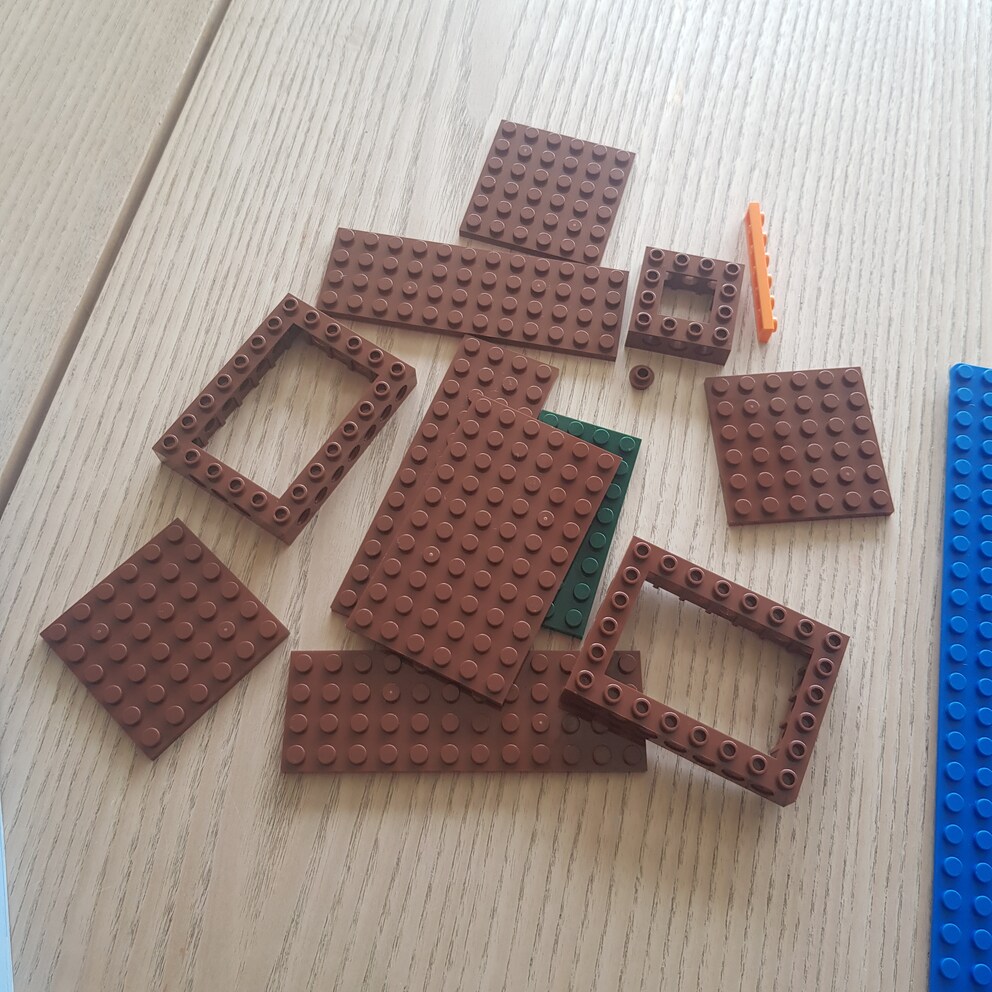 Warning against using too much force
The construction of the tree hut is a challenge in that most of the work is done on the platform that is placed on the tree trunk. Because I use a little too much force at the beginning, a large part of the construction collapses. As a result, I literally handle my structure with kid gloves. And the efficiency aspect also proves to be true. For example, when emptying the bags, I immediately sort identical and similar parts. And so, after a little more than 24 hours, spread over several days of course, I turn into the home stretch. Whereby the last part again feels more like work than pleasure. Dozens of plastic leaves have to be attached so that the whole thing really looks like a tree house. Quickly, the included string of lights is installed and the work is finished. Not only am I filled with pride and satisfaction, my children also like the result very much. "Daddy, I'd like to live in a tree house like this."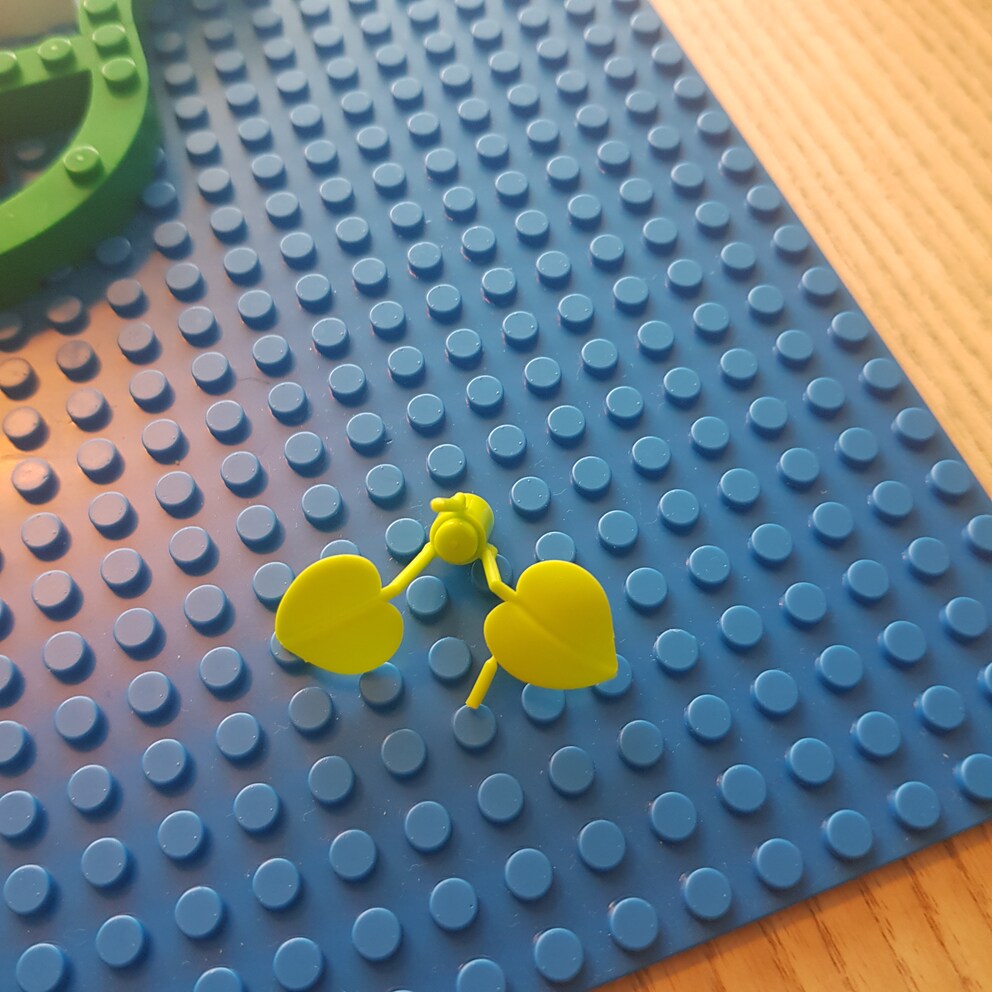 My personal conclusion: building was really great fun and had almost a meditative effect on me. And for just under 200 francs, you're also busy for a duly long time. And yet I will continue to prefer building and working in the forest to building a plastic tree hut. But for better or worse, I will have to adjust to the fact that the longer I do this, the more I will have to do it alone. At least our hut in the forest is so sturdily built that I'll probably be able to show it to my grandchildren one day - just like the treehouse from Mould King, which will have pride of place in my home.
---



Half-Danish dad of two and third child of the family, mushroom picker, angler, dedicated public viewer and world champion of putting my foot in it.
---
---
These articles might also interest you
Skeleton Loader

Skeleton Loader

Skeleton Loader

Skeleton Loader

Skeleton Loader

Skeleton Loader