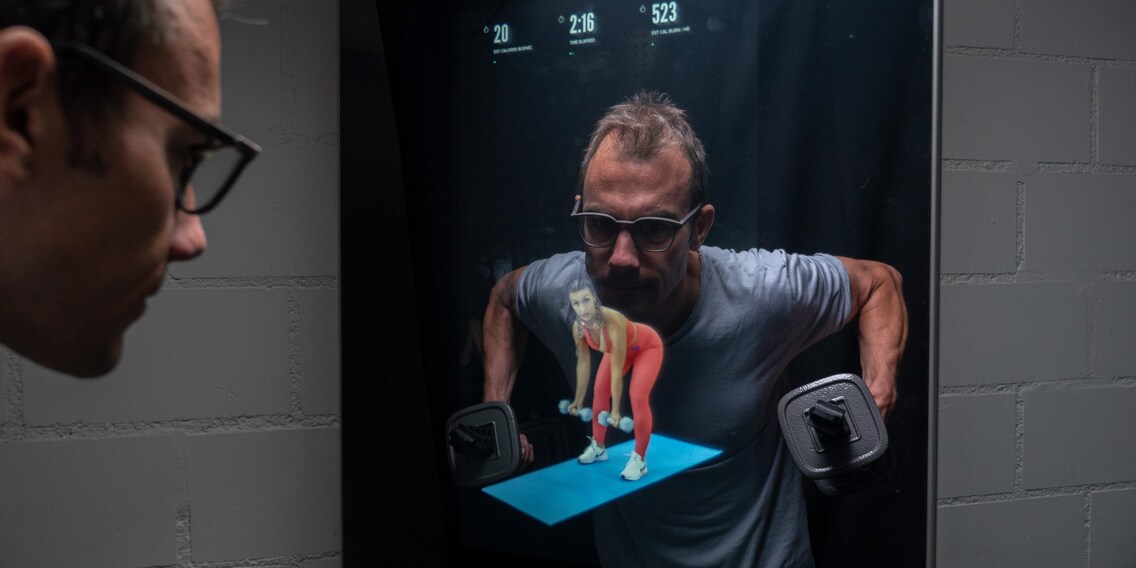 This article was translated automatically.
Beauty or eyesore? Fitness mirror style criticism

Ever since I started working out in front of the Proform Vue fitness mirror, questions have been popping up. One of them is: Mirror, mirror on the wall, are you a fixture?
It has something of an oversized smartphone. The Proform Vue is a mirror and touchscreen in one, man-sized and equipped with a 22-inch display behind the glossy surface. Turned on, it has the wow effect of my fitness coach showing up in the mirror. Turned off, you're left with a finger-tapper-adorned home device that makes me wonder where in the world of living it actually belongs. Is it beautiful or an eyesore? For me, the thing only finds room in the basement, the apartment is already full. But it's actually aimed at more central areas. A mirror doesn't want to hide.
The location question is crucial
I'm allowed to test the Proform Vue for a few weeks, so I don't run the risk of having an expensive tech corpse standing around at some point. A device that I no longer use and that makes me feel guilty at the same time. The ultimate defeat, an expensive lifelong lie about exercising regularly at home. On a smaller scale, you may know this too, if at some point your dumbbells have stealthily disappeared under the bed and never reappeared. You can get over that. On the other hand, a few thousands invested in a large dust catcher in the living room will hurt.
In PR photos, upscale home fitness often looks like this: Some loft with a designer sofa and endless free space, in the center the fitness mirror with a smiling muscle man training in front of it. Of course, the shiny high-tech piece is finger-tap-free. In reality, this is rarely the case and the question of location is difficult to answer. But it is crucial. In order to use such a device regularly over a long period of time, it must not be pushed away in the back corner. It must be placed in a good location.
Away from the living room
I ask our interior design expert Pia Seidel where she would place a device like the Proform Vue. "If at all possible, then away from the living room and into the study or basement, where homeliness is secondary," she answers, making no secret of her aversion to plastic screen combinations: "At first glance, the Vue looks like a TV that has been placed incorrectly. And I generally find TVs wrong from a purely visual point of view. To me, they are ugly black spots and simply belong hidden away when not in use."
The verdict of her spontaneous style critique is unflattering. To the Proform Vue's credit, I have to say that its mirrored surface makes it relatively slim for a piece of fitness equipment. In addition, it can be rotated and dumbbells can be stowed behind it. But all in all, it exudes more of a studio atmosphere than a homely feel, and it can't really be hidden away with its massive base. Its reflective surface can't distract from that, which isn't a real mirror after all, but also has something of a matte screen.
The study would be a perfect place for it, as long as it's big enough. To work out with barbells and dumbbells, you need a few feet of space around you and also to the back so you can use the mirror to check yourself. "It's best to have it facing a quiet wall," Pia adds. "If there aren't a thousand things reflected in it, too, at least the thing won't cause quite as much commotion."
Double calm, double chaos
Mirrors double the calm, but unfortunately also the chaos - depending on how they are placed. I've noticed that, too, and have kept things tidy in the basement where I work out. It has to be, because when I follow the instructions in the mirror and at the same time see myself doing the exercise, it doesn't tolerate another distraction in the background. Clearly, the equipment needs space. And to conquer the living area of design-savvy people, it would have to be designed differently.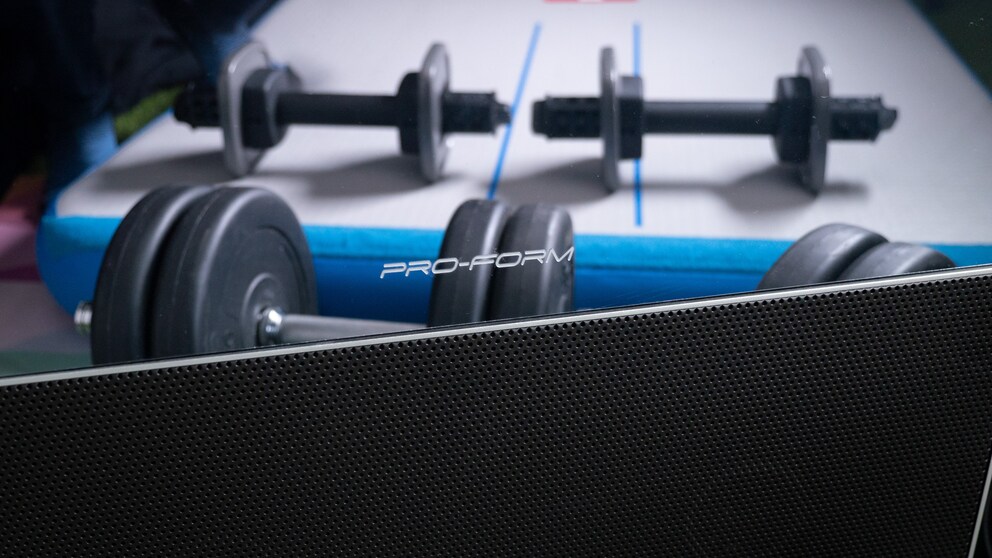 "The trend is to make hardware more and more sensual for aesthetic reasons," Pia explains. "Trend researcher Li Edelkoort predicted the softwear trend back in 1998 - and she was right." Whether it's Google with its "Nest" speakers in a fabric jacket or Samsung with its "Frame" TV in a wooden frame, creative minds would go all out to give us stylish devices.
This works via warm materials, says Pia: "What's the first thing you use to make a room cozier? That's right: textiles. It doesn't matter if it's curtains, decorative pillows or rugs - everything is cozier than yet another huge technical device next to the TV." For my opening question about whether the Proform Vue passes for home furnishings, that's a resounding no.
What a homelike version might look like
As long as it looks like a giant smartphone, the fitness mirror won't become a living room dream with character. "Wood or brass would do the mirror frame good," says Pia. "For that, the surface should be a little more oval and the stand less basic." In summary, it would have to radiate more warmth and fit into the room like a normal mirror. Then it would be a furnishing object with hidden added value. Or do you see it differently?
Your opinion about optics
I like the look of the Proform Vue.
With other materials, the concept would be interesting.
No matter what it looks like: A fitness mirror is not for me.
The competition has ended.
Home fitness equipment often has some catching up to do when it comes to aesthetics. Whether it's a treadmill, elliptical trainer or rowing machine - all of them have growing displays and are usually dominated by hard plastic. The fitness mirror also misses the leap into the living room. It would have been easier than other large machines to make itself attractive due to its design. Visually, I'm more convinced by the mechanical approach of the "Eisenhorn", whose developer Mike Schrag followed the principle: "I wanted to keep my training device compact and have it in the home." Accordingly, it looks appealing.
PortraitSport

Thirty years of tinkering with the «Eisenhorn» multi-gym: a man in pursuit of perfection
What is not yet the case with the fitness mirror may yet become so. We'll get used to smart mirrors, and they're making their way into the bathroom and other areas of our lives to provide us with information. I'm already curious to see what the next generations of Proform & Co. will look like. At some point, they will be indistinguishable from normal mirrors at first glance. Except perhaps for a few telltale fingerprints.
---



Sports scientist, high-performance dad and remote worker in the service of Her Majesty the Turtle.
---
---
---
These articles might also interest you
Skeleton Loader

Skeleton Loader

Skeleton Loader

Skeleton Loader

Skeleton Loader

Skeleton Loader