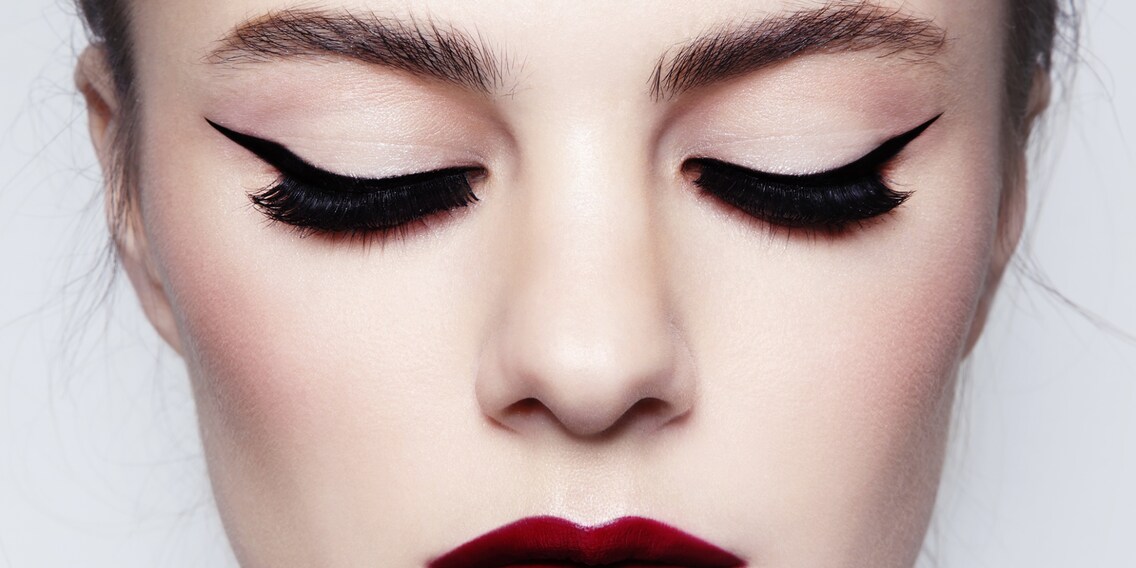 A true eye-catcher: Eyeliner gives your eyes a unique look.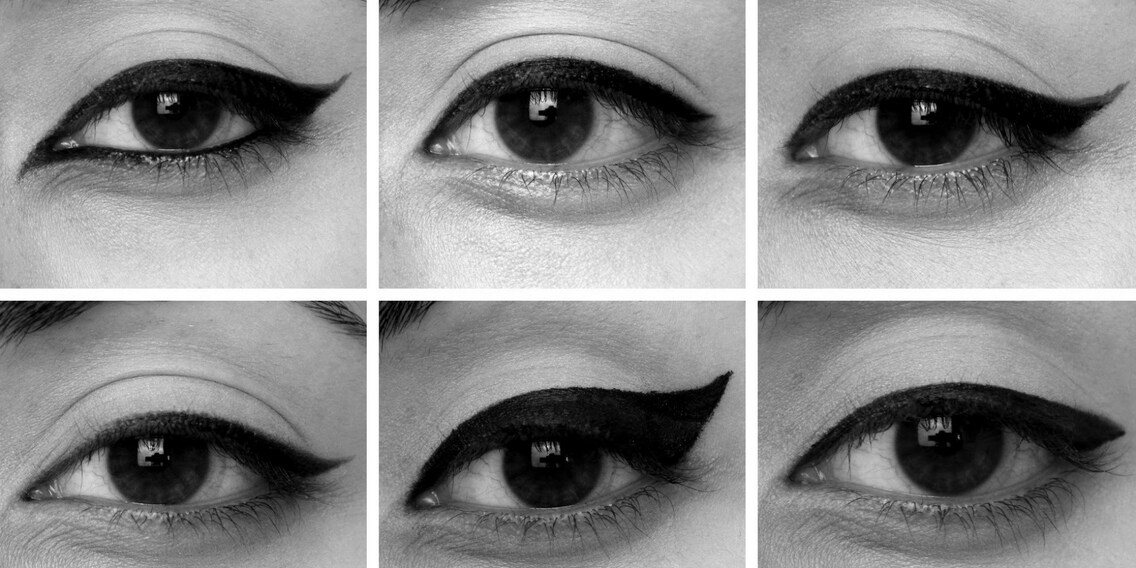 Create different looks by experimenting with different lines.
Beauty classics explained: Eyeliner

There's nothing quite like breath-taking eyes. This doesn't just include a deep black mascara and an eyelash curler but also the perfect eyeliner. The most important styling tool requires a steady hand and plenty of patience at the beginning. You can achieve all kinds of effects with an eyeliner and, depending on the shape of your eyes, better direct the focus towards your eyes. Find out everything about different eyeliner types and looks here.
Each month, you will find new tips, dos and don'ts, things worth knowing and much more about a beauty classic right here on our website.
This month, I am focussing on my favourite one – the eyeliner. I've tried putting on subtle eyeliner while still half asleep many times and ended up looking like a panda. True to the motto "practice makes perfect", I can now draw the perfect eyelid line. In order for you to be able to use an eyeliner without having to angrily reach for the makeup remover for what seems like the hundredth time, I have collected some tips and tricks.
Pencil, gel or liquid?
In the beauty universe, there are three different types of eyeliner: liquid liner, gel and pencil.
Liquid eyeliner
There are various forms of liquid eyeliner. Some look like a calligraphy brush. Apply these eyeliners when you want to be as precise as possible. There are also fatter ones that look like a felt tip and draw a thicker line. The only downside: The eyeliner takes time to dry and requires more time to apply it if has a fine point.

Various liquid eyeliners and their tips
Gel eyeliner
This special form of eyeliner smoothly glides over the skin. Gel eyeliners are sold either in pencil form or in a small pot. If you go for the pot, make sure to buy the right brush for it.
Pencil eyeliner
Pencil eyeliner is particularly easy to apply. It is therefore perfect for makeup beginners. However, it is not recommended for the smokey effect as it is difficult to smudge.
Applying eyeliner
Step 1
Place the eyeliner in the middle of the lash line. Now draw the line to the outer edge of the eye. For a dramatic effect, draw the line out further. Gently lift the lid with your finger to work as precisely and near to the eye as possible.
Step 2
Starting from the inner edge of the eye, connect the eyeliner.
Tips
To draw a perfect line with a steady hand, you should sit at a table and use a magnifying cosmetic mirror. This allows you to rest your elbows.

Instead of drawing a continuous line, put small points at the edge of the lashes first before connecting them. This is an easy way for beginners to apply eyeliner.
Eyeliner for different eye shapes
Have you ever thought about whether your eyeliner flatters your eye shape? With the right tricks, you can make your eyes appear larger, more awake and radiant.
Small eyes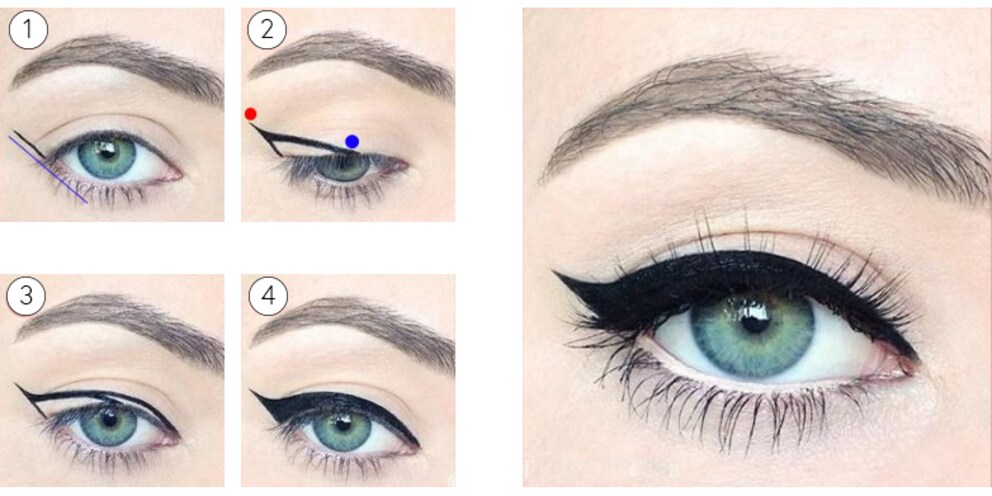 © Pinterest / Sara Robertson
Want to apply eyeliner to make your small eyes look bigger? Then try the winged eyeliner. Matt the lid with a light eyeshadow. Now draw a straight line from the outer edge of the eye upwards in the direction of the eyebrow. Imagine this line as an extension of the lower waterline. Next, draw a line from the tip of the line to the middle of the eyelid. Now start at the inner edge of the eye and try to connect the eyeliner to the end of the line. Finally, fill in the blank area with eyeliner.
Big eyes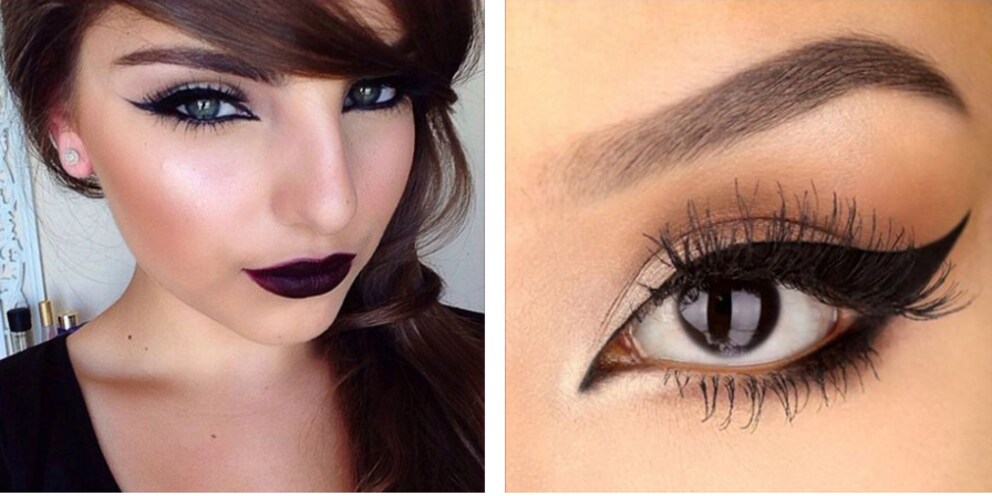 © Pinterest / Gemma / Cassandra Defazio
If you have big eyes, you can apply kajal to both the lower and upper waterline without making your eyes seem smaller. Both a winged eyeliner and cat eye looks are perfect for big eyes.
Almond-shaped eyes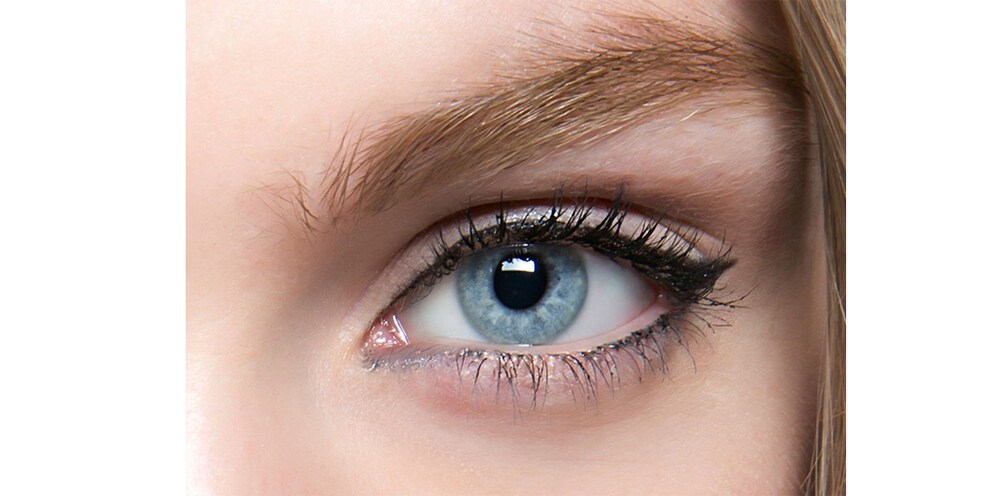 © Imaxtree
Almond-shaped eyes need curves, curves and more curves. This special eye shape is ideal for a curved eyeliner. With almond-shaped eyes you can also draw thicker eyeliner. This makes them look more dramatic and perfect for a glamorous evening look.
Round eyes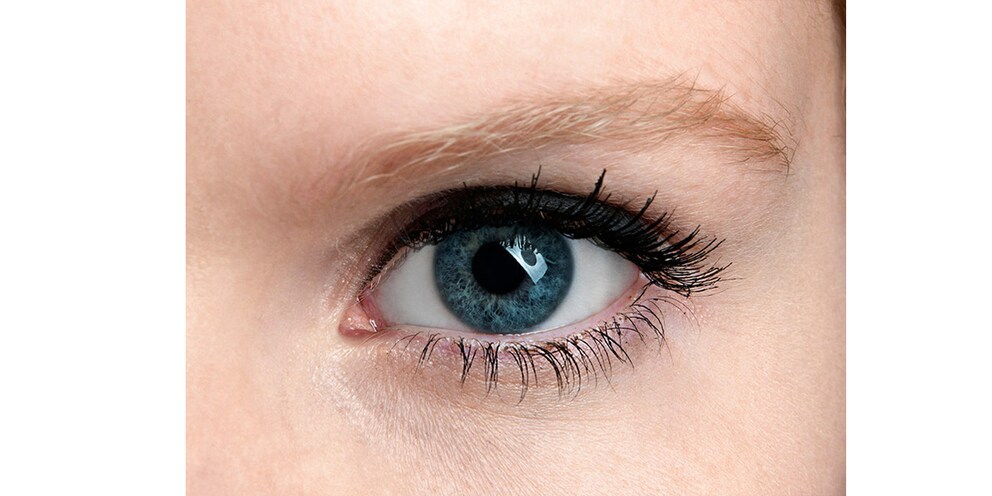 © Imaxtree
Round eyes showcase the iris but need eyeliner for a perfect finish. The ideal eyeliner shapes to make round eyes more dramatic are as thin as possible, straight and horizontally drawn. The same goes for mascara. Don't cover all lashes evenly, but emphasise the outer edges in particular
Sloping eyes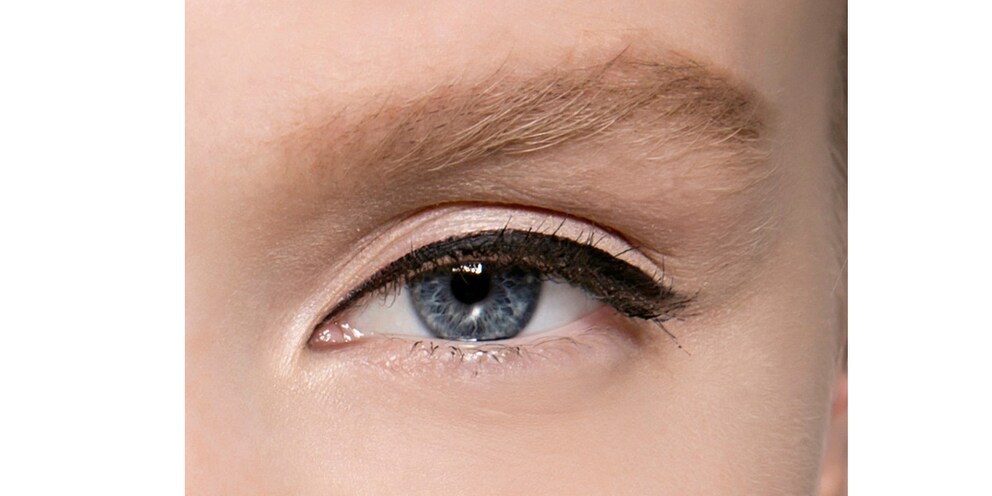 © Imaxtree
When it comes to sloping eyes, it is all about opening them optically. Brighten the inner corner of the eye by applying a highlighter pencil and don't put mascara on the the lower lashes. Concentrate on the upper lash with the eyeliner and begin at the highest point of the lid curve. A slight bend upwards lends your eyes a more awake look.
Eyes with hooded lids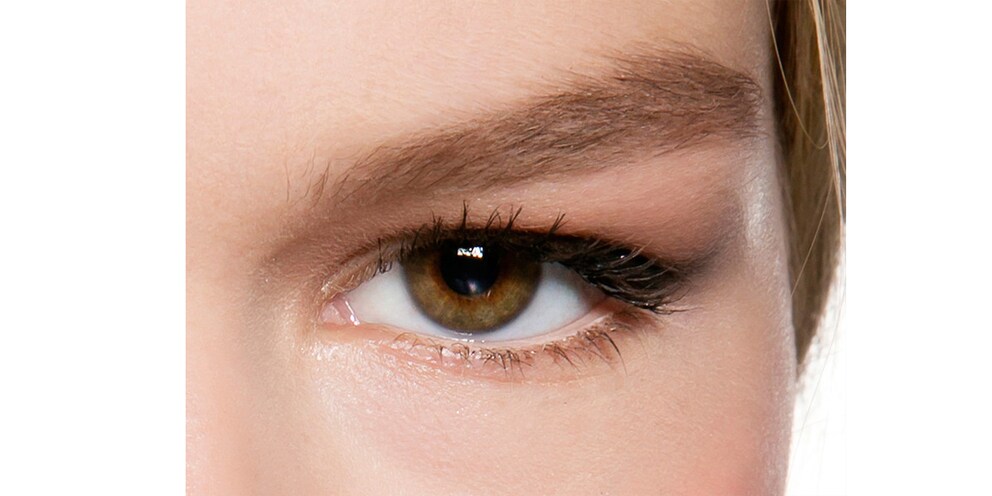 © Imaxtree
When the moving part of your eyelid is almost invisible because it slips under the upper lid, you have hooded lids. Hooded lids make your eyes appear smaller because the upper lid covers the eye. However, with the right eyeliner look, you can make your eyes bigger and make the look more "awake". Make sure to draw the eyeliner as close to your lashes as possible. Draw strong lines because your lid is not completely visible and thin lines disappear when your eyes are open. For your eye shape, a dramatic cat eye look with a big curve is perfect. Note: Never apply eyeliner to the lower lash line because it will make your eyes appear smaller.
The Youtuber "DanikaNikole" has made a video about "eyeliner for hooded lids", in which she explains how to successfully apply eyeliner.
My product recommendation:
I like this type of eyeliner. The tip is like a felt tip and so easy to use. Brushes are too thin for my eyes and a bit too delicate for my taste. This liquid eyeliner draws bold lines and is waterproof and smudgeproof.
You might also like
Skeleton Loader

Skeleton Loader

Skeleton Loader

Skeleton Loader
---



Friends, family, cats and good wine are my lifeblood.
---
These articles might also interest you
Skeleton Loader

Skeleton Loader

Skeleton Loader

Skeleton Loader

Skeleton Loader

Skeleton Loader