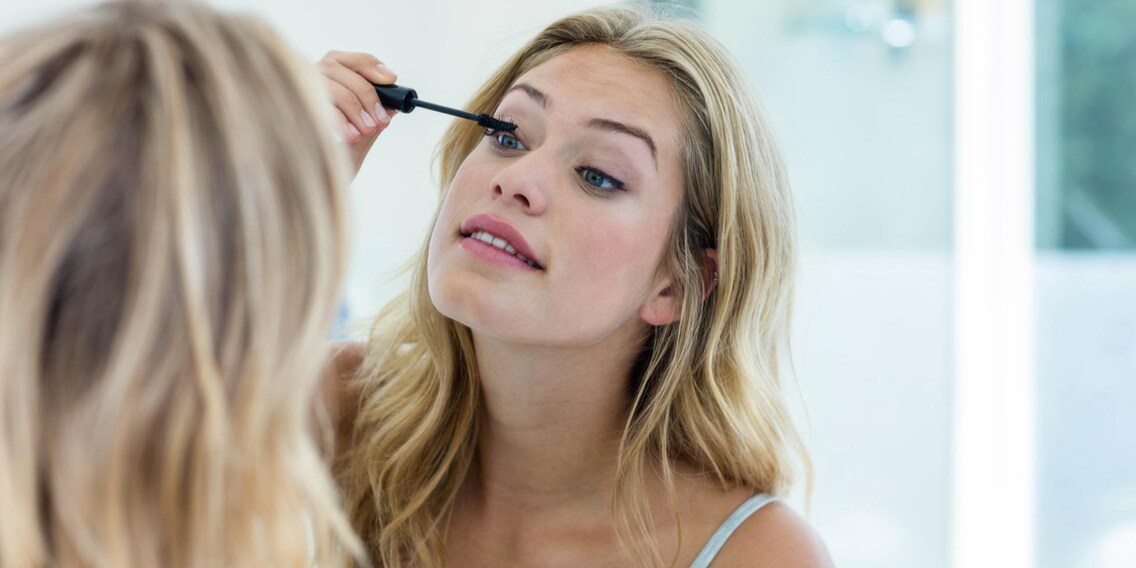 Mascara – a beauty classic explained

"I don't have time today to do my make-up today – I'll just quickly put on some mascara and get going!" This is more or less how I and so many others feel. For almost every woman, mascara is part of her make-up collection and regarded as an absolute basic. It gives every look that extra touch and can be worn on any occasion. Find the right mascara and learn about the most important aspects of mascara.
Every month you will find new tips, dos and don'ts, product recommendations and other useful information about beauty classics on our website.
Mascara was first used in Cleopatra's time, albeit a bit differently. The ancient Egyptians already knew that a little colour on your eyelashes can work wonders. Whenever you don't look very wewll-rested after a night of partying, a little bit of mascara can make your eyes look bigger and compensate for the hours of missed sleep. Now the only question is how to find the right mascara and how to apply it correctly. I will try to answer these and other questions.
Mascara dos
Find the right brush for your needs: Creating impressive results.
Change your mascara regularly: By using fresh mascara, you will avoid your eyelashes breaking and your eyes becoming infected with bacteria.
Ensure that the product uses high-quality ingredients that are gentle to the sensitive area around your eyes.
Mascara don'ts
Avoid 'pumping' the mascara brush. All this does is unnecessarily add air to your mascara, which, in turn, dries it out more quickly and makes it lumpy.
Do not use waterproof mascara every day but only occasionally. * The ingredients of this type of mascara are not as gentle to the area around your eyes, they dry your eyelashes out and make them break easier. The ungentle removal of waterproof mascara will also make your fine eyelashes fall out faster. In addition to this, scrubbing off waterproof mascara stresses the sensitive area around your eyes and, in the long term, causes more lines and wrinkles. With this in mind, it is certainly preferable to risk a bit of smudged mascara!
Do not use your eyelash curler after you have applied mascara, only before doing so. Once your eyelashes have mascara on them, they can easily break if you use an eyelash curler. They might also stick to the eyelash curler and be ripped out in the curling process.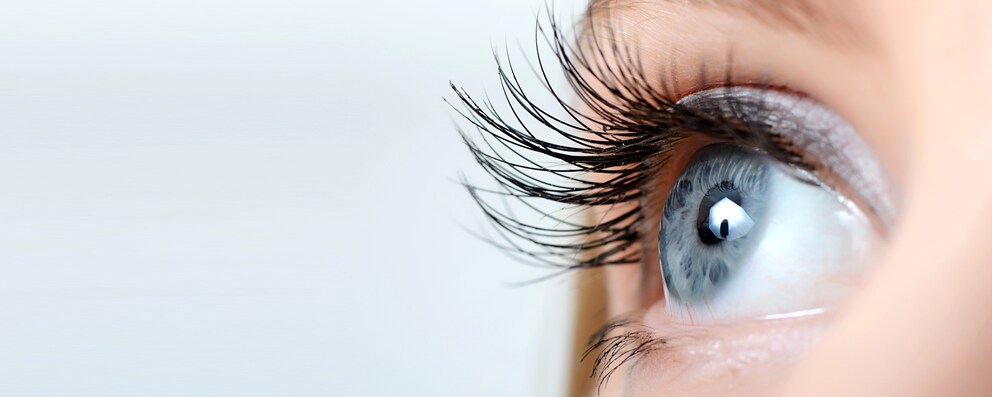 Applying mascara correctly: A step-by-step guide for amazing eyelashes
Using an eyelash curler you will give your eyelashes a beautiful curl prior(!) to applying mascara. For best results, close your eyelash curler multiple times and hold it closed.

Apply your mascara in zigzag movements. This is how you to catch every last eyelash.

You can make your eyelashes look longer by emphasising the ends of your eyelashes with the brush.

Proceed to applying a little mascara to your lower eyelashes.

For more volume, it is best to apply a second layer of mascara.

If you accidentally get some mascara on your eyelid, it is best to let the smudge dry. Remove it with a dry Q-tip to avoid removing any concealer you might be wearing.
Additional tips for maximum volume:
Here is one of the best beauty tricks: Heat your eyelash curler with a hair dryer before you curl your eyelashes. This is how your eyelashes will stay curly for longer.

If you want voluminous eyelashes, you should make sure to buy the right kind of mascara. Volume mascara allows you to apply even more colour to your eyelashes because of the shape of the brush that comes with it.
In this vlog by blogger "KindOfRosy" you can get even more cool tips on how to make your eyelashes magical.
The brush head is what makes the (biggest) difference
Different brush shapes yield different results. Choose the perfect brush head according to your own individual needs. Our little guide might help you with this.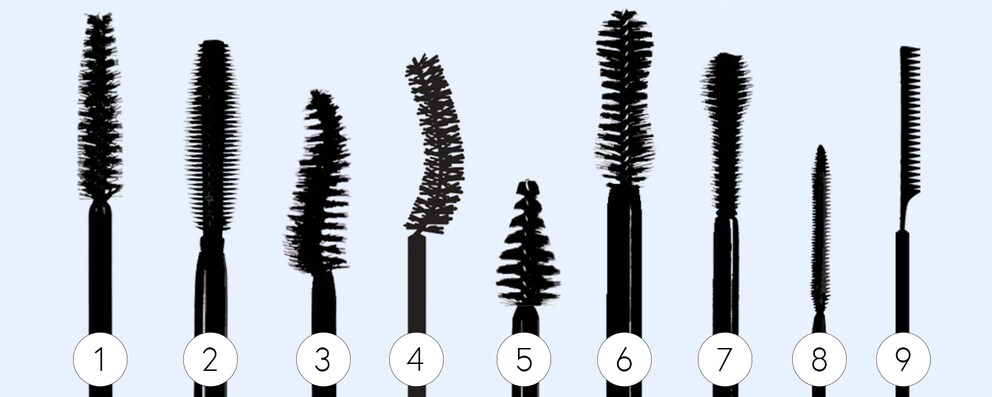 No. 1: Density
This arrangement of bristles ensures that a lot of colour is applied to your eyelashes in order to make them appear denser.
No. 2: Definition
It is the brush's elliptical shape that will perfectly define your eyelashes, especially in the middle of the lash line – eliminating what looks like spider legs. This type of mascara brush is perfect for women who have either short or few eyelashes.
No. 3: Volume
With its tapered tip, this brush not only reaches fine eyelashes in the inner corner of the eye. It also ensures that your entire lash line is well covered. This makes your eyelashes appear more voluminous.
No. 4: Curl
Crescent-shaped brushes are ideal for giving your eyelashes the perfect curl. These brushes lift your eyelashes as you are applying your mascara. The lifted curl then stays in place as the mascara dries.
No. 5: Fan out
If your eyes are deep-set or if you have small eyes, it's best to use a tapered brush head. Its tip will perfectly reach the fine hairs in the inner corner of your eye and it will intensify the colour towards the outer corner of your eye. This makes your eyes appear bigger.
No. 6: Length
Peanut-shaped brushes allow you to apply mascara more precisely. With your eyelashes being separated by this type of brush, they appear longer. This is because your eyelashes will not cross or even stick to each other, and every lash will have mascara on it – from root to top. This is how you make your eyelashes appear longer.
No. 7: Separation
Spherical brushes – regardless of whether they have one ball, two or three in a row – reach fine eyelashes better than other types of brushes due to their 360° range of effectiveness. This is how you can make sure your mascara fully reaches short or sparse lashes.
No. 8: Fine eyelashes
If you struggle to apply mascara or tends to smudge anything but your lashes, you will find that precision brushes are the perfect choice. This is because thin bristles allow you to reach even the most difficult spots – even small eyelashes on the inner corner of your eye.
No. 9: Precision
This fine comb brush helps you achieve absolute perfection. On the one hand, the comb lets you achieve a minimalist look; on the other hand, it creates an effect very similar to that reached with kohl eyeliners along the lash line. This is the perfect 2-in-1 product: A natural look and lash tight-lining effect!
Favourite mascara: Our product tip
The "Diorshow Iconic Overcurl" mascara is the ultimate classic in the world of mascara. With its curved brush it immediately reaches every last eyelash and covers them in deep black. This mascara has a pleasant, creamy texture and it also makes your eyelashes appear more voluminous without clumping.
---



Friends, family, cats and good wine are my lifeblood.
---
These articles might also interest you
Skeleton Loader

Skeleton Loader

Skeleton Loader

Skeleton Loader

Skeleton Loader

Skeleton Loader