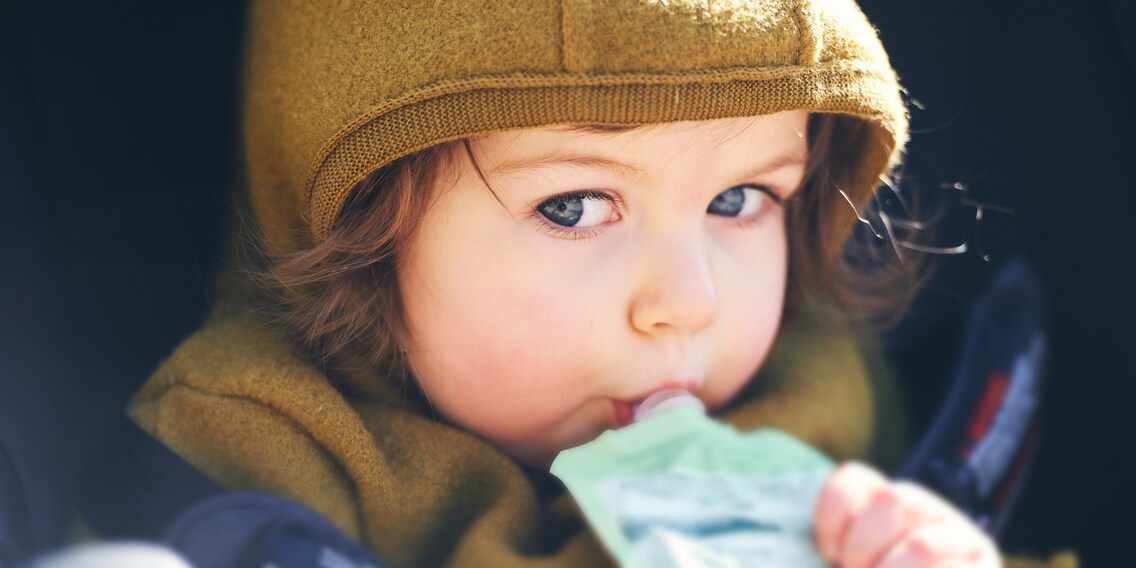 Baby food pouches: the contents may be sweet, but the consequences are hard to stomach

These days, you see them everywhere: kids sucking enthusiastically on their food pouches. The little, plastic sachets of fruit puree are handy, and quell those mini bouts of hunger between meals. And the best thing about them? No messy mouths, hands or clothes. But watch out, the pouches aren't without their risks.
Baby food pouches enjoy huge popularity among both children and adults. The fruit puree in the sachets is tasty, convenient and generally doesn't make any mess. When my own kids were younger, I often reached for this «on-the-go» snack, too. On top of that, I was one of the people who thought it'd do their kids good because y'know ... fruit. But while the pouches prove to be a crowd-pleaser on one hand, experts take a critical view of the snacks on the other. «We dentists consider baby food pouches to be almost as harmful as sweet drinks», Hubertus van Waes recently told «Blick» (article in German). The reason? The combination of high sugar and high acid content increases the risk of cavities in children. This is because the acid contained in the pouches – or produced from the sugar by bacteria – attacks the tooth enamel. Incidentally, Swiss consumer issues TV show Kassensturz came to the same conclusion.
Luckily, when it comes to baby food pouches, it's all a question of quantity. In other words, how often they're eaten and when. If kids are often sucking up the sticky fruit pulp, doing so again and again over a long period of time, their tooth enamel will be attacked much more severely. It's no coincidence that where I'm from, the saying goes: «the teeth are the best when the mouth's at rest».
Children are put under general anaesthetic for cavity treatment
Now you're thinking, ach, this is one of those problems that isn't actually a problem at all. Raoul Furlano, Head of Paediatric Gastroenerology and Nutrition at Basel University Children's Hospital contradicts this. He told the newspaper «Blick», «We treat an average of six children per week for cavities at the Children's Hospital. Tooth decay isn't always genetic. In fact, it's often down to poor dental hygiene and the teeth constantly being exposed to acid and sugar.» And the particularly insidious thing? The pouches don't just damage children's teeth. Because of the fruit puree's high concentration of sugar, it's actually harmful to the liver, too. When it's consumed often and over a long period of time, that is. And if you're thinking that things can't be that bad because you always try to buy products with «no added sugar»? You're wrong. After all, the fructose contained in the pouches has the same effect as refined sugar. Because the liver can't process the fructose, this can lead to fatty liver disease and later to cirrhosis. Other consequences of this overconsumption might be obesity, an imbalance in lipid metabolism and diabetes.
1 in 6 children in Switzerland is overweight
The following fact demonstrates that this isn't just a scare tactic to get parents to move towards a healthy diet: 15 per cent of our children and adolescents are overweight. A third of them even suffer from obesity. The main culprits are high-calorie foods, including food pouches. However, the list of unhealthy foodstuff goes on and on. For that reason, it's advisable to be careful before giving your little ones sugary cereals, sweet chocolate or nut spreads, sweetened milk or cereal products as break-time snacks.
This is largely down to the fact that many parents aren't even aware of the problem. After all, the products are advertised attractively – and almost misleadingly. A fair few snacks are touted as healthy despite actually being calorie bombs. Take milk slices, for example, whose advertising heralds them as having the health benefits of milk. Knoppers are also considered a kid-friendly snack. And what about «healthy» fruit juices? Anyone taking the trouble to study the ingredients carefully would be shocked to discover that fruit juices often contain as much sugar as a Coca-Cola. Bettina Isenschmid, head physician at the Competence Centre for Eating Habits, Obesity and Psyche at Zofingen Hospital, highlights that obesity doesn't just negatively impact the body: «Because overweight adolescents are often stigmatised, psychological problems such as feelings of inferiority or, in the worst case, depression can arise from this». With that comes difficulty in finding a partner or educational opportunities. Isenschmid wonders, «where children today even learn what healthy food is and how to prepare healthy dishes themselves». In Japan, for example, healthy eating is actually part of the curriculum for primary school pupils. In many parts of Switzerland, home economics classes have been cut. Ultimately, you as a parent are in charge of how you feed your children. Don't forget: homemade is usually much healthier (and tastes even better) than ready-made products on the supermarket shelf.
This article appeared in a similar form on 18.10.2021 on the Blick website." Header image: Shutterstock
---



Half-Danish dad of two and third child of the family, mushroom picker, angler, dedicated public viewer and world champion of putting my foot in it.
---
---
---
These articles might also interest you
Skeleton Loader

Skeleton Loader

Skeleton Loader

Skeleton Loader

Skeleton Loader

Skeleton Loader