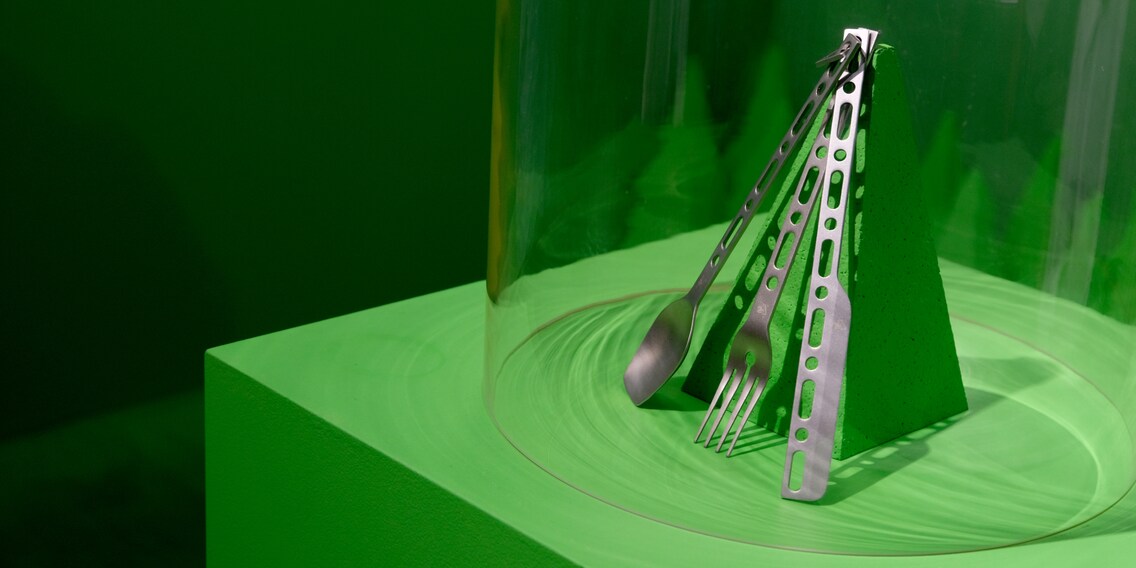 This article was translated automatically.
A camping cutlery set as an investment?

At the Milan Furniture Fair, the design brand Alessi presented its anniversary collection. Among them a golden toilet brush. And an object that could soon become gold.
The Italian brand Alessi celebrated its 100th anniversary during the Salone del Mobile in June with an exhibition of special editions in the Galleria Manzoni. On display were the limited golden edition of the "Merdolino" toilet brush and "Occasional Object " - a cutlery set designed for Alessi by the American fashion designer Virgil Abloh shortly before his death in November 2021. It includes a knife, fork and spoon made of perforated steel, which can be easily worn on the waistband with the help of a matching carabiner. Compared to the toilet brush, it costs a fortune: 600 francs.
The perforated design alone, reminiscent of a camping cutlery set, may not blow you away now. But my assertion that it's an investment is more likely to. Four reasons why the cutlery set is a suitable investment.
1. the set is part of the legacy of an exceptional talent
Ablohs was not only a fashion designer, but also a creative director, architect, musician, DJ and industrial designer. He became known for his work for brands such as Louis Vuitton, Nike or his own label Off-White. Recently, he has also frequently entered into interior cooperations. He has not only designed for Alessi, but also for Ikea, Cassina and Vitra. Often, creative geniuses are only really celebrated after their death. So there is a good chance that his last objects in collaboration with big brands will be remembered. That's what Anna-Lena Reith, editor of AD magazine, believes. And there is no question in my mind that the hype surrounding his works will continue for a while. So an increase in value is almost guaranteed.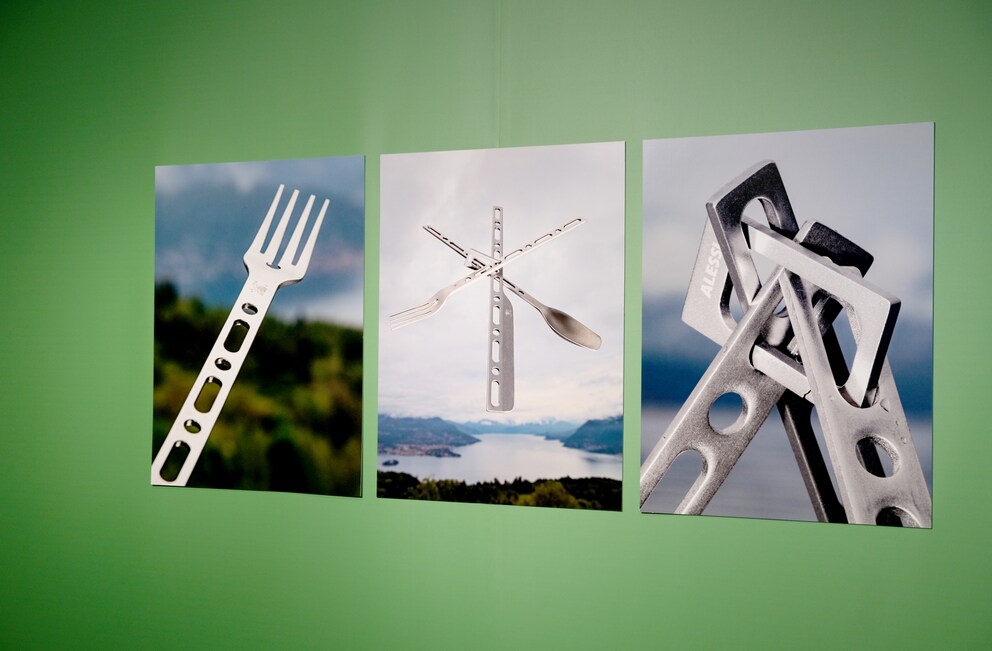 2. the set is limited
In an interview with the online magazine Textil Wirtschaft, the Italian brand announced that it will present further objects that Abloh has designed for the brand and that will be part of the permanent collection. However, the first design, "Occasional Object", will remain a limited edition and will only be produced 999 times with a laser-etched serial number. You can buy it exclusively from the Alessi shop and, again, the brand reserves the right to "cancel or not accept orders". This artificial scarcity is aimed squarely at our collectors' hearts and will drive up the market price. So it's "strike while stocks last!".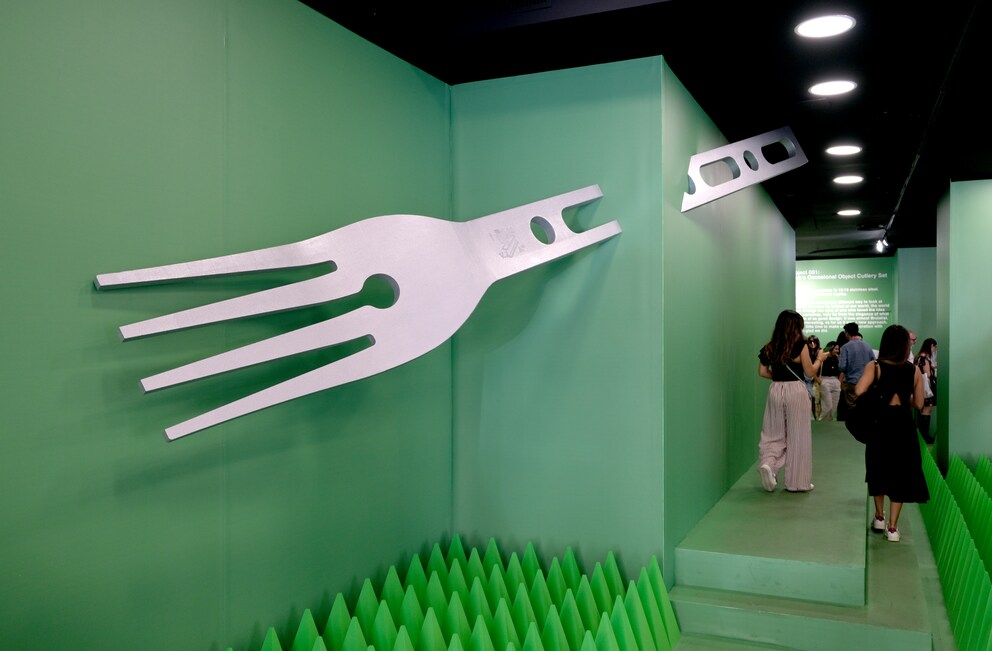 3. designer collabs are more popular than ever
According to global fashion search engine Lyst, it's especially worth pursuing collaborations between brands when investing in on-trend pieces. They are "key to success in terms of limited edition products that can become cult items." The Nike off-white sneaker from the "R.I.P. Virgil Abloh" collection, for example, already has a market price of 13,000 euros. And his 200 pairs of sneakers, including an "Air Force 1" special edition, were auctioned at Sothebys this year for a total of 25 million. Once the 999 pieces are sold, the resale value of the beautiful set increases. Probably not at "Air Force 1" level, but the chance of a nice profit is certainly good.
4. only for special occasions
The title "Occasional Object", was chosen by the Italian brand because it is "intended for infrequent use". For the occasional picnic or camping trip, for example. But perhaps this hint is hidden behind it: "Better leave the set on the kitchen shelf and treat it like expensive porcelain. Because every scratch means a loss of value.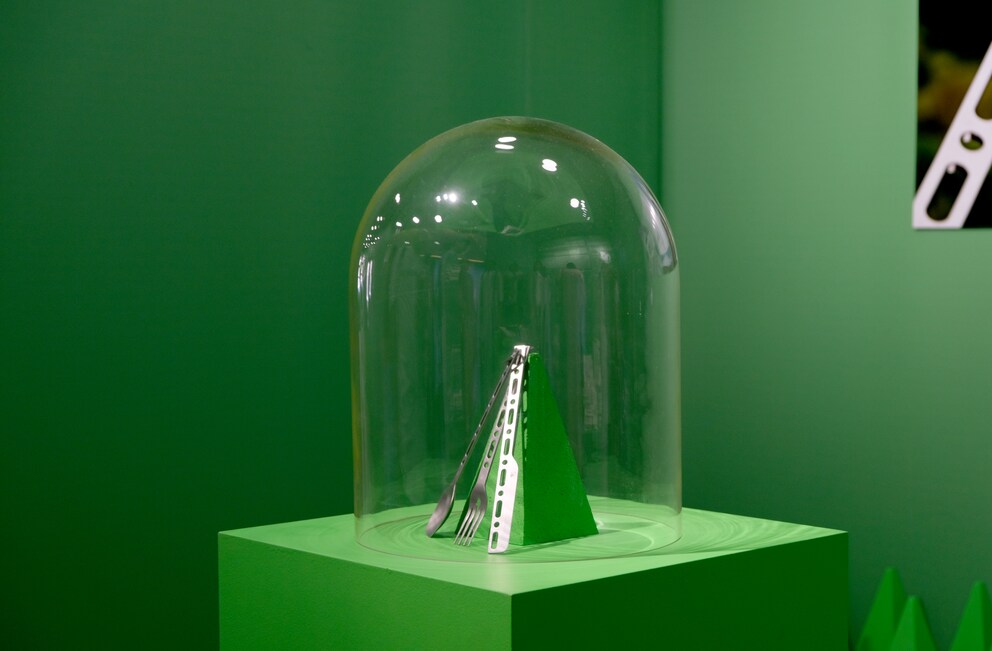 I may be speculating with these four reasons. But at the latest, when someone from the Kardashian-Jenner clan hangs the cutlery from the carabiner on his trousers, that will be enough to drive the prices for 998 other sets to astronomical heights - you bet!
Survey
What do you think - is it worth the purchase?
The competition has ended.
---



«There are only two ways to live your life. One is as though nothing is a miracle. The other is as though everything is a miracle. I believe in the latter.»
– Albert Einstein
---
---
---
These articles might also interest you
Skeleton Loader

Skeleton Loader

Skeleton Loader

Skeleton Loader

Skeleton Loader

Skeleton Loader