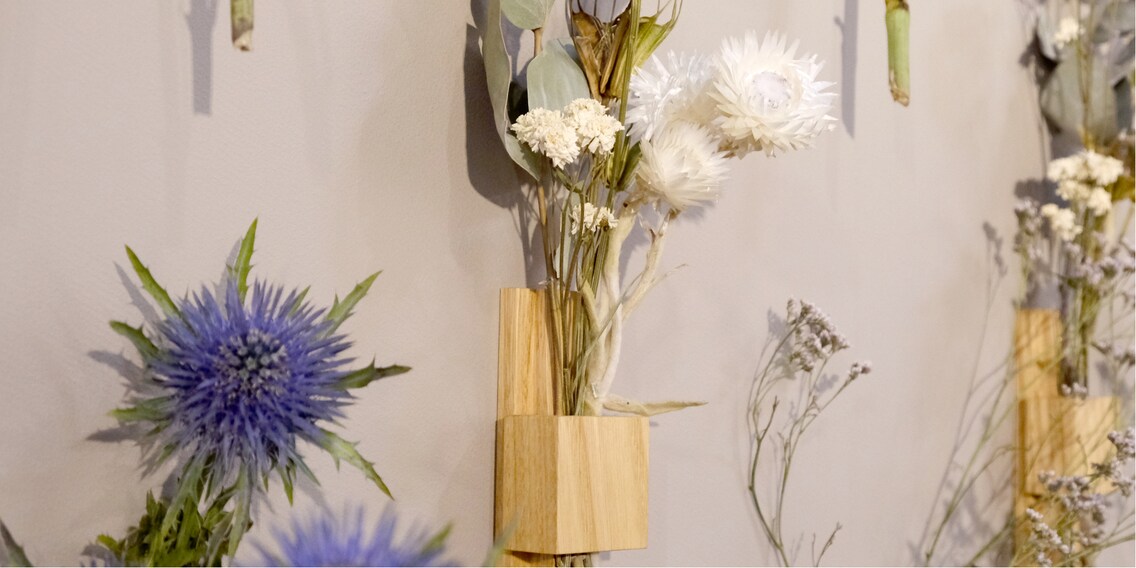 5 ways to get more out of dried flowers

Dried flowers can look old. To change that, I went looking for inspiration – and found it at a furniture expo in Paris.
It's nice that my bouquets of dried flowers last a long time. I do, after all, keep them out of the sun's reach and away from moisture. But I still get tired of looking at them eventually. It's just a pity to throw out perfectly good dried flowers. So, I either need to come up with some new ideas – or steal some. The displays at Parisian furniture expo «Maison et Objet» gave me five new ideas of how to arrange my old flowers differently.
1. On the wall
Normandy label Gllu brings dried flowers to the wall. In collaboration with florists Angéline and Monsieur Marguerit, the brand has developed «Hirondelle» – a versatile wall hanger for a mini bouquet of dried flowers. By moving the wooden block, you can adjust the diameter of the opening to the number of flowers you'd like to display as «works of art». In an imitation of the trick, you can also nail a clothes peg to the wall and use it to show off a few dried sprigs.
2. With postcards
Gllu has also designed a shelf suited to displaying memories and photos. Unlike picture frames, it allows the photos to be swapped quickly and can incorporate 3D elements such as dried flowers. It's a combination I really like, so I get myself a card holder.
3. As a collage
Artist Sté­pha­nie Montagut also plays around with 2D and 3D forms. Numerous collages were on display at her exhibition in the Maison De Vacances. Described by the artist as «gardens of the mind», they're created from the interplay between dried plants and artworks. Montagut combines fragile flowers with photographic fragments, drawings, engravings or poetry. For a bit of variety, I'll press flower stems and frame them along with photos.
4. With exclusive vases
Clinchy-based manufacturer Porcelaine Moderne puts some distance between each flower stem. The handmade stoneware «Mini Pain à Fleurs», given its name by its bread-loaf shape, can only accommodate one stem per hole. That means I'll have to strip down my already slightly dusty bouquets pronto and give them a VIP spot.
Atelier Polyhedre's red stoneware [Vaselot] vase is even more exclusive. Its particularly narrow opening can only accommodate one flower. I like the idea of having the vase and the dried flower merge to such an extent that the flower is barely recognisable as such.
5. As a contrast
With its cotton fabric and brightly coloured patches, «Pocket Board» by Hélène Nepomiatzi is reminiscent of an abstract oil painting. The design's handles, however, allow it to be moved around easily. Either transport it from A to B, or turn it into wall decor. The individual pockets provide storage space for knickknacks or even photos. Check out the example below, which makes use of sprigs of dried eucalyptus and the works of photographer Morgane Le Gall.
Design pieces like these make dried items look fresh again. Although I don't have all of these pieces at home, I can apply the thought behind them to other objects and arrange my dried flowers more imaginatively than just as bouquets from now on.
Do you have any more tips on how to keep the arrangement of dried flowers fresh? Feel free to share your ideas in the comments.
---



«There are only two ways to live your life. One is as though nothing is a miracle. The other is as though everything is a miracle. I believe in the latter.»
– Albert Einstein
---
---
These articles might also interest you
Skeleton Loader

Skeleton Loader

Skeleton Loader

Skeleton Loader

Skeleton Loader

Skeleton Loader