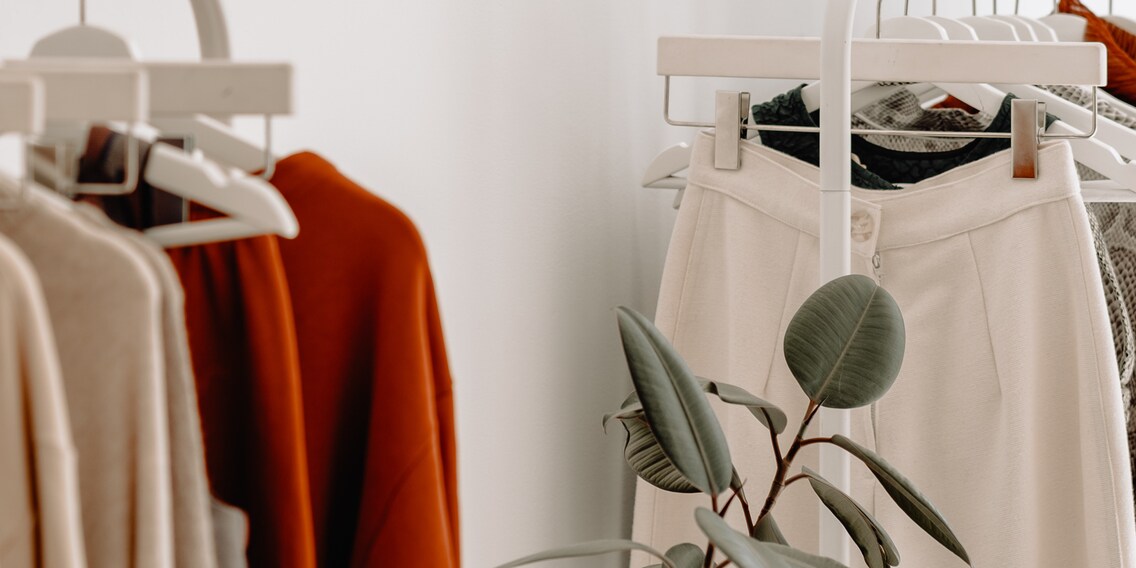 5 reasons you «have nothing to wear»

Why on earth is my jam-packed wardrobe not producing any outfits? I've racked my brains over this paradox for a long time and found five causes for it.
The clothes rail is packed like a tin of sardines, the closet compartments are filled to the brim – and yet your attire potpourri isn't providing you with a satisfying look? Been there, hate that. Staring at a poorly curated collection of clothes in the morning is frustrating and time-consuming. Or what's worse: it gives you the feeling you need new clothes all the time. And that hurts the planet and your bank account. To make things worse, shopping for more will only provide a temporary fix and might even make things worse in the long run. So postpone that shopping trip for now and tackle the problem at the root.
1. Your wardrobe was randomly thrown together
It's not clothes you're lacking but combination options. This happens when you shop for pretty things without questioning if they're a clever addition to your collection of clothes. As I wrote in my bad buy guide, I now try to look at items of clothing as part of a whole system – like furniture in an apartment, which are put together to create a coherent whole.
Naturally, we don't have all the clothes we own in mind when we're shopping. So, when you're back home, it's worth checking to see how well a new piece fits into your wardrobe overall. If you struggle to combine it with anything else, maybe reconsider giving it space in your wardrobe.
2. You're underestimating basics
When I was clothes shopping back in the day, I used to be seduced by eye-catching items. As a consequence, my wardrobe consisted mainly of statement pieces. This makes outfit shortages inevitable. Ultimately, it's basics that are the backbone of your everyday look – think a well-cut pair of straight leg jeans or a white tank. It's only thanks to them that any trendy garment will truly shine. If you're missing these elementary building blocks, your daily search for an outfit will become a real challenge.
The rule of thumb is: 80 per cent of your wardrobe should consist of timeless classics. The remaining 20 per cent can be fancy and trendy. Sound boring? Then go for basics with a twist, such as loose T-shirts with shoulder pads, long-sleeved shirts with elegant cut-outs and tank tops with contrast stitching or knitted patterns.
3. You're comparing yourself to others
Influencers and their infinity closets can easily make you feel like you have nothing to wear. They might even make you chase after micro trends that disappear as quickly as they appeared. Knowing what works for me – and what doesn't – is my anchor amidst the overwhelming flood of inspiration on Instagram and the like. Finding your own style is an art in itself. However, the following points might give you some food for thought:
Think about the clothes you keep going back to. And the outfits you've felt most comfortable in over the past few months.

Think about the predominant situations in your life and what you wear to them. The contents of your closet should reflect your lifestyle.

Go through Insta and Pinterest looks you saved and try to identify what they have in common. This might reveal a style for you to focus on. A mood board could serve as a visual support.
4. You're trying too hard
Whenever I aim to really dress up, my endeavour usually backfires. It gives me a hypercritical perspective on my wardrobe and nothing feels good enough. If in doubt, keep it simple and go for something tried and tested. You'll often look more stylish in high-quality basics than in flashy trendy pieces.
5. Your wardrobe's a holy mess
Chances are, your wardrobe needs to be decluttered and reorganised. As reported by my colleague Laura, Swiss wardrobes contain 118 items of clothing on average. And almost half of them are either never used or used a maximum of four times. If you have a hard time sorting out clothes, try temporarily storing them in a box. Write a date on the lid you want to revisit the items. It's often the case that you won't miss anything that's in that box during the timeframe you determined.
Once you've cleaned out those skeletons, you can see the big picture. In case you were worried, there's no need to organise your clothes by colour. Just make sure they're all clearly visible and not lying crumpled in the darkest corner of your closet. I've organised my pieces by type. I have an extra clothes rail, which is very handy for putting potential outfits together.
Header image: Thom Bradley via Pexels
---



Has endless love for shoulder pads, Stratocasters and sashimi, but a limited tolerance for bad impressions of her Eastern Swiss dialect.
---
---
These articles might also interest you
Skeleton Loader

Skeleton Loader

Skeleton Loader

Skeleton Loader

Skeleton Loader

Skeleton Loader