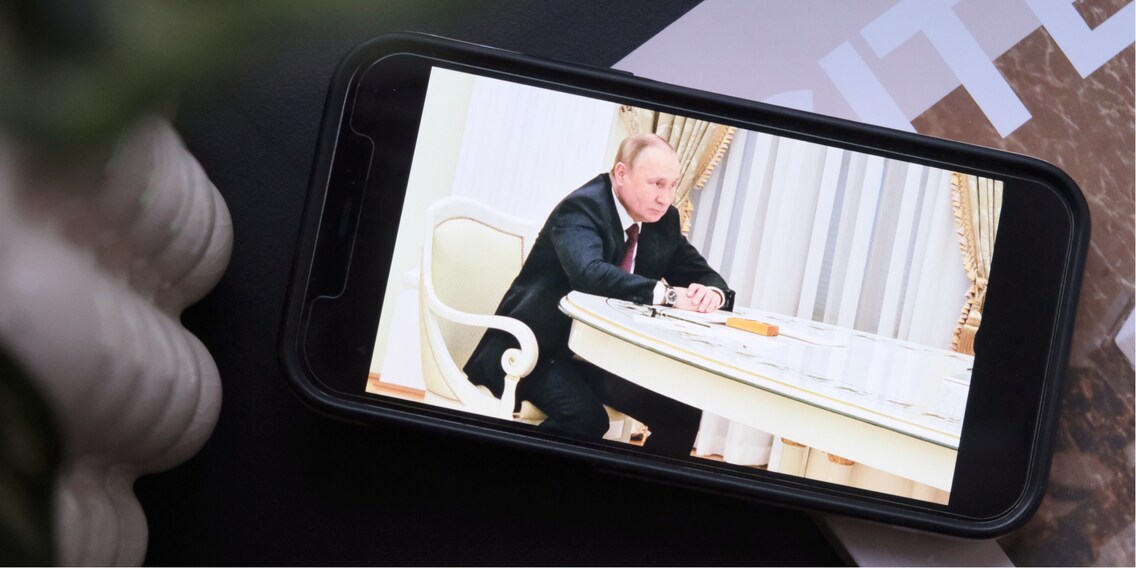 This article was translated automatically.
3 Reasons Why Putin's Table Is More Inviting Than Many Think
On Monday evening, Russian President Vladimir Putin and his counterpart Emmanuel Macron discussed the Ukraine conflict. They sat at a particularly large table, which has since gone viral.
"Violent," "intimidating," or "strikingly massive " - that's how the press described the table at which the Russian and French presidents met last Monday in the Kremlin. For some, the distance between the two is pandemic-related; for others, it symbolizes the distance between Russia and the West.
Still others use it as a white canvas: since the meeting, the void between the two politicians has been filled in numerous memes on Twitter and the like, with guests such as Bernie Sanders or Donald Trump.
Looking at the table, on the other hand, I wonder if Putin might prefer to conquer TikTok and Pinterest instead of Ukraine. To me, the furnishings look anything but intimidating for three reasons.
1. table and chairs are gently shaped
Exactly what the table is made of, we don't know. It is said to be made of Chakassic marble, has a glazed wooden top, and floral inlays and details of gold. Its length is estimated at five to seven meters. What's for sure is that it has no edges or table legs to bump into. That makes it trendy right now: according to Pinterest, curvy design is one of the most important interior trends of 2022 and is the result of a resurgence of interest in postmodernism.
In design, round tables create a cozy atmosphere, and in politics, they suggest that everyone is equal here. It is used, according to Wikipedia, "to clarify divergent interests" and find compromise between parties. If Putin had wanted to threaten, he should have chosen a repulsive model for the reception. Preferably in black, angular and with X-legs and uncomfortable stools instead of upholstered chairs around it. However, this table is bright, friendly and white as innocence.
Survey
Which table looks more inviting?
The white model
The black model
The competition has ended.
2. the Santorini columns exude vacation feeling.
The three columnar table legs, each adorned by circa seven other columns, are in keeping with another current home trend: the Hellenism revival. "This year, ancient Greece is the big source of inspiration for home design - especially among the young Gen Z target group," it says on Pinterest. Among other things, people are looking for columns that remind them of the Corinthian order, as in this table. Maybe Putin wanted to be hip and finally conquer TikTok with this design. Or maybe he wanted to bring a bit of Greece into the joint.
3. the furnishings: flowers and other playful details
The oversized table is on a white carpet, not a concrete floor. If Putin hadwanted to"cement the distance once and for all," as the "Welt" writes, he would have dispensed with the flattering footlights and the playful curtains with their fringes. Here, however, it is teeming with flowers and sweeping lines in beige or Bordeaux red. Both ornaments and color radiate warmth. And flowers stand for love.
Compared to the oversize table, the real flower bouquet in the middle of the table looks like a size zero. Nevertheless, it sends a happy message. Whoever gives away flowers or decorates with them usually wants to cheer someone up. In comparison, there have also been meetings of politicians where no value was placed on this.
New Iron Curtain?
Just as the Iron Curtain was once a symbol of a physical and ideological border between East and West, the marble table in oversized look seems to many to have the potential to be a new symbol in the Ukraine conflict. Who brought the term into being at the time is still unclear today. But it originated in scenography. As a structural fire protection measure, theaters have an iron gate that can be lowered like a curtain by the stage. This is supposed to separate the audience area in the event of a fire.
In my eyes, the table paints a different picture than a metal curtain. Its soft contours and the somewhat old-fashioned setting around it, let me hope that this was purely a corona protection measure. Or Putin tried to furnish the room according to Pinterest living trends to conquer social media channels - and failed. To make sure he succeeds next time, I put together a mood board for him. With these home accessories and furniture, he would succeed in combining Hellenism and Seventies revival.
Survey
Do you think the table should....
...invite?
or intimidate?
The competition has ended.
---



«There are only two ways to live your life. One is as though nothing is a miracle. The other is as though everything is a miracle. I believe in the latter.»
– Albert Einstein
---
---
These articles might also interest you
Skeleton Loader

Skeleton Loader

Skeleton Loader

Skeleton Loader

Skeleton Loader

Skeleton Loader