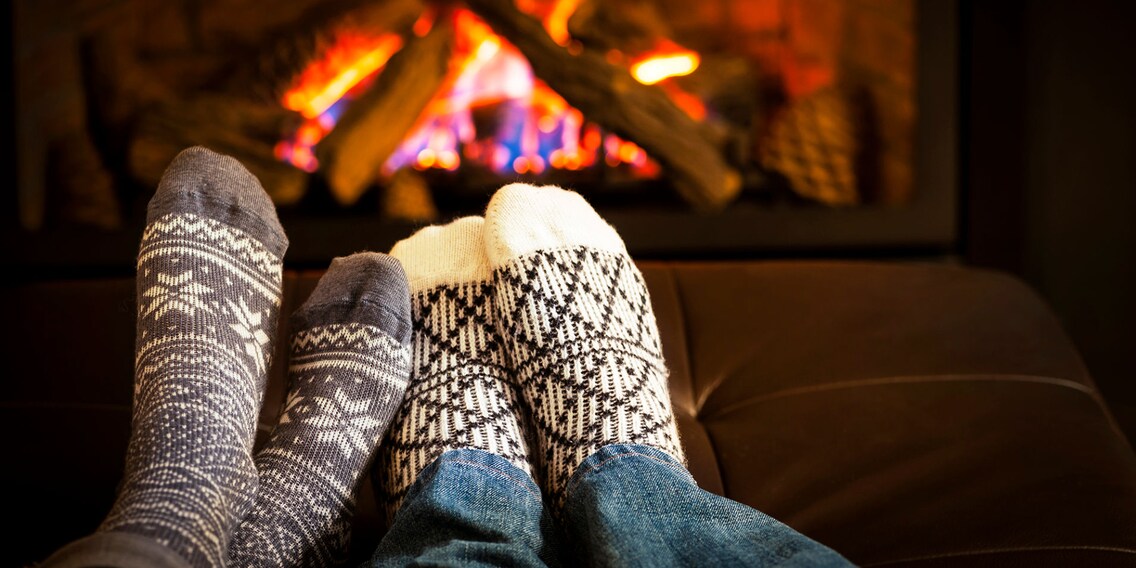 10 ways to get cosy on a cold winter's day

These grey winter days can be so miserable but are also a great time to get comfortable at home and enjoy some downtime.
Laugh in the frosty face of winter by turning your home into a snug sanctuary.
1. Start the day bright eyed and bushy tailed
Say goodbye to the morning grumps with a so-called "morning light simulator". It gradually lights up your bedroom around 20–40 minutes before the alarm rings, simulating a natural sunrise – from the soft reds of dawn to the warm oranges and bright yellows of a new day. Rise and shine!
2. Get into the early morning groove
Stimulate your circulation first thing with alternating hot and cold showers. This will melt even the most hardened winter haters and strengthen the immune system. Try out a jungle shower or a light shower with seven different colours to suit your mood.
3. Boost your mood
Add cosy touches to your home with warm colours and decorative, fragrant candles. Experiment with bright summer colours like reds, oranges and yellows and dream yourself away to summer.
4. Top up on daylight
Wrap up warm and take a winter walk. If you're seriously low on daylight, try using a sun-simulating light therapy lamp.
5. Battle boredom in the afternoon
Treat yourself to tea breaks during this cold season or catch up with friends. How about a games afternoon to bring it all together?
6. Wellness at home
Taking it easy and looking after yourself is particularly important during these cold months. Relax in a hot bath or whirlpool or in front of an infrared lamp. Fluffy towels and pretty bath accessories will beautify your bathing rituals.
7. Spend a quiet night in
Enjoy an evening accompanied by a delicious dinner. A pot of fondue is guaranteed to warm and fill you up. How about a nice glass or white wine to go with it?
8. Romantic moments outdoors
Fireplaces and radiant heaters create a unique ambiance outdoors. While wood fires set the mood, radiant heaters provide the warmth. So snuggle up under a blanket and gaze at the stars.
9. Good riddance to cold hands and feet
Feeling the chill of the evening? Get equipped with an extra blanket or a hot water bottle!
10. Curl up in your cocoon
Make sure you get plenty of sleep in soft bedclothes and a fluffy duvet.
If none of the above seems to be doing the trick, maybe just resort to dreaming of warmer places…
---



I draw inspiration and energy from nature – whether I'm hiking, skiing in the mountains or travelling to new places. I also have a passion for photography, music, TV series and good food.
---
These articles might also interest you
Skeleton Loader

Skeleton Loader

Skeleton Loader

Skeleton Loader

Skeleton Loader

Skeleton Loader