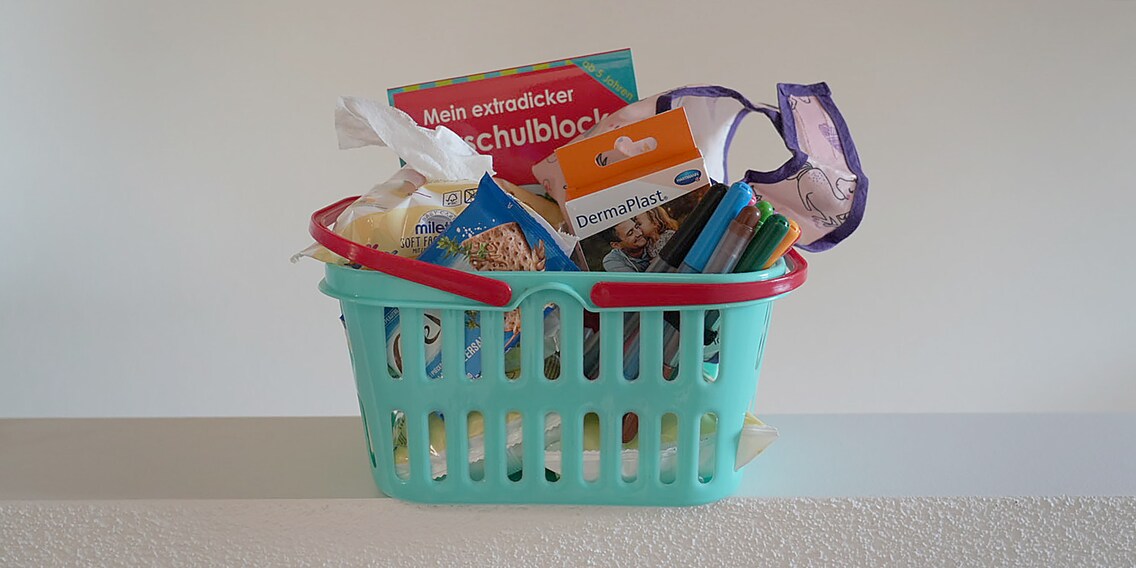 10 handy shopping cart fillers for parents
There are things you need on a daily basis when you have kids. Things you always have at hand or in stock at home. So go ahead and fill your shopping cart with the following products – you'll need them sooner or later.
The first time you take your baby out for more than two hours, you'll come to a shocking realisation that half your household's joining, too. Diapers, wet wipes, bottles, water, spare clothes, security blanket, sunscreen, gum gel, you name it. Your pushchair and diaper bag are bursting at the seams.
The good news? You get faster at packing with practice. You'll develop a pro-level at knowing what to bring and what can be left at home. And as your child grows, the weight you're lugging around in your backpack shrinks.
What remains are essentials. Things you use almost every day and you wouldn't want to live without. They're also the things you can't really have too much of. That's why they're great to fill your shopping cart with and dodge the minimum order surcharge. Here come ten typical shopping cart fillers for families.
1. Wet wipes
In the beginning, they're to wipe your baby's bum. Next, they clean sticky fingers and messy mouths. At least when there are no flannels at hand. You'll occasionally need a wet wipe just to clean a dirty chair. Or wipe down a doll that's been scribbled on. The Swiss Army knife of cleaning.
2. Paper
Painting, crafting, writing and cutting. Paper's always in high demand with children. Ideally, you should have at least one pack of white sheets and one pack of coloured sheets on hand at home. Plus a pack of extra-thick crafting paper.
3. Colouring books, puzzle books and crayons
If you're at a restaurant that doesn't have a kids' corner, you'll soon miss them: colouring or puzzle books and crayons to keep the wee ones occupied. Some establishments know this and will have some ready for their tiny guests. But by no means all of them. To be on the safe side, you're best off packing a set before you go out to eat. The same applies to journeys by plane or train. Every time your kids need to sit still for a bit.
4. Snacks
Speaking of keeping the kids happy. Snacks have saved many an outing. If you forget them, you'll soon appreciate their importance. Cereal bars, dried fruit or nuts. Go ahead and pop them in your shopping cart. I promise they will be eaten.
5. Lunchboxes
How many lunchboxes do you think you'll prepare for your kids over the years? A ton! The boxes will grow with your offspring. At some point, the kids no longer want the Paw Patrol one and soon you'll have to fit a whole carrot instead of just one stick. In other words, you need many lunchboxes and tupperware. A ton!
6. Water bottle
Always needed. Always at hand. And often left behind somewhere. Sure, there's no need for a whole water bottle arsenal at home. However, one, two or three of them per age have proven practical. At least in my experience.
7. Small tube of sun cream
You might be out and about, when the sun comes out unexpectedly. Great if you've remembered to pack a sun hat. Even better if you have sun cream, too. The easiest thing to do is keep a small tube of it in your rucksack or handbag. But remember to replace it every year to ensure UV protection.
8. Bib
Bibs are ready to be machine washed after every meal. After all, their main job is to get dirty. If you don't do laundry every day, you're going to need several of them. It's also handy to have one for outings. A plasticised one is your best bet, as you can wipe it clean and pop it back in your bag.
9. Hair bands
Admittedly, they're less in use for parents of boys. But all the more popular in families with girls. Hair bands are like socks. They mysteriously disappear on a regular basis, so you're permanently short of them. And that's why you could always do with some.
10. Plasters
Plasters are more than just little first aiders after a fall. They can even dry tears when there's no wound to be protected. Plus, they're a popular prop for role-playing games involving medical professionals. In other words, a true all-rounder for families with kids.
Do you use other small but indispensable essentials in your family routine? Let us know about your shopping cart fillers in the comments.
Header image: Katja Fischer
---
Mom of Anna and Elsa, aperitif expert, group fitness fanatic, aspiring dancer and gossip lover. Often a multitasker and a person who wants it all, sometimes a chocolate chef and queen of the couch.
---
---