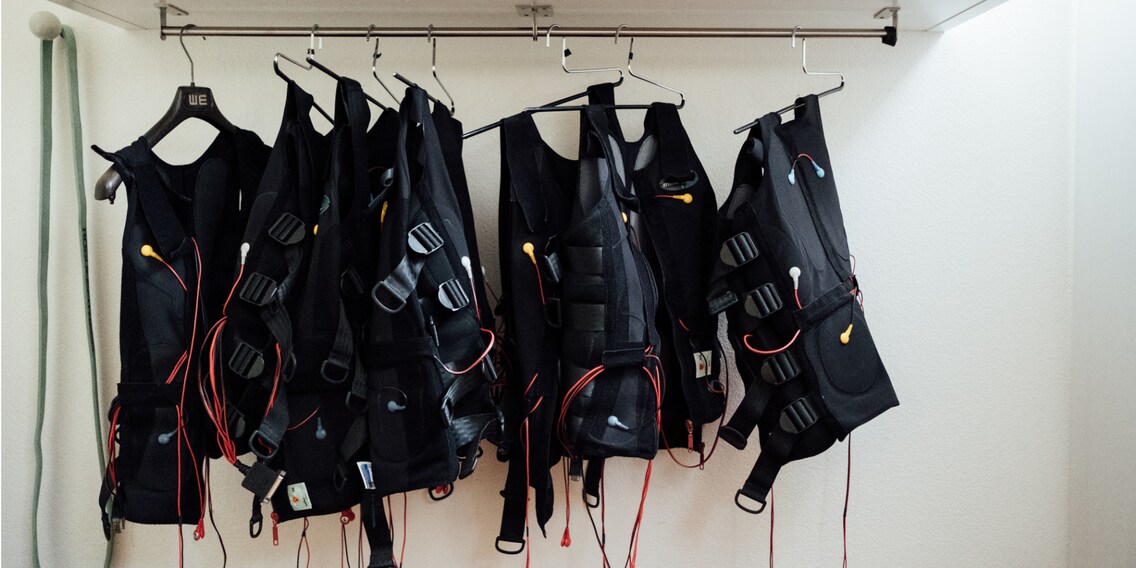 This article is not yet available in your selected language.
Wir suchen euch: Zwillinge für EMS-Training

«Ein Erfahrungsbericht hätte mir besser gefallen», schreibt Galaxus-User Patric1975 zum neuen EMS-Suit von Fortis. Und ich habe jetzt ein Problem. Die Lösung dafür lautet: eineiige Zwillinge.
Es gibt Produkte in unserem Sortiment, die lassen sich einfach testen und bewerten. Hängematten zum Beispiel. Du legst dich rein und geniesst den Tag. Fertig. Und dann gibt es Produkte, wie den EMS-Suit von Fortis. Dabei handelt es sich um einen Anzug, der die Muskeln mit Strom stimuliert.
Community-Mitglied Patric1975 hatte dazu einen Kommentar hinterlassen:
Erfahrungsbericht? Kein Problem
Ich habe mir also einen dieser Anzüge geschnappt und beim Hersteller ein kurzes Probetraining absolviert. Eine schweisstreibende, aber durchaus positive Erfahrung.
Aussagekräftiger Selbstversuch? Problem!
Ein kurzes Probetraining ist das eine. Ein aussagekräftiger Selbstversuch etwas anderes. Was ist dran an der elektrischen Muskelstimulation, kurz EMS? Und was bringt das Training mit dem Anzug von Fortis? Um diese Fragen schlüssig zu beantworten, müsste ich einen Klon von mir erstellen und ihn parallel ohne Anzug dasselbe Trainingsprogramm absolvieren lassen. Science-Fiction. Eine realistische Lösung: eineiige Zwillinge.
Jetzt seid ihr gefragt. Wir suchen für eine Fitnesstrainings-Challenge:
eineiige Zwillinge
anfang 20
männlich oder weiblich

gleicher Trainings- respektive Fitnessstand
Test EMS training
Write us why you are the right twins for this test.
The competition has ended.
Bewerbt euch für die Challenge bis zum 21. Juni 2020. Die dreimonatige Trainingsphase beginnt nach den Sommerferien im August. Ihr erhaltet vorab eine komplette Körperanalyse und einen detaillierten Trainingsplan durch spezialisierte Physiotherapeuten. Ein Zwilling trainiert mit, einer ohne Anzug. Das Ziel: Muskelaufbau bei gleichzeitiger Reduktion des Körperfetts. Und für den Gewinner oder die Gewinnerin lassen wir uns auch noch einen hübschen Preis einfallen.
Muskelaufbau, Fettreduktion und eineiige Zwillinge. Das sind die Zutaten einer Challenge, die sich gewaschen hat. Du willst sie nicht verpassen? Dann folge hier meinem Autorenprofil.
---



What matters isn't how well you play when you're playing well. What matters is how well you play when you're playing badly.
---
---
---
These articles might also interest you
Skeleton Loader

Skeleton Loader

Skeleton Loader

Skeleton Loader

Skeleton Loader

Skeleton Loader