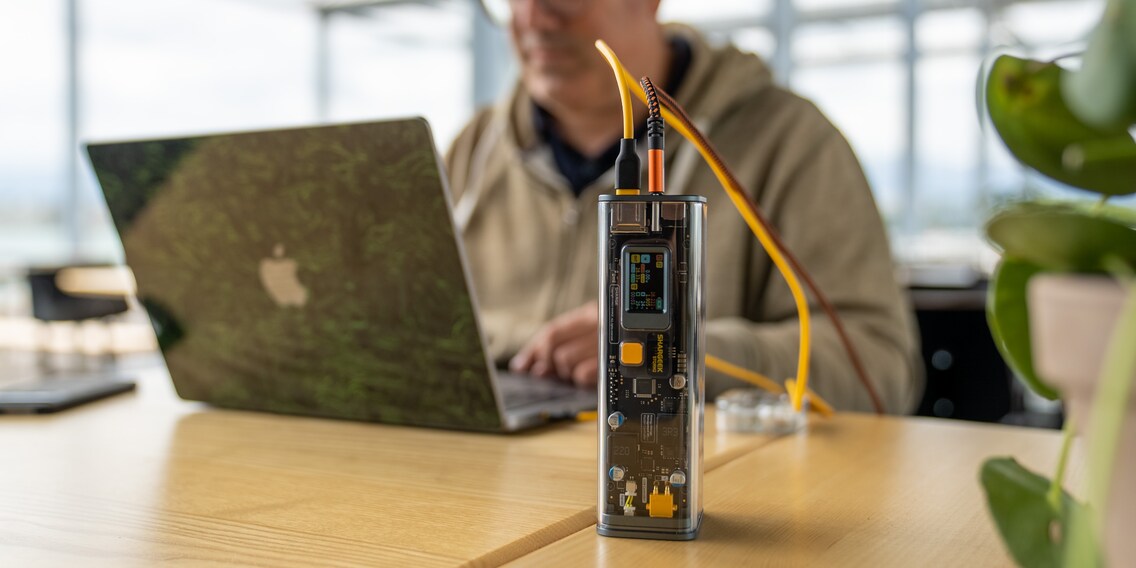 Why the Community loves the Shargeek Storm 2 powerbank

You'd be hard-pressed to find another powerbank that gets as good reviews as the Shargeek Storm 2. What makes this luxury battery so special?
The suspense is real! In front of me, a black box with «Shargeek» lettering. It looks plain, but is heavier than expected. The unboxing itself is unspectacular. I take off the top – and there's the powerbank, a yellow USB cable and a cloth bag.
Here I have it, the Shargeek Storm 2. What a design! The powerbank is transparent all around. At the lower end, I see the eight batteries; at the top, the circuit board along with the controls and ports. There's even a little built-in screen.
The transparent design is an eye-catcher
It's really chic, this techy look. The manufacturer also paid attention to the details: certain components, such as the USB controller and the «Energy/Storage Management», are labelled. It's safe to say that the Storm 2 certainly visually stands out from most other battery packs.
The eye-catching product design is certainly one reason for the powerbank's success – hardly any other model with a similar capacity has received higher ratings from the Community. Almost 90 per cent give it 5 out of 5 stars. «Really good performance», «top powerbank», «very cool gadget» say the comments. The most frequent point of criticism is the price.
Top marks, but not perfect
At over 200 francs, the Shargeek Storm 2 is more expensive than many other models. Looking at the cost per 1,000 mAh of battery capacity, the transparent powerbank is in the upper range at 6.37 francs. You can get well-rated batteries for half that price.
My test reveals a further weakness. Namely, the synthetic glass used is susceptible to dust, dirt and also scratches. If you just throw your Storm in your backpack, this'll quickly become apparent. All this to say, it makes sense that the powerbank comes with a cloth carrying bag. It really is good practice to store the Storm in it.
The weight is another aspect I've got to address. My scale rings up 599 grammes. Of course, this is primarily due to its eight batteries. Other models with a comparable capacity tend to be even heavier, for example because the casing is made of metal.
Never worry about running out of juice again
The main reason why buyers opt for such a chonker is certainly its specs. The Storm has a capacity of 25,600 milliampere hours (mAh) and 94 watt hours (Wh) of power. For laymen like myself, this translates to being able to charge your smartphone five to seven times on one powerbank charge. Or your MacBook once and then some. If you're interested in the topics of capacity, voltage and energy, you can find an info-filled article here, for example (article in German).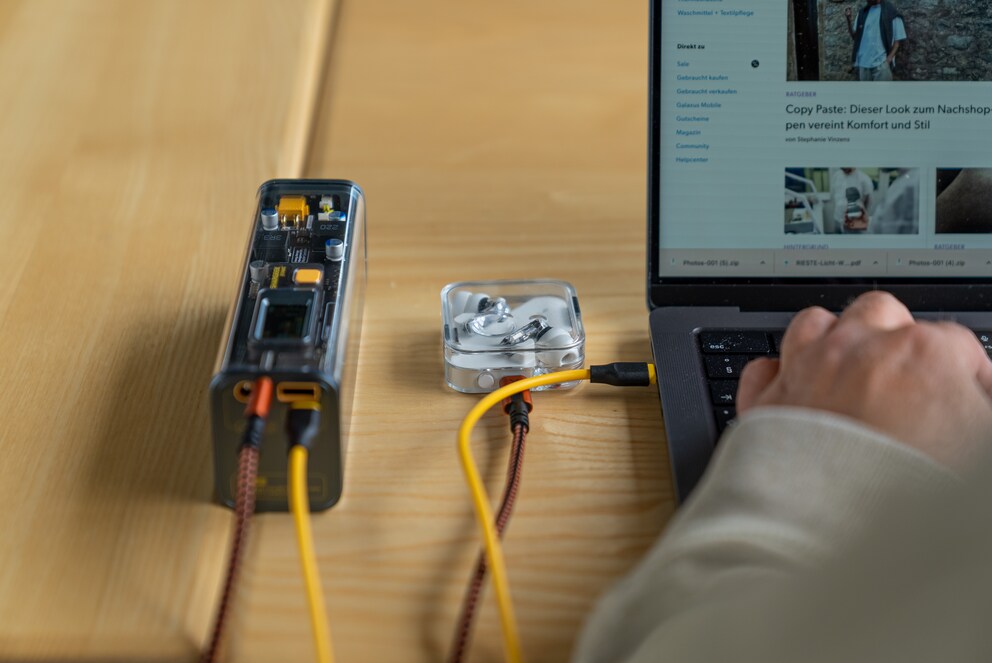 Also important to know is that powerbanks up to 100 watt hours can be taken on the plane without any problems. Any more power, and you'll need a special permit. Be sure to stow any powerbanks in your hand luggage! Should one be discovered in your checked baggage, the crew will remove it. In Zurich, for example, you can then collect it – for a fee – or it's disposed of.
All this to say, the Shargeek has just the right capacity for all-round use. And, almost more importantly still, it delivers up to 100 watts. This means you can not only charge your smartphone or headphones, but also laptops and other larger devices. On top of that, you get fast charging.
It's important to note that only the USB-C1 port offers up to 100 watts; the USB-C2 offers 30 watts, the USB-A 18 watts and the DC port up to 75 watts. You can charge up to three devices simultaneously.
The extras make the difference
In addition to the USB ports, there's also a DC port. You'll be familiar with it from many small and medium-sized devices that are supplied with direct current via this port. It's adjustable from about 3.5 volts to 25 volts. And not only could I run devices directly through it, but I could charge the powerbank via a DC charger – or even a solar panel. Shargeek has one in its range.
I, for one, primarily use USB-C for about a dozen or so devices in my everyday life. So, I'm also happy about another special feature: the powerbank's little screen. It displays an incredible amount of information, such as how many watts the powerbank is currently being charged with or even how many watts it's currently pumping into the connected phone.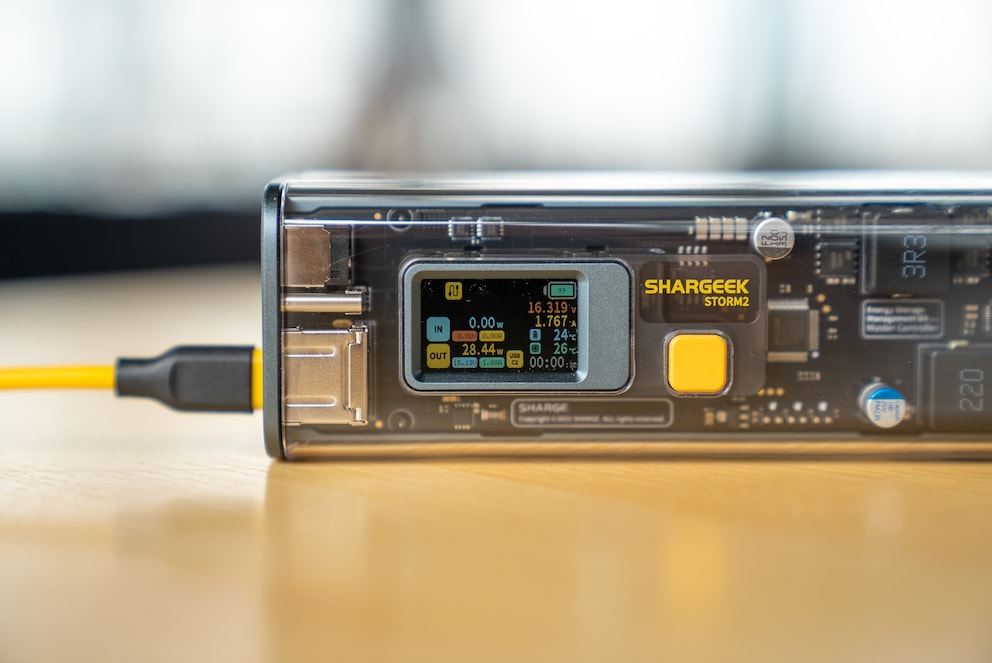 Here, too, you can really feel the heart that was put into the design. The graphics are reminiscent of the command consoles from Star Trek – a retro-futuristic vibe, if you will. The menu and its six sections can be accessed using one single button and a mix of short and long presses. Yes, a second button at the very least would have been nice, even if I'm not playing around with the settings too often in everyday use.
As previously mentioned, I can set the DC output via the menu so that each device on the cable is charged just right, or I can set how long the display stays on. I can also actively turn off the powerbank to keep the power loss to a minimum over a longer period of time. In sleep mode, I found I was losing about one per cent battery in two days.
The manufacturer also promotes transparency by listing the actual capacities of the four dual batteries under «Battery Info». Instead of the 93.5 Wh in print, I actually have 87 Wh. Up to a 10 per cent difference is quite normal after a few charging cycles. This is usually something you'd typically only notice if you measure it yourself.
How good are my USB cables?
What I find even more exciting is the information about the output during charging. What many people don't realise is that not all USB-C cables are created equal. This applies not only for data transfer speeds, but also for charging. Only high-quality cables will reach 100 or even up to 240 watts.
Smartphones with a fast-charging function are complicated by the fact that there are different standards – VOOC from Oppo, Quick Charge from Qualcomm and USB Power Delivery – and they're not always compatible. In other words, the charger or powerbank, cable and device itself must support the same standard.
The Storm supports USB Power Delivery 3.0 on the two USB-C ports with 30 and 100 watts. Quick Charge 4+ is only supported on the 30-watt USB-C port, and the USB-A port with 18 watts supports Quick Charge 3.0.
I'll try out some cables from my drawer. I quickly realise that this isn't that simple a task. For example, my phone, which is 90 per cent charged, tweaks the power down itself to prolong the life of the battery. Compared to an almost discharged iPad, I see massive differences. The cheap no-name cable manages just 5 watts, the better variants do 25 watts.
The MacBook finally separates the wheat from the chaff. Fortunately, quite a few cables manage 60 watts. In normal operation, notebooks don't draw more either. However, anyone who also wants to charge their MacBook under a full workload would be happy to get 100 watts. The good news is that the yellow cable supplied by Shargeek can really use the powerbank's different capacities and is a good choice in any case.
An expensive choice – but I get it
For anyone simply wanting to charge their phone, the Shargeek Storm 2 is too heavy and too expensive a choice. There are also more economical powerbank options for notebooks. This particular powerbank reveals its quality through subtleties.
Being able to power devices via a DC connection is pretty unique in the realm of powerbanks. I'm also a fan of the entire charging management, including the exciting extra that is the display. And yes, I do also really like the overall look and design. I totally get why this powerbank has so many fans – and why it's guaranteed to gain even more.
Header image: Manuel Wenk
---



Gadgets are my passion - whether you need them for the home office, for the household, for sport and pleasure or for the smart home. Or, of course, for the big hobby next to the family, namely fishing.
---
---
---