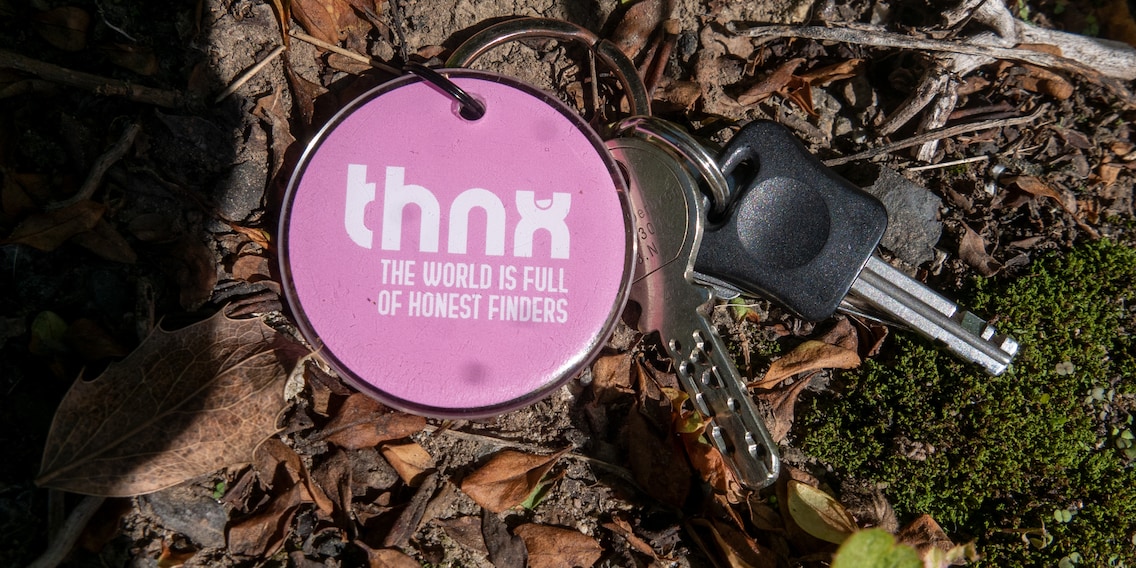 Why I wanted to kick myself all summer long

Eight long weeks without a sign of my key. My ever-changing emotions range from hope to frustration to self-reproach. Especially because what could've been a possible quick fix is lying on my desk. If only I had used it in time...
My key is gone. That this had to happen to me of all people. The lost-and-found of the family, who usually knows where everything is. I'm constantly scanning my surroundings, noting anything out of place. The pair of glasses on the washing machine. The gym bag behind the armchair. The smartphone on the bathroom shelf. I notice everything, often shaking my head and (perhaps a little arrogantly) not bothering to worry about my own possessions unless someone else touches them. Because I keep my stuff where it belongs. Especially my keys. They're either stuck in the door or rattling around in my trouser pocket. What misfortune could possibly become them? None whatsoever. Until that one fine July day when I go for a run and fate plays me an unexpected hand.
Running out of luck
When I go jogging, I keep my keys – along with my smartphone – in a small zippered pocket in my trousers. I make sure to zip that pocket closed before popping on those headphones and heading off. So surely there's no cause for concern. Except, perhaps, for the tiny hole in my pocket that has begun growing bigger and bigger thanks to the steady pounding of my feet – all while I cluelessly jog on to the music blaring in my ear.
And while the weight of my smartphone has fooled me into thinking that all is A-okay, it turns out that the tiny hole has become just big enough to grant my key newfound freedom. That's what I realise instantaneously upon my habitual mid-run pocket check. Neither a second nor a third increasingly frantic plunging of my hand into my pocket helps to allay my fears.
Nevertheless, I convince myself that I could've forgotten the key at home (which, of course, is not the case) or that it's still lying in the middle of the path, waiting for me to retrieve it (which, of course, is also not the case). Too many dog walkers, joggers and spry retirees are out and about. My comrades. My hope. I fundamentally believe in the good of the people of Zurich. Especially those who frequent the forest. Still, I could kick myself for not having attached an identifier to my key chain.
Doomed to ruminate
A simple tag with my phone number or one of those trackers that provide me with a location would prove invaluable at a time like this. I'm really not a lover of those fancy trackers, but I admit it would be funny to ring a stranger's doorbell and announce, «I believe you have my key». It turns out that somewhere in my pile of office junk is a package containing a sample of Thnx Tags, which I've ignored until now.
Thnx Tags are small tags and stickers with a QR code that link to a contact screen with a call and WhatsApp button and a potential message from me. Had I chosen to use them, maybe my key wouldn't still be missing. Could've, would've, should've is pointless now, but I am powerless to escape the draw to ruminate. To make up for my mistake, I begin sticking the code stickers on my smartphone, wallet and all my other valuables.
In the meantime
The days go by. And turn into weeks. On every run, I hope that I'll spot my key somewhere. I check with the community clubhouse and nearby restaurants, stop in at the police station and, of course, register my loss at the lost and found office, whose website I check daily for newly recovered keys. I am consoled by the fact that other key accessories have proven as useless as my carabiner. «Keys: 1, accessory: turquoise felt loop; inscription: Don't lose!» is my absolute favourite. «Keys: 4, accessory: plush dog, small measuring device». Also not bad. But not helpful.
Nothing against Walbo Wabbel, but he's useless
Walbo Wabbel and other plush accessories are as of little help as my manic scrolling, because the key number is on file with my loss report. If the key is turned in, the lost and found office will contact me. Nevertheless, as soon as a potentially suitable find turns up in Zurich, there I go, dialing up that now memorized number. Half an hour of music and 15 minutes of tooting later, I know for sure what I actually already knew before – that my efforts have once again been in vain and «Keys: 4, accessory: carabiner» have slipped out of another pocket.
A turn of luck
Every day I am reminded of my loss. Every day I'm less hopeful that something will turn up. And then, unexpectedly, my luck turns around with the appearance at our door of our landlord's son, who's jingling my keys and exclaiming, «It was in the mail!». My first official act after thanking the messenger is to get rid of the carabiner and pull out a Thnx tag.
What exactly happened in the forest weeks ago must've been something like this: a small Chihuahua yelps and tugs at its leash, sniffing something that the older lady at the other end of the leash recognises as a key. She frees it from the dirt of the road, takes it home, puts it in an envelope, stamps it, heads for the nearest mailbox and sends it to Dormakaba Schweiz AG in Wetzikon with the keyword «lost key» so it can be identified by the key number and returned to its rightful owner.
What a wonderfully orderly process, which probably works in a maximum of 12 countries in this world and which I would still like to shorten in the future per Thnx Tag. Better than a carabiner any day. I probably would've had my phone back the same day had I used a Thnx Tag. Could've written a few friendly lines in the app and offered a finder's reward. And most importantly, I would've had the chance to say thank you in person and give the honest finder a book about looking for and finding the really important things in life AKA Lost and Found for Intangibles (in German only).
---



Sports scientist, high-performance dad and remote worker in the service of Her Majesty the Turtle.
---
---
These articles might also interest you
Skeleton Loader

Skeleton Loader

Skeleton Loader

Skeleton Loader

Skeleton Loader

Skeleton Loader