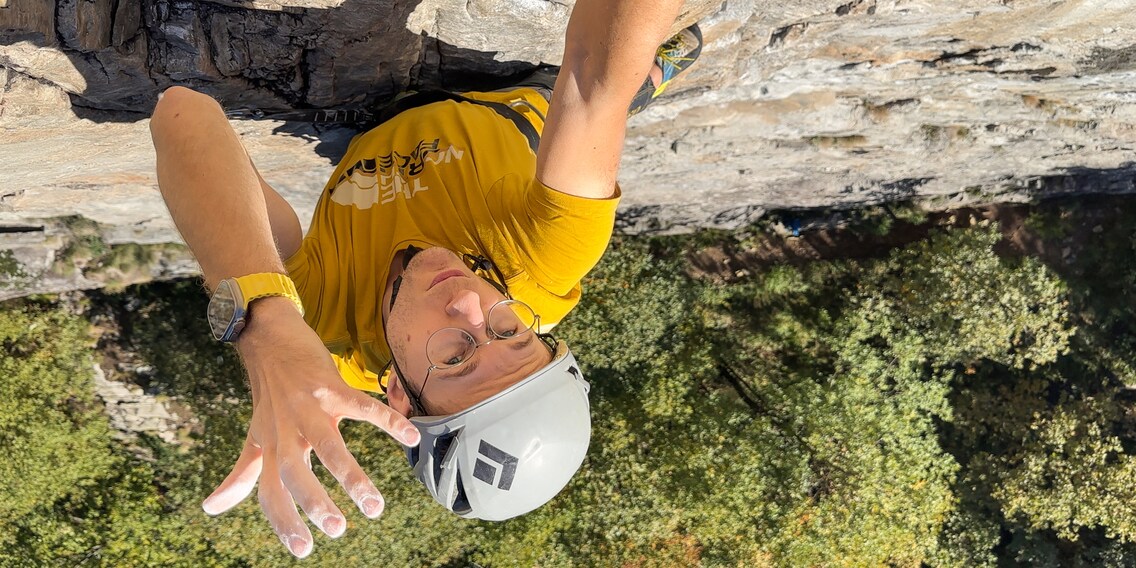 Why I like the Apple Watch Ultra and still don't need it

Translation:
machine translated
I tested Apple's titanium smartwatch while hiking and climbing. It often kissed the rock. After two months, I take stock.
No watch category has been able to convince me so far: I don't need a classic timepiece like a Swatch. I don't like sports watches like Garmin's and they don't have enough everyday functions. With regular smartwatches like Apple's Series 8, I find the battery life too bad and the things are too fragile for me. I'm a climber, so that makes the last point in particular an absolute no-go.
So I am the perfect advertising victim for the new Apple Watch Ultra. It costs 850 francs or 1000 euros and can do everything a normal Apple Watch can do. At the same time, it is supposed to have enough battery life and special functions for ultrarunners, mountaineers or divers and be very robust. Advertising spots show the watch as an essential tool in rough extreme situations. Sounds great - but what is the Ultra good for in practice? And do I need it at all? Time to subject the advertising promises to a reality check.
Design: a mock-up
I've already reported on workmanship and materials in my hands-on test. The Apple Watch Ultra is well made and comfortable. However, I find its size annoying at times. The watch is so thick that it constantly gets caught on jackets. This is an annoyance in the cold seasons. In bed, the mogul on my wrist also annoys me - so I take it off at night. But that makes the sleep tracking feature useless. Because it's so chunky, the Ultra only looks good with sporty clothes. It doesn't go well with an elegant outfit. Compared to sports watches, I still think it's worlds nicer.
The size also has its good points: The display is easy to operate as a touchscreen. It is also bright, with 2000 nits, and I can even read it easily in the midday sun thanks to the high contrast. In the dark, I'm a fan of the night mode, which colours the dial red. This way, the watch is much less dazzling. If I activate the torch function, the display glows white in full brightness. That doesn't replace a headlamp, but it's handy for finding the tent exit or similar at night.
Hardness test: sapphire glass against gneiss
To put Apple's promotional videos to the test, I wore the Ultra during various indoor and rock climbing sessions. These are rough conditions for a watch: sometimes it scrapes along a wall, now and then the whole left arm lands in a crevice. The case and glass make countless acquaintances with the rock - including Ticino gneiss, which is particularly hard.
The result after two months of relentless use: the titanium case has suffered a few scratches and scuffs. Since the metal is not lacquered, no other colour appears in the damaged areas. So the signs of use are less noticeable. The balance on the sapphire crystal is excellent. It still looks like it did on the first day - even though the display had direct rock contact despite the protective lip. Even when I hold the watch up to the light, I can't see the slightest scratch in the glass. The buttons still work perfectly despite the knocks. With this result, the Apple Watch Ultra definitely deserves the title "robust". Especially since very few people will abuse it as much as I did.
Climbing: Little added value
A rugged device only adds value to me if it is useful. I won't go into the Ultra's use as a regular smartwatch in this review. It can do everything the regular Apple Watch can do. The last generation of it was tested by my colleague Coya Vallejo in January. I am undecided whether I really need the smart functions. They harmonise perfectly with my iPhone, but I don't miss the watch in everyday life when I take it off.
I do a similar thing when I'm climbing. I use three functions in particular: I find the statistics on heart rate and calories burned interesting. I also log my routes with a special app. I can photograph topos - graphic overviews of climbing areas - with my iPhone and then call them up on the Apple Watch. This is particularly practical for multi-pitch routes - high walls that are climbed in several stages. There, I also appreciate the Ultra's LTE connection. That way, I could call my climbing partner or Rega in an emergency, even if the iPhone was out of range.
I see the last point as real added value. Everything else is nice, but rather a gimmick. The downside: the Ultra's size can sometimes be a nuisance when climbing - especially when the left hand has to go into a crevice. The bottom line is that the watch only gets a permanent place on my wrist on multi-pitch routes.
Hiking: Good navigation with additional apps
The situation is better for hiking, but only with third-party apps. I'm not convinced by Apple's own range of navigation functions: I can set waypoints, but I don't know why I need them. Especially since they don't appear on a map. Instead, the compass simply shows me the direction and distance to the selected point. I am similarly at a loss with the backtracking feature. The function records the distance travelled. Afterwards, I can retrace the steps - this works very accurately, but I have no use for it.
Instead, I want to see where I am and where I am going. I can do that on the Apple Maps app, which I only find useful in the city. Thank goodness for paid apps with topographic maps. I tried WorkOutDoors, which costs six francs one time. It provides good maps with terrain and paths marked on them. You can also import routes in GPX format. The accuracy of the Apple Watch Ultra's GPS is good.
"Can't your smartphone do that too?", I hear you ask. Yes, it can, and it has a bigger display to boot. In practice, however, I find it more pleasant to look at my watch from time to time while hiking instead of pulling out my mobile phone. It also takes the strain off my iPhone's battery when the Apple Watch takes over navigation. That only plays a role on multi-day hikes without a power supply. In all other cases, the Ultra is not an essential tool, but at least it is a useful gadget.
An application I didn't expect: On short exploration tours or walks, the Ultra can completely replace the phone. Thanks to the mobile phone connection, I stream music or podcasts to my headphones. Phone calls also work amazingly well, even with the internal microphones and speakers. I can type a message on the large display, although third-party apps like WhatsApp only work with a connected iPhone. The Ultra also doesn't have social media apps or a browser. It's like Digital Detox for cowards when I leave the phone at home - less distraction, but still accessible.
Battery life: Twelve to one hundred hours
. Is 36 hours of battery life good or "stone age"? You debated this in the comments to my hands-on test. The different opinions are the result of different reference points: Do you see the Ultra primarily as a sports watch? Then the battery life is poor. A Garmin lasts much longer, a diving watch anyway. However, sports watches are not everyday smartwatches at the same time. Compared to other devices in this category, the battery life of the Ultra is excellent. It beats the competition from Samsung, Google and even Apple's own Series 8 by a long way.
What does that mean in practice? The answer varies depending on the application. I'll outline three scenarios: normal everyday use, intensive use for sports and the most economical use possible.
When I'm using the Apple Series 8, I'll use it as a mobile phone.
When I wear the Apple Watch Ultra for everyday work, I charge it every other evening before going to bed. At this point, it usually still has over 20 per cent battery. If I use the full 100 per cent runtime, I get more than 40 hours. This includes four hours of walking, during which I stream podcasts via LTE and record the route via GPS. During this time, there is no paired iPhone nearby and I make a few short phone calls via the Apple Watch. I activate the regular energy-saving mode while walking. The Ultra spends the rest of the time in standard mode. At night, it stays on my wrist and records my sleep.
The battery is drained more quickly if I constantly record my training during a day of climbing. In standard mode, Apple gives a runtime of twelve hours for such use, which is about the same as my experience. If you activate the normal energy-saving mode, the GPS runtime increases to about 17 hours. The heart rate is still recorded normally. Instead, the always-on display, some background functions and the passive mobile connection are deactivated without a paired iPhone. If you want to actively make a call, it will still work.
Since the end of October, there is also the enhanced energy-saving mode. It reduces the frequency of the heart rate measurement from once per second to once per minute. The GPS location is updated only once every two minutes instead of once every second. Thus, the Apple Watch Ultra is supposed to last 60 hours of realistic use. This even seems to be a conservative estimate, because in my tests the battery only loses about one per cent per hour in extended energy-saving mode. With minimal use, up to 100 hours would probably be possible. However: the reduced recording frequency limits the accuracy of the watch. If you run a winding route on a trail, the Apple Watch may not record the entire distance. For slower activities like mountain hiking, the error will be smaller and the stats less important.
Conclusion: good implementation, individual benefit
. The Apple Watch Ultra wants to be a smartwatch and sports watch in one. For a certain target group, it achieves that. In everyday life, the Ultra is currently the best smartwatch on the market for owners of an iPhone - as long as the size doesn't bother you. It also offers a wealth of sports, wellness and navigation functions. These often only unfold their full effect with third-party apps. Fortunately, there are plenty of them in Apple's WatchOS universe.
Battery life varies depending on usage. Amateur athletes like me should rarely struggle with a flat battery, especially since the runtime can be extended considerably with the two different energy-saving modes. Nevertheless, you should not expect the endurance of dedicated sports watches. Workmanship and robustness are excellent. Judging by what the titanium case and sapphire glass had to go through on my wrist, both still look excellent. The price is high. But I don't think it's exaggerated when I consider how much development work, technology and expensive materials went into the watch.
With all the praise for the implementation, the concept of the Apple Watch Ultra leaves me with the question: who needs such a watch? That is very difficult to answer. I dare to make a differentiated attempt in the decision tree above. For my personal areas of application, it is a nice gadget. However, the added value is small. In everyday life as well as in my sports, a smartphone can do almost everything just as well. I therefore end up on the rightmost track in my diagram.
---


My fingerprint often changes so drastically that my MacBook doesn't recognise it anymore. The reason? If I'm not clinging to a monitor or camera, I'm probably clinging to a rockface by the tips of my fingers.
---
---