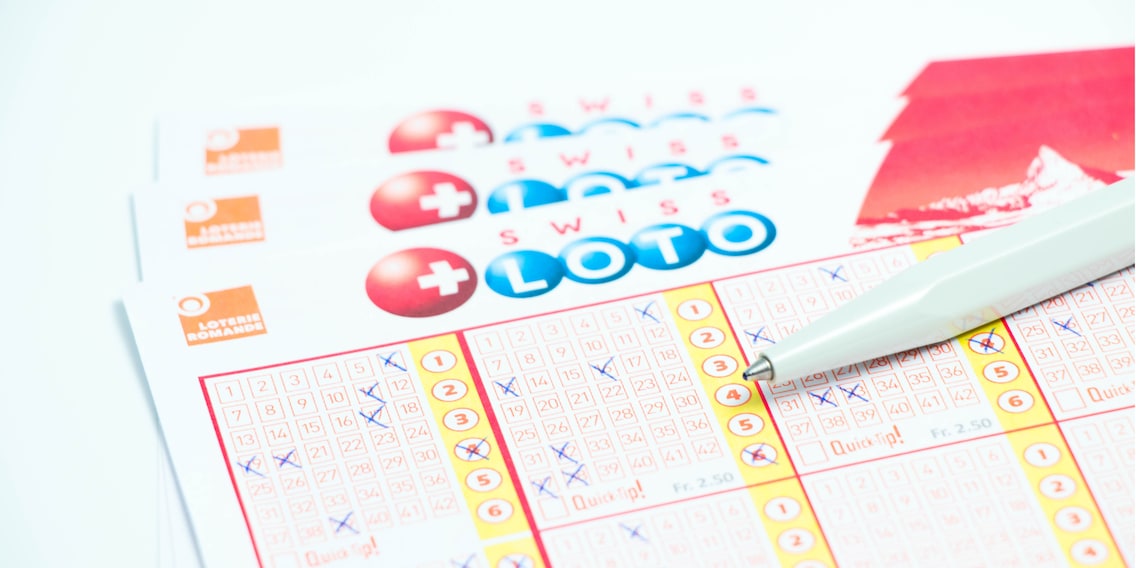 Why do lottery winners bag nearly the entire jackpot for themselves?

The fact that I once again missed the Swiss lottery's jackpot doesn't upset me (anymore). However, I am infuriated by the fact that winners with six correct guesses plus the super number collect practically all winnings. I have one question for Swisslotto: when will this finally change?
«Honey, I'm afraid I didn't hit the jackpot again.» A common complaint, just like my wife heard on Thursday morning upon entering the kitchen. The night before, I'd found out that one lucky winner had bagged almost 18 million francs.
As much as I'm happy for the lucky winner, I'm once again upset about the prize pool's distribution. It simply cannot be that twelve players with five correct guesses plus the right super number get fobbed off with just over 5000 francs.
I got five right, but made a rookie mistake
Yes, I admit it. I play the Swiss lottery. Not regularly, but every now and then. And yes, I too am tempted by hefty jackpots – and more, of course – all while skilfully ignoring the fact that your chance of winning is 1 in 140 million. I was all the more pleased when I got five right a year and a half ago. My heart was in my throat, and I remember thinking about buying a new racing bike or finally going to Thailand with my family.
But the euphoria quickly turned into disillusionment. I received a paltry 880 francs for my five correct numbers. To be fair, it's usually 1000 francs, which isn't mind-blowing now either. But having made a rookie mistake by betting on generally popular numbers, I had to share my winnings with quite a few other «fives». Since then, I've been asking myself: Why is it that in the Swiss lottery, jackpot winners get almost everything, while the lower ranks have to make do with breadcrumbs?
Swisslotto: «Large jackpots demonstrably encourage people to play the lottery»
I checked with Swisslotto: wouldn't many more people play the Swiss lottery if, for example, you could collect a hefty sum with five correct numbers?
«Distribution follows a strict system whereby a lower rank naturally won't receive more than a winner,» Swisslos spokesperson Willy Mesmer explained. He claimed that the notion of Swiss Lotto appearing more attractive if lower-ranked players, with say five correct guesses the right super number, received more from the prize pool was idealistic. «This clearly doesn't correspond to the playing behaviour that Swisslos notices over and over again for all its products. People are proven to be more incentivised to gamble with high jackpots.»
All the more so since Swisslotto has been competing with Euromillions since 2004, to which Swisslotto is also affiliated along with nine other European lotteries. «Our goal is to reach a jackpot three or four times a year, which is commonplace with Euromillions,» says Mesmer. Ultimately, it's about finding a formula that generates a healthy jackpot every now and then, but also always allows you to crack that very prize. It took 22 draws to hit the jackpot of just under 18 million Swiss francs on Wednesday. The record dates from 2017: back then, the jackpot of 70 million Swiss francs was only cracked after no less than 49 draws – by three players at the same time, no less.
About one third of income generated goes to charitable projects
Incidentally, the current system with 42 numbers, six lucky numbers and a replay number is soon to be ten years old. It has proved successful. «Of course, we keep trying out all kinds of formulas and systems. Including the higher winnings you suggest for, say, five correct guesses. But all evaluations show that the current system is still the best at the moment,» Mesmer emphasises. And there's one thing we mustn't forget in the midst of all the jackpot euphoria: «For Wednesday night's draw, there were around 40 000 smaller winners and around 80 000 Reply winners, who get to play again for the amount at stake."
But how much income is actually paid out as winnings? «Each of our products has its own so-called payout ratio. For Swiss Lotto, it's 54.5 per cent,» Mesmer said. Simply put: from all earnings, only a little more than half returns to the players as winnings. The rest is spent on retail commissions, Swisslos' administrative and personnel costs, and for charitable projects. «Around a third of the stakes at Swiss Lotto go to such projects,» Mesmer specifies.
This Saturday, it all begins anew
The remarks by Swisslotto's spokesperson all kind of make sense. Nevertheless, I cannot and will not believe that so many lottery players are blinded solely by a jackpot sum that they will never win either way. In any case, I'm horrified of choosing five correct numbers again and getting paid off with a pittance, barely enough to cover my anguish. But maybe I'll just boycott Swiss Lotto until my «idealistic» – yes, you could say «social» – system is in place. I wish all lottery players good luck on their jackpot hunt. Watch out: after the pot was emptied on Wednesday, 1.5 million francs is up for grabs this Saturday.
Header image: Shutterstock
---



Half-Danish dad of two and third child of the family, mushroom picker, angler, dedicated public viewer and world champion of putting my foot in it.
---
These articles might also interest you
Skeleton Loader

Skeleton Loader

Skeleton Loader

Skeleton Loader

Skeleton Loader

Skeleton Loader