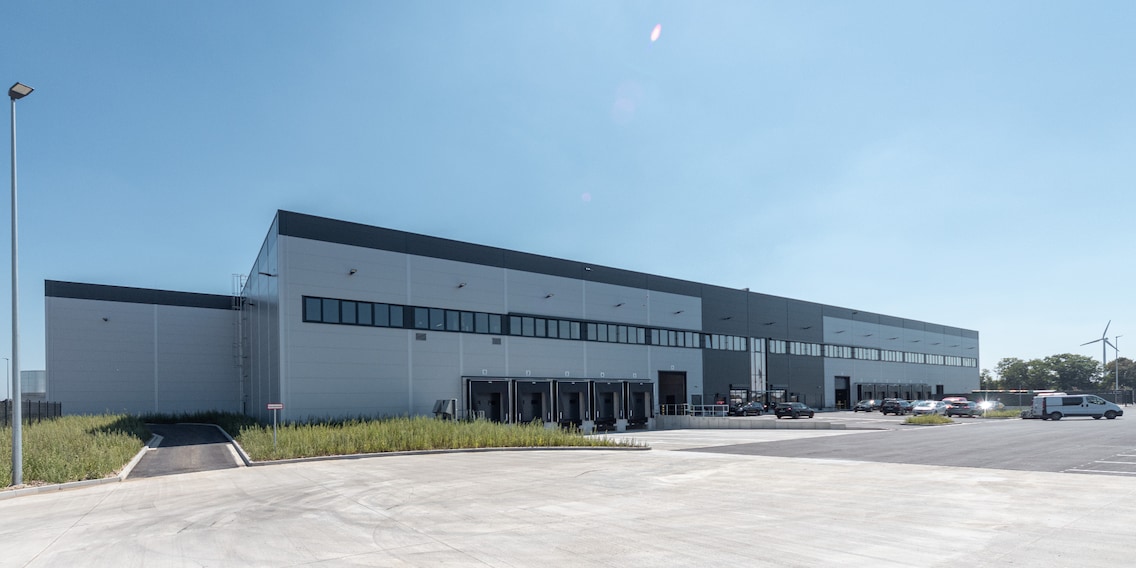 Galaxus' second logistics centre in Krefeld (NRW), to open in 2022 (Images: Christian Walker)
Why 111th place brings joy rather than tears to us at Galaxus Germany

This November, Galaxus Germany officially turns four years old. This is definitely a cause for celebration! And by the way, more than one million customers have already shopped at galaxus.de. Here's a brief recap of our 2018 launch into Germany, the media's expectations for us, and our current EHI rankings among the largest German online shops.
In November 2018, the time had come. Swiss e-commerce leader Digitec Galaxus launched galaxus.de, braving its way into neighbouring Germany. «We're jumping into a shark tank,» Florian Teuteberg told etailment.de (German only) at the time. So the founder and CEO of Digitec Galaxus knew just what he was getting into. In the same article, editor Steffen Gerth states: «Internationalization in online retailing [...] often holds more pitfalls than a company can foresee.»
Swiss television was also sceptical. «I don't think it'll be a no-brainer,» SRF (German only) quoted an e-commerce expert as saying at the time. «It's going to be tough for Galaxus.» Stephan Randler of Neuhandeln.de wrote at the time: «If their expansion into Germany is successful, Galaxus is bound to duplicate the move in other countries. Currently, however, that hardly seems conceivable.»
Where's Galaxus four years later? We're still here. The sharks haven't found us yet. Or we're just too fast for them. Since 2021, Galaxus Germany has also been serving our Austrian counterpart galaxus.at. And it's no secret that we're working on expanding further.
In 2021, Galaxus Germany reported net sales of more than 100 million euros for the first time. Which means we were able to fulfill one of our goals after only three years. In September 2022, Galaxus had a total customer base of 1,055,238 people in Germany. Our first million! And so, Matthias Hell of ChannelPartner has been right to date when he wrote in his 2018 article (German only): «It's entirely reasonable to expect the Swiss online retailer [...] will attract more and more customers in Germany as time goes on.»
What is 111th place worth? A Matter Of Perspective
«We want to be in the top 5,» said Florian Teuteberg at the launch of Galaxus.de. Intentionally provocative. We're still quite a bit away from reaching that goal, but it's still relevant. Every year, the EHI Retail Institute calculates the ranking of the 1,000 largest online shops (German only) in Germany. The newest results show that Galaxus is not yet in the top 100; we're ranked 111th. Reason enough for the Swiss Handelszeitung to [refer to] galaxus.de as «E-Piccolo» (https://www.handelszeitung.ch/unternehmen/galaxusde-schafft-es-noch-nicht-in-die-top-100-der-grossten-deutschen-online-shops-542059) (German only), using the Italian word for «small» to characterize Galaxus Germany. But if editor Andreas Güntert has interpreted the tables correctly, Galaxus was still in 409th place just two years ago. So we were able to overhaul 300 stores in only two years. Who else can say the same? Which is why ChannelPartner released the following headline this year: «Galaxus is becoming a relevant player in Germany.»
A look at the traffic ranking at Similarweb is also revealing. Galaxus.de attracts more visitors than many of its competitors in the online retail sector who have a higher EHI ranking. So interest in Galaxus is growing. We can't wait to see what 2023 has in store for us. It'll be our fifth year in the great shark tank that is Germany.
---



Northern German with a soft spot for good series, loud music, classic science fiction and (second division) football. As a PR manager, I am available to journalists for all questions about Galaxus and honest e-commerce.
---
These articles might also interest you
Skeleton Loader

Skeleton Loader

Skeleton Loader

Skeleton Loader

Skeleton Loader

Skeleton Loader