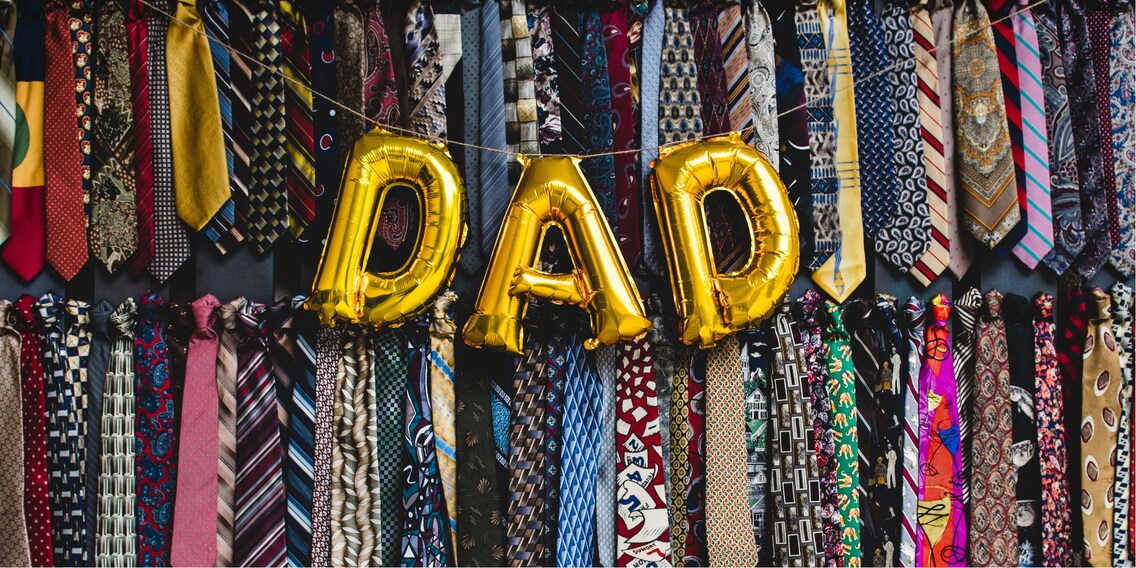 This article was translated automatically.
When is the official Father's Day finally coming?!
While Mother's Day has long since established itself in this country, Father's Day still ekes out a shadowy existence. Ten reasons why it's high time we showed more appreciation for fathers.
"You honey, my Father's Day wish is for the cool book that my editorial colleague Oliver recently introduced," I said to my wife the other day. She said, "Father's Day, is there really such a thing?" Like my wife, I think more than a few feel the same way.
What has existed in neighboring German-speaking countries, the United States and many other nations for 100 years, does not yet exist in Switzerland: an official Fathers' Day. While Mother's Day is always celebrated on the 2nd Sunday in May, there is only an unofficial Fathers' Day in Switzerland. This was introduced in 2007 and always takes place on the 1st Sunday in June, this year on June 5. But my wife's reaction shows: It is high time that we fathers fight for more recognition and gratitude and for the introduction of an official Father's Day. It doesn't have to go as far as in our northern neighboring country. There, on Ascension Day, hordes of men - and not just fathers by a long shot - run through the area with their wagons filled to the brim with beer to celebrate themselves and their manhood.
Fathers are generally great, but in many cases it's still the mothers who throw the cart around the house.
Before I take up the cudgels for fathers and thus for Fathers' Day, I would like to say a word about mothers and the associated Mother's Day. There are quite voices, which brand this day as pure marketing invention, at which it concerns only to bring as many as possible flowers, restaurant coupons or Wellness arrangements to the man, and/or later the woman. I vehemently contradict this. Of course it would be desirable and also worthwhile if children of the mother or even the husband would show gratitude and appreciation to his wife 365 days a year. Would be: Because as the life in the hamster wheel plays so, such gestures come unfortunately all too often too briefly. So why not take one day to consciously say thank you and spoil your mother? Because one thing is clear: even in our oh-so-advanced, emancipated family world, in most cases it's probably still the mothers who keep "the cart" running. Who organizes the doctor's appointments? Who provides new clothes, bought or bartered with other mothers (not fathers!). Who keeps track of school and hobby activities? Who senses immediately (and not two days later) when something is bothering their child? Who usually takes care of a welcoming culture, meaning that all children are always allowed to play. Correct: As a rule, it is the mothers.
Because I, or rather my wife and I, are aware of this, we try to counteract it bit by bit. Yes, you could say we are in a phase of discovery, so to speak. For the last few years, we opted for the more conventional model, in which I worked around 80 to 90 percent and my wife around 40 percent. So it automatically crept in a bit that my wife "looked after things" at home. But now that I'm working less and my wife is working more, that naturally also means that the family and housework has to be readjusted. I acknowledge that I still have a lot of room for improvement. And yet I think many men do their best to share the family chores fairly between the two of them.
Ten reasons why fathers deserve recognition, gratitude and appreciation - even though there is still a lot of room for improvement.
And yet it is also the fathers who make their valuable contribution to family life, which is why a Father's Day analogous to Mother's Day is so obvious. I am not thinking primarily of gifts or invitations. Nor does breakfast have to be served to me in bed (it doesn't have to be, but it very well may be). My only concern is that our contribution - which can, no must be increased in many families - is also estimated.
1. many fathers work less to have more time for their children
For some years now, I have deliberately not worked 100 percent in order to have more time for my children (ok, also a little for me). That means less money, but more quality of life. And above all, more "normal" family time, in which much more is built up in terms of relationships, rather than overloaded weekends or vacations.
2. many fathers also take on responsibility and tasks in the household.
"I hope so too," I hear you say just now. And for me, of course, this is also a matter of course. And yet I sometimes envy my ancestors a little, who were able to sit down at the set table after their work was done, only to leave it directly for the couch after the meal. I myself am actually not too good for any household chores. Except for the ironing of shirts I could not make friends until today.
**3. fathers are - no more and no less than mothers - entertaining and funny.
Well, this is unfortunately only true to a very limited extent. My children are now seven and nine years old. So they are old enough to recognize my sayings as what they are unfortunately not seldom: Flat and not really funny. Therefore, when my children are expecting visitors, it is not uncommon for them to say. "Daddy, a request. Just, if at all possible, don't be embarrassing." Even venting body gases usually elicits only a weary smile from them. It's time to come up with something new.
4. fathers are sometimes quite passable do-it-yourselfers
I'm a little proud of my daughter's loft bed with integrated bookcase. And I also think my son's four-poster bed is something to behold. And what a joy I have already given my children with all kinds of swinging devices.
5. many fathers are also good teachers - that's what I thought
I used to think I was good at teaching my kids things. Until the lockdown came and with it homeschooling. My patience wasn't all that great and I certainly have a lot of room to grow in terms of empathy. In any case, I realized what a back-breaking job teachers have (even if teaching your own children is no picnic, even for educators).
6. many fathers like to spend free time with the children and do not go to the office
Gone are the days when fathers went bowling at the "Ochsen" after work. Today's fathers put their children to bed after doing the dishes and taking the laundry out of the tumbler, and of course tell them goodnight stories - not out of the book, but ones they've invented themselves.
7. most fathers are strong and brave
Of course, I also show emotions in front of my children and they are allowed to see that I am also weak, sad and vulnerable. But as a rule, I try to live up to my stereotyped image of the father as a rock. What could be better than my children finding a strong shoulder to lean on with me (after they have found the comforting words with their mother).
8. most fathers are good role models
Yes, I have disclosed at this point that I sometimes don't wear a bike helmet on kids' bike rides. And yet, on balance, I claim to be a good role model for my kids. Namely, by showing them to believe in themselves, to stay themselves, to do good for others, to be able to laugh at themselves, to stand up for their opinions and much more.
9 Many fathers are already looking forward to becoming grandfathers one day.
Admittedly, thinking about how I might one day hold my grandchildren in my arms and do lots of (hopefully crazy) things with them is a bit premature. And yet the idea of being a loving grandfather to my children's children one day - should there be any - is just something nice.
10 All (hopefully!) fathers love their children and would do anything for them.
The last reason is as obvious as it is terse. Because we love our children, we do everything for them. Above all, we are always there for them, no matter what they have just done. I hope these are not just empty words. And otherwise, please remind me when my son has just confessed to me in a few years that he crashed our new family car on a joyride last night.
So I don't know: If these are not enough and above all good reasons for the official introduction of a Father's Day in Switzerland, what are? In any case, I'm looking forward to next Sunday and will take the precaution of getting the book myself, should my wife have forgotten that Father's Day is coming up again or simply think that my commitment at home doesn't justify a gift (yet).
---



Half-Danish dad of two and third child of the family, mushroom picker, angler, dedicated public viewer and world champion of putting my foot in it.
---
---
These articles might also interest you
Skeleton Loader

Skeleton Loader

Skeleton Loader

Skeleton Loader

Skeleton Loader

Skeleton Loader