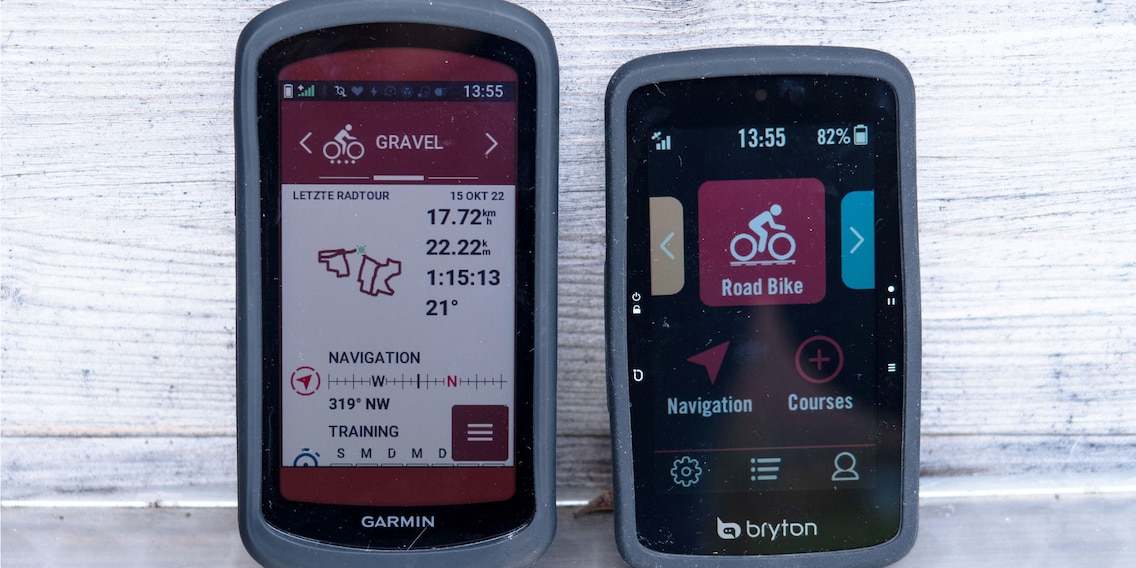 When high-end meets outstanding value for money: Garmin Edge 1040 Solar vs Bryton Rider S800

Two bike computers compared. What advantages does the Garmin Edge 1040 Solar have and what's good about the Bryton Rider S800? This much can already be revealed: They both have their strengths and weaknesses.
Who needs a bicycle computer anyway, I used to think. Today I know better, and always use it when I go out for a ride. And here's a disclaimer to go with that statement: I'm not talking about a lazy Sunday-morning cycle to the bakery around the corner. But about using your bike to do some serious exercising and collecting as much data as possible when you're at it. The more, the better, right?
Garmin Edge 1040 Solar
Let's start with the annoying part first. Every now and then, my Android phone and the Edge 1040 are looking for each other. To no avail. My boss recently had the same experience with his Venu 2 Plus. There's a similar issue with Garmin's Fenix 6 Pro, which I also use. So every now and then, I have no choice but to restart either the app, the device or even both to connect them. It seems that Garmin and Bluetooth aren't always best buddies.
If you're a Garmin hater and want to hear more bad things about this product, I must disappoint you. That's all the criticism I have of the Edge 1040 Solar. Except for the price, perhaps. But I'll get back to that later. Other than that, I'm happy with my bike computer.
The device is packed with technology, but I don't want to bore you with technical details. Get all the information here. What you do need to know, however, is that many functions will require you to buy additional products such as a cadence sensor, special Garmin pedals or a heart rate chest strap. And these accessories are an additional stress on your wallet – whether you buy them individually or as a bundle. But it's the same story with other manufacturers. In addition to speed and cadence sensors, the chest strap is especially important to me. I'm used to checking my heart rate when I'm running. But many other cyclists probably keep their eyes on wattage.
Solar charge
As the name suggests, the most important feature of the Edge 1040 Solar is probably its Power Glass solar charging lens. According to Garmin, this feature should extend battery life by up to 42 minutes per hour in daylight and in energy-saving mode. Expect up to an extra 20 minutes per hour during demanding use. Fair enough, it's autumn and the sun is already quite low. Plus, clouds keep getting in the way of its light. Nevertheless, three minutes of extra battery life accumulated over a daytime cycle that lasted 1:12 is a bit lousy.
The fine print on Garmin's website states the following about solar charging: «Assumes continuous 75,000 lux conditions during daytime rides.» I honestly have no idea how many lux I was exposed to today. I don't care either. Three minutes isn't 20 minutes. And yes, the strain on my battery was demanding. Given that I'm already in power-saving mode at home, I like to make up for this on my gravel bike. Turns out, I've found something to complain about after all.
Bryton Rider S800
Bryton who? Bryton Rider S800. I hadn't heard of this Taiwanese brand before. Accordingly, I wasn't familiar with their products. But that's changed in the last few weeks. And that's a good thing.
The Rider S800 is the most powerful bike computer Bryton features in its range. This device is also jam-packed with high-tech, but minus the solar panel. This makes it a little less expensive than the Edge 1040. What's more, its finish isn't quite as high-quality as Garmin's. For example, the mount on the S800 is made of plastic. The Edge 1040 one is metal.
Unlike the Garmin computer, I've no complaints with the Bryton model when it comes to Bluetooth connectivity. It all works smoothly. The S800 and the app find each other right away every time. The speed and cadence sensor are also quick to connect after pairing. The same goes for the chest strap. Like all the other sensors, you can purchase it separately or in a bundle. That's great! Its battery life of up to 36 hours at demanding use is also more than sufficient. At least for my needs.
Unlike Garmin, Bryton features just three bike profiles: road, indoor and MTB. That's a bit of a pity considering that gravel bikes have been a huge trend in cycling for quite some time now. Oh well. I just record my rides in road bike mode.
Compared to the Edge 1040 Solar, the S800 has had some corners cut in terms of display quality. I think Garmin performs better in this area. And that's in spite of Bryton's installed MIP technology (Memory In Pixel), which is designed to improve screen readability under sunlight in combination with an internal reflective layer.
One cool feature of the Rider S800 is its continuous recording. When I stop cycling, the recording stops automatically. As soon as I start pedalling again, the Bryton starts recording again. This even works when the device is turned off. After switching the Rider S800 back on again, recording is resumed. I really like this.
Edge 1040 Solar or S800: which bike computer should you go for?
This brings us back to the initial question: Who needs a bike computer anyway? Of course, I can only speak, or rather write, for myself. As mentioned earlier, I use my bike as a piece of fitness equipment. Equipment I regularly use on the roads and paths in my area. That's why I hardly ever make use of the maps. Hence, I'm unable to comment on that for either of them. The GPS data is accurate with both devices. On identical routes, the Rider S800 measures 150 metres less. This corresponds to a deviation of less than one per cent on a route of over 22 kilometres. It's possible that I cycled around the odd bend a little sharper. In other words, it's a negligible deviation.
Be that as it may, I'm mainly interested in performance data such as maximum oxygen uptake under load, or VO2max for short, my load focus or how a certain activity affects my training status. Here, both Garmin and Bryton provide a wealth of information in their corresponding apps. I've been hitting the road for years with various products from the Garmin range. It's why I've got used to the way they display data and their overall style. This may be one reason why I prefer the Edge 1040 Solar to the Rider S800.
What works really well both ways is pairing the various sensors (chest strap, speedometer and cadence sensor). The Edge 1040 Solar recognises the Bryton products and vice versa. It all works really smoothly.
Garmin Edge 1040 Solar in a nutshell
The Garmin Edge 1040 is available both with and without solar function. And that's mirrored in the price. Both models have an outstanding battery life, in my opinion. If you have a generous budget to play with, you can afford solar luxury. If not, you'll be fine without it. Overall, the Edge 1040 feels qualitatively superior to the Rider S800. Its finish is more refined as is the legibility of its display in sunlight. Plus, I'm a fan of Garmin's data preparation. In short, this is a high-end product for big spenders.
Bryton Rider S800 in a nutshell
This brand is new to me, and it's impressed me with a new product that is great value for money. The Bryton Rider S800 earns brownie points with its solid design and simple operation. Everything works right away, and the quality of the data is comparable to that of Garmin. The American brand only has a slight lead when it comes to the amount of information it provides. Bryton makes up for this with the price. If you're looking for a GPS bike computer that leaves almost nothing to be desired and is in the mid-price segment at around 450 francs? Then the Rider S800 could be an option for you. For me, it certainly is.
---



What matters isn't how well you play when you're playing well. What matters is how well you play when you're playing badly.
---
---
---
These articles might also interest you
Skeleton Loader

Skeleton Loader

Skeleton Loader

Skeleton Loader

Skeleton Loader

Skeleton Loader