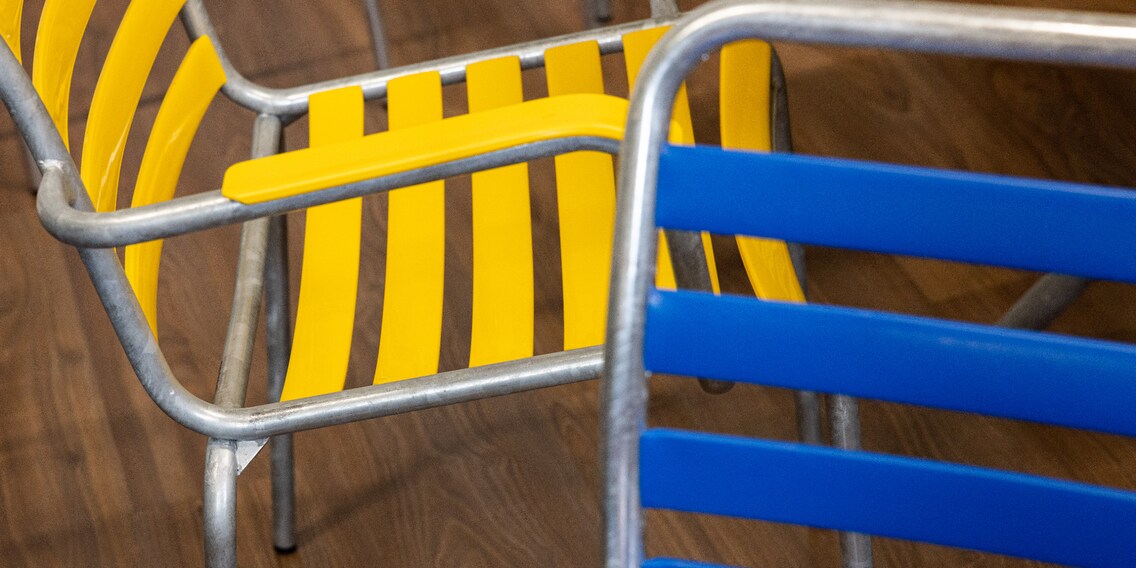 What spaghetti- and slatted chairs have in common with a VW Golf

Anyone who's been making the same garden chairs for 20 years would be forgiven for getting bored. Not Rainer Hesselbarth. The man of many talents and Managing Director of Manufakt always finds new spins to put on his bestsellers – the slatted chair and the spaghetti chair.
Even a bestseller can be improved. That's what Rainer Hesselbarth thinks, who took over the family business «Bättig Stahlrohrmöbel» in 2006, previously founded by Josef Bättig and most recently managed by his son René. The business has specialised in hot-dip galvanized tubular steel furniture since 1948 and became known for the slatted chair, also known as the «Lättli chair», and the spaghetti chair.
«Between Central and Bellevue in Zurich alone, we've already supplied 13 restaurants and bars with our slatted chairs,» Hesselbarth tells me when I visit him at the workshop in Illnau. This is where the tubular steel parts are joined to the PVC slats and cords by hand to create the iconic chairs.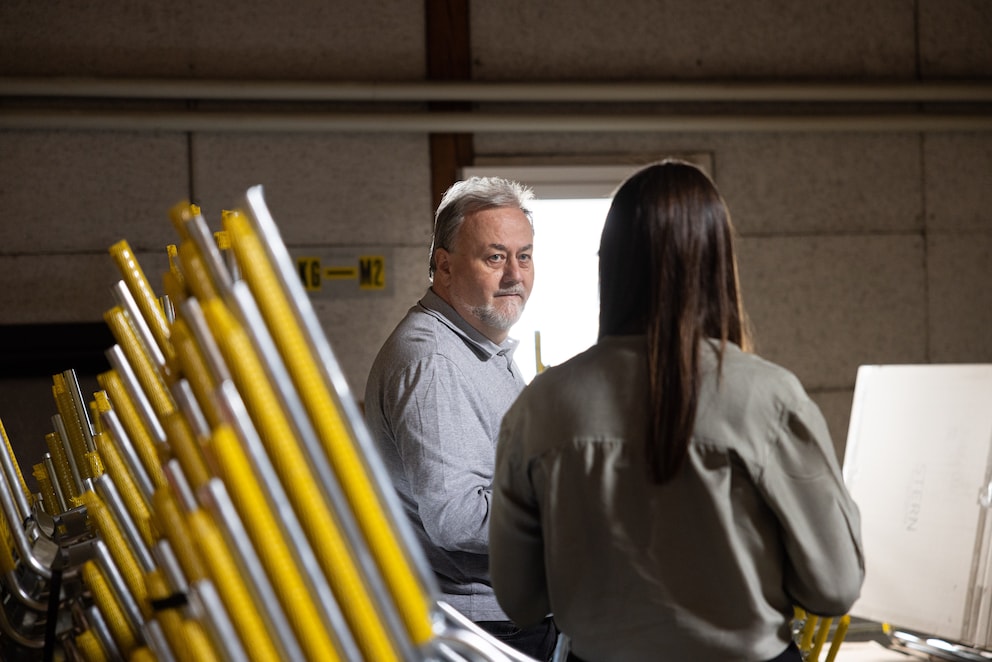 Founder Josef and his son René made an indelible mark on the company. Then came Rainer Hesselbarth, who expanded the collection and renamed it «Manufakt». «The slatted chair and the spaghetti chair still generate our biggest sales today,» he says. «VW could have stopped at the Beetle and the Golf, but it followed them up with plenty of other models.» The furniture brand also wants new developments to show that it's going one step further and can offer more.
The steel components of all Manufakt furniture are made in its production facility in Hungary, which, among other things, still uses an original machine from the 1950s. The PVC slats also come from the same Swiss manufacturer as 70 years ago. They're cut in a residential facility for people with physical disabilities. «We heat each slat at 85 degrees for two to three minutes until it softens and then pull it onto the hot-dip galvanized steel frame,» explains Rainer Hesselbarth. Once cooled, everything is tightly sealed.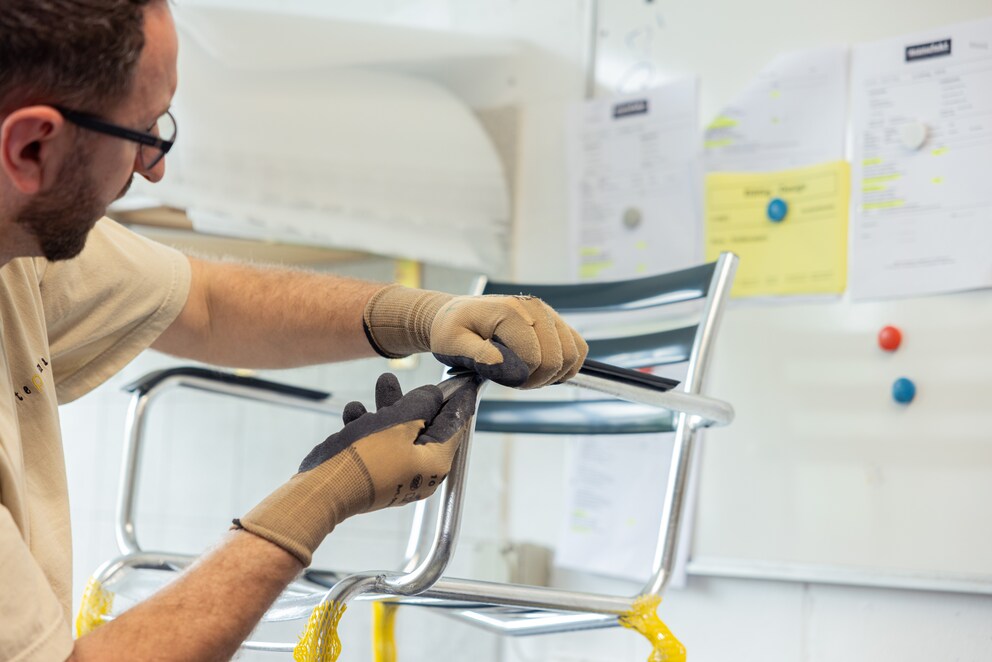 The process can be repeated over and over again. «If you decide you want a different colour later, we can simply swap out the slats.» Manufakt offers a range of 19 colours. «We recently completed an order of garden chairs in rainbow colours for a Mexican restaurant in Zurich.» Manufakt wants custom-made products like these to set them apart. Primarily because competition never sleeps.
Manufakt isn't the only company that makes slatted and spaghetti chairs. Furniture brands such as Schaffner (the «Säntis»), Embru (the «Altdorfer») or Alinea (the «Klassischer Gartenstuhl») also sell different versions of these iconic designs. According to Rainer Hesselbarth, little value was placed on patents in the 1950s and 1960s. Even if they had existed, they would have expired long ago. That means the idea of attaching PVC slats or cords to tubular steel frames isn't protected.
The small but subtle differences
The slatted chair is a different shape compared to models made by Manufakt's competitors, who also manufacture tubular steel furniture with slatted and spaghetti designs. Its slats aren't straight; they're slightly curved to make them look more elegant and feel more comfortable. Another visible distinguishing feature is the small triangle between the chair legs. This keeps the individual components together and prevents the legs from being pushed too far apart when someone's sitting on top of them.
The cords on the spaghetti chairs are different. They're based on a single transparent string that is then coloured. This makes them more robust. Other cords are made up of several white strands. When they fray, the white shines through and contrasts with the intended colour.
The design of the garden tables also stands out. Manufakt's bases are made of ten-millimetre solid steel. «Our frames are virtually indestructible,» says Rainer Hesselbarth. A thin layer of silicone is added to the back of the tables. «Without it, it thuds like a cheap car when you put something on it,» explains Rainer Hesselbarth while tapping on an untreated table. I nod. You can definitely hear the difference.
Adding details like these pays off, with Manufakt furniture ending up all over the world and even 2,348 metres above sea level. The company has just delivered furniture to the Brienzer Rothorn. Via helicopter. For a delivery to Melbourne, it even developed special boxes where a vacuum can be created inside. This was a necessary measure to ensure that no pests could be brought into Australia.
Based on Bättig
Alongside packaging, Hesselbarth is of course always working on new product developments. These include a children's rocking chair and a push sled with PVC runners, which he designed for his wife so that she could glide across the frozen Päffikersee. There's also a copper and brass-look collection, which Hesselbarth proudly shows me in the Manufakt archive. «The tubular steel frames aren't just painted; they're also given a layer of copper or brass using a chemical process. When they come out of the bath, they're initially jet black. Then they're hand-polished by a company in Italy until they have a gleaming matte finish.»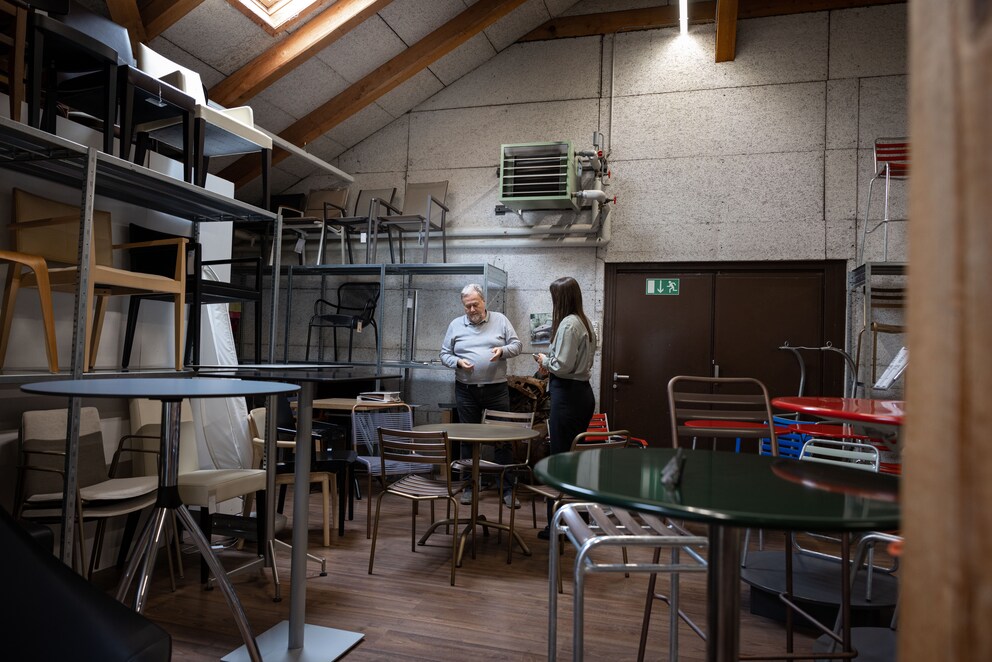 Sometimes, it's something personal that inspires Rainer Hesselbarth. Other times, it's special customer requests that keep things interesting. «When I design, I always have a Bättig-based construction kit in mind.» For the «Giardimo Zürich made by Manufakt» collection, for example, he took a lot of elements from the original design, but made the seat of the slatted chair flatter.
The new shape allows this chair to be stacked better – without the tower leaning. And the manufacturer has also come up with something for the foldable dining table to give the classic a new twist: the table legs now have a distinctive bend.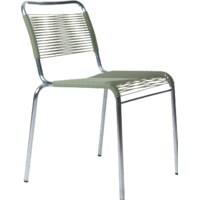 Recycling and maintenance
When a piece of garden furniture comes back, Manufakt gives it a new lease of life in its second-hand shop. «Remnants of PVC slats that have been cut off or old slats go back to the factory to be broken down and made into sewage pipes. Pure PVC is the only plastic that you can recycle ten times,» explains Hesselbarth. The expert recommends regular maintenance so that things don't go that far in the first place. «After all, you don't expect a car to look brand new after it's been parked up for months.»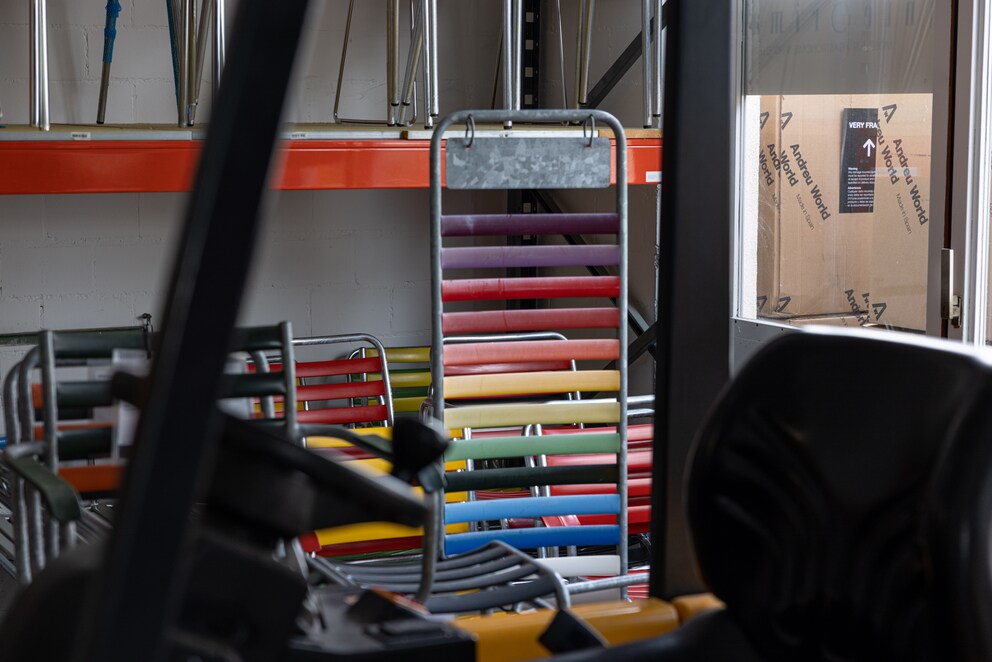 Rainer Hesselbarth has respected the Bättig heritage while still finding a way of tweaking the look, materials and packaging in order to perfect its iconic designs. He's convinced that this adaptable design is the reason for the hype surrounding tubular steel furniture, and that this will continue for a long time to come.
What kind of people are always on the lookout for better design solutions? The people dreaming up new chair or table designs although there are thousands of them out there already? In this series, I'll introduce you to them. Follow me for the next instalment.
Header image: Christian Walker
---



Like a cheerleader, I love celebrating good design and bringing you closer to everything furniture- and interior design- related. I regularly curate simple yet sophisticated interior ideas, report on trends and interview creative minds about their work.
---
---
---