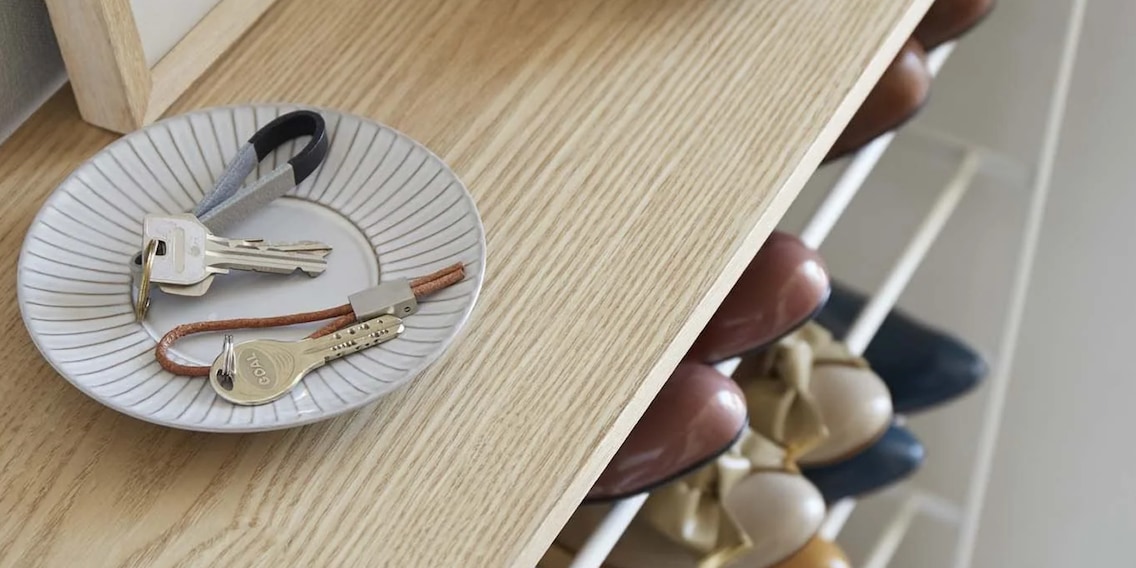 Well-conceived and stylish: my top 10 shoe cabinets

Well-designed shoe cupboards keep your sneakers, slippers, and boots organised while blending in nicely with the surrounding decor.
It often takes more than just one shelf to accommodate all your shoes. This means either growing your furniture collection or slashing your shoe stash. I keep my long-time favourite pairs in a single, beautiful dresser in the hallway. The rest are tucked away in boxes inside my wardrobe and basement. One thing I've learned is that if you're looking for a shoe cabinet, you need a bit of imagination. You'll often find that models labelled explicitly as shoe cupboards aren't the only ones suited to storing footwear. Sideboards, bookshelves or coat racks can be repurposed to showcase (worthy) sneakers or high heels. That's why they've made it into my top 10 shoe storage solutions as well.
1. The Schuhkipper wall cupboard
Products in Kare Design's Schuhkipper line can be mounted vertically on the wall. As the shoes inside are arranged at an angle, the cabinet is very narrow and even fits into alcoves as a result. Each tiltable drawer can fit two pairs of shoes lined up next to each other. Another major plus is the doors, which guarantee your favourite footwear a dust-free life and make everything look tidier. The Schuhkipper also comes in different sizes, meaning you can extend the width or height as you please. The drawback for those of us less skilled than Bob the Builder? It needs to be mounted on the wall.
Who's it for?
Schuhkipper cabinets are for people with modestly sized homes; people who want to save on floor space, taking advantage of horizontal or vertical wall space instead.
What kind of decor is it suited to?
In white, these narrow cabinets can harmonise with any neutral-coloured wall. As a result, they can be incorporated into styles of interior decor. Unless you go for a purple, pink or silver Schuhkipper or choose to combine various colours. In which case, it'll obviously stand out.
2. Elegantly rounded: Licia
I have to admit, when looking at Licia, it takes a while before you see a shoe cupboard instead of a TV cabinet. However, once the penny drops, you'll be able to enjoy the storage space inside. Spread across two levels, numerous pairs of shoes can go inside. There's room for a pair of boots in each of the side compartments with rounded edges. Another plus point: if you want more furniture in the same style, searching «Licia» will lead you to smaller dressers, tables and more.
Who's it for?
This elongated cabinet is for aesthetes who prefer elegance over practicality.
What kind of decor is it suited to?
Licia's sturdy, sustainably sourced wood gives the room a touch of visual warmth. It goes well with bohemian, ethnic or mid-century decor.
3. Deceptive: Kent
This forest green shoe cabinet from the Kent range provides a bit of sparkle with its gold handles and feet. The latter make it look much less bulky than it really is. At almost 174 centimetres in height, it's on the taller side. Getting one means making full use of your wall space; Kent tilts the shoes onto one side while the other is equipped with compartments for children's shoes, for example. It's also worth noting that Kent is part of a whole line of Schildmeyer wardrobe furniture, so you can coordinate it with other pieces from the collection.
Who's it for?
Anybody with a penchant for neatness and order will get their money's worth here. The Kent has doors and is part of a whole collection.
What kind of decor is it suited to?
Kent is a good fit for people who're keen to style their interiors in a glamorous or modern way and who want to stick to the same product range.
4. Aiming high: Tower
Yamazaki's Tower shoe rack may be narrow, but it accommodates up to three pairs of shoes per shelf. Be it in black or white, the shelf offers a little something extra, namely hooks for hanging up your umbrellas and a wooden top for displaying your odds, ends and ornaments. Although the doorless design is handy, it can quickly look chaotic – something that may or may not bother you. If it's the former, simply keep it outside the front door.
Who's it for?
Tower suits people who're less motivated to go rummaging for their shoes. With no doors in the way, you see all your footwear at a glance and can grab them in a jiffy.
What kind of decor is it suited to?
Thanks to its simple look, the shoe rack is a good fit for modern interiors. It's just not the most elegant solution because of its lack of doors.
5. Two-in-one solution: Maren
Objects with multiple functions are a welcome addition to any small home. Maren is a seat and a shoe rack in one, and has a surface for holding those essentials you grab on your way out the door. Under the seat cushion, there's a compartment made of white melamine, which provides a colour contrast with the unvarnished MDF wood. Roughly five pairs of shoes can fit side by side on one of the two levels. If that's not enough for you, you'll need something higher. At only 47 centimetres in height, Maren falls into the category of low-standing shoe racks.
Who's it for?
A simple, slim shoe rack like Maren is for people who enjoy making themselves comfortable anywhere in the house.
What kind of decor is it suited to?
Maren goes well with rustic furniture and Scandinavian designs.
6. Small but mighty: Sko
Sko completely eschews superfluous components. It consists of a wooden frame with two perforated steel shelves held together by visually accentuated screws and is available in white or dark grey. Unlike most of the other models mentioned here, Sko offers vertical space, so there's room on it for high boots too.
Who's it for?
Since the design is so compact, it's well suited to minimalists. In the home, it's a good fit for narrow hallways and stairwells.
What kind of decor is it suited to?
Sko can be seamlessly incorporated into rooms with a Scandinavian or industrial look.
7. Wheeled wonder: Shelving
With House Doctor's aptly named Shelving, you have the freedom of using the rack to store pots and pans in the kitchen or using it elsewhere to organise shoes. And the best part? The wheels on the mango wood rack make it portable. To top that off, the distance between the individual compartments is even large enough to accommodate shoes with a higher shaft. At 175 centimetres, however, it's anything but subtle. The good new is, there's a version of Shelving with only three levels.
Who's it for?
This roomy design is for people who value flexibility and move their furniture around often.
What kind of decor is it suited to?
The rack is really on a roll within industrial-style or mid-century interiors, but it's less of a fit for bohemian or ethnic styles.
8. Groovy: Angeber
This Tojo coat rack works as a free-standing structure or mounted to the wall. It gains some brownie points with its three shelves in the middle and three narrow storage compartments on the doorless side. It's also available in a smaller size. The closed side is grooved, where the hooks included with the rack can be inserted and used for hanging up jackets or bags. Plus, the Angeber has two large grooves on the top, with the base between it serving as a clothes rail.
Who's it for?
If you don't want to have to go rummaging through all your stuff at your front door, but still want a little visual calm, the Angeber provides a compromise.
What kind of decor is it suited to?
This sort of furniture is meant to look good anywhere. Nevertheless, it's most likely to work in minimalist living rooms, for example, ones decorated in Bauhaus or Japandi style. In eclectic or elegant interiors, however, it's rather out of place.
9. A splash of colour: Frame
This crimson cupboard from the Frame line sets an accent in a room without laying it on too thick. This is probably down to its subtle form. Frame has such a neutral design that it'd even be suited to a living room. Thanks to the colour, it gives any room a simple but extensive facelift. It offers two ways to arrange your footwear. Shoes that've seen better days can be hidden away inside the cupboard, while your star pairs can be staged on the open shelves. In addition, decorative accessories and bits and bobs can be placed on top.
Who's it for?
Whether you use it as a shoe cupboard or a dresser is up to you. This minimalist range is both functional and pretty to look at.
What kind of decor is it suited to?
The Frame collection makes colour-loving hearts beat faster and serves anyone with a soft spot for modern furnishings or retro pop.
10. Out in the open: Storn
Storn is a freestanding wardrobe; a painted steel structure with four frames varying in height. It can be placed at a front entrance, in a flatshare bedroom or, because of its height, it can work as a room divider. It has room for jackets and shirts as well as your kicks. It's reminiscent of the clothes rails you get in a store and is designed to display things.
Who's it for?
Storn is perfect for indecisive people. Piling up clothes? Hanging up bags? Storing shoes? It can handle it all.
What kind of decor is it suited to?
Heavy metals, such as the kind Storn makes use of, harmonise well with industrial design furniture. With its simple silhouette, it deftly provides an occasional style clash.
This is the eighth instalment of the Form Follows Function series, where I give you a comprehensive intro to particularly well-designed furniture.
Survey
Which piece of furniture should I present next?
Cloakroom
Display case
Armchair
The competition has ended.
Header image: Yamazaki
---



«There are only two ways to live your life. One is as though nothing is a miracle. The other is as though everything is a miracle. I believe in the latter.»
– Albert Einstein
---
---