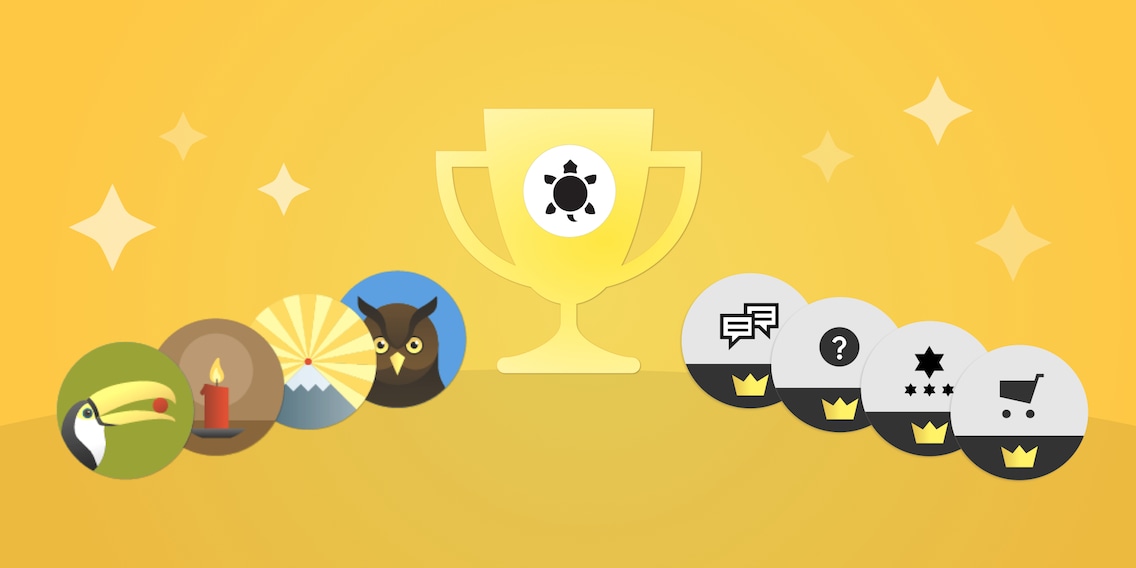 Welcome to Galaxus, Rating Rookie!

We're mighty proud of our active Community! You've written over 170.000 product ratings, asked ten thousands of questions and helped each other out. And now, to make things even more fun, we're introducing "DG Play".
Galaxus has launched a new and special kind of loyalty programme: As of now, you'll be awarded points, reach new levels and achievements every time you shop, discuss or rate a product. We've entered uncharted territory in the world of Swiss e-commerce and are the first online retailer in Switzerland to go for gamification. Our model is fundamentally different to any other customer loyalty programme out there, as the rewards are all purely for fun.
"Gamification really puts the fun into the customer shopping experience", says Oliver Herren, CIO of Digitec Galaxus AG. "Purchases are generously rewarded with fame and glory – as is participating in the Community." Currently, over 170.000 ratings on digitec.ch and galaxus.ch are helping customers find the products they want. That's more than any other Swiss online retailer. "With the launch of our gamification programme, we are bound to see those numbers grow", adds Herren.
According to Google's "Consumer Barometer", every fourth inhabitant of Switzerland consults online ratings, reviews and advice before buying a product. "Nonetheless, you'd be pushed to find any other online retailer in the world who has had the courage to go for gamification with the same dedication as we have", says Herren. "We are entering uncharted territory."
"DG Play" is based on four non-monetary incentives:
Collect awards or "achievements" as they're called in the gaming lingo. You'll be given these for frequently asking or answering questions, uploading a profile pic or buying several discounted articles. There are dozens of special achievements as well as a handful of standard achievements. The latter are sub-divided into the four levels "Rookie", "Pro", "Expert" and "Legend".
Your Pro, Expert or Legend status is visible to other users. This gives your opinion more weight when you're discussing a product or topic and benefits new, less active customers.
Find out how active you or other users are on a scale from 0 to 5 in the activity bar. The more you visit our online shops, the stronger your activity bar.
The more points you get for your achievements, activities and purchases, the higher the level you reach –like in a video game. Find out which rank you're on and see who has the most points in the leaderboard.
Do I need to do anything?
Yep, log in to your customer account and bask in your achievements; Or hang your head in shame because you're in 9735th place. Find out how "DG Play" works in the Play tour.
All digitec and Galaxus customers automatically take part in the free "DG Play" game. With the launch, all points and achievements earned for orders and activities since August 2014 have been retroactively credited to your customer account. The timeline in your profile displays when you unlocked points and activities.
By the way: All it takes is one click to anonymise your profile if you don't want to publicly join "DG Play". "We definitely don't want to force anyone to take part in "DG Play", emphasizes Oliver Herren. "However, I'm confident that the majority of our customers will enjoy this gamification programme."
---



I'm the master tamer at the flea circus that is the editorial team, a nine-to-five writer and 24/7 dad. Technology, computers and hi-fi make me tick. On top of that, I'm a rain-or-shine cyclist and generally in a good mood.
---
These articles might also interest you
Skeleton Loader

Skeleton Loader

Skeleton Loader

Skeleton Loader

Skeleton Loader

Skeleton Loader