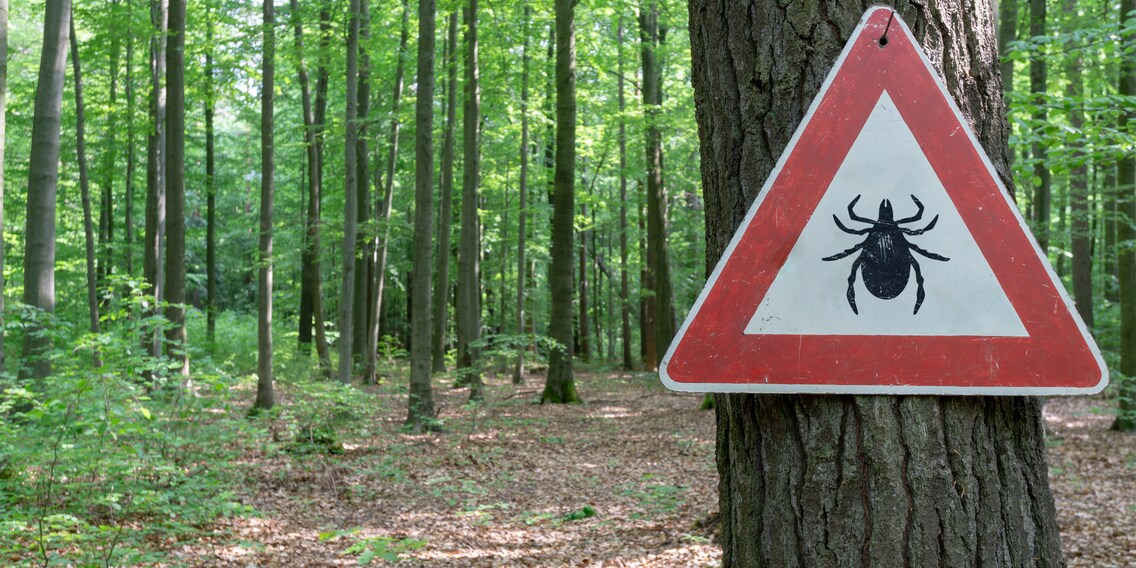 Watch out for ticks! How to protect yourself and your children

We all know that after a trip into the great outdoors, children's bodies are covered in ticks. Read on to find out what you can do about it and which tick myths need to go.
I still remember coming home after Pentecost camp about 30 years ago – it always rained, and I mean really rained – with company. Because usually between 10 to 20 ticks had attached themselves to me. The little beasts had got their teeth into me from head to toe (and in between – I'll spare you the details).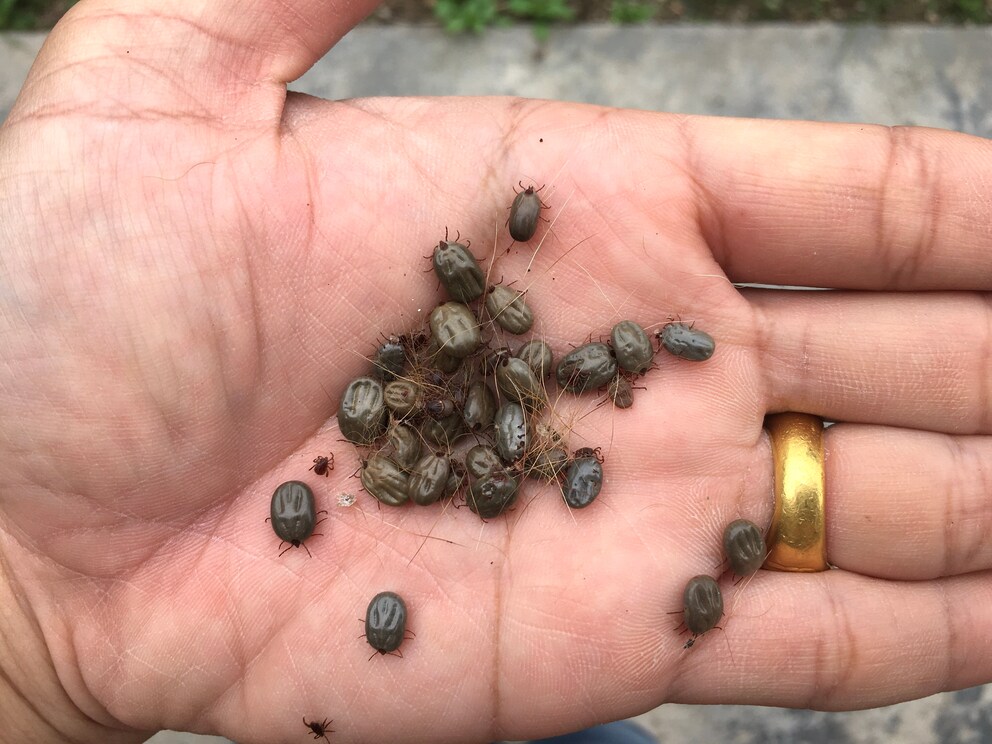 But hang on. The first thing that many people aren't aware of when it comes to ticks is that they don't bite; they sting. You can learn this and much more about ticks at «zecken-stich.ch» (website in German).
I'll spare you a page-long essay on ticks. Primarily, I want to show you how you can protect yourself and your children from them. But you still need a little basic knowledge about the parasites – for example, why it's important to protect yourself from these beasts.
Ticks' habitats are long grass, the edges of forests, forest paths and forest clearings. However, they're also found in gardens, especially those near forests, because they're spread by hosts such as mice or deer. Ticks love temperatures between 14 and 23 degrees and high humidity, so climate change means that the parasites can be found practically all year round in Switzerland.
Once ticks have chosen a victim and found the ideal puncture site, they cut open the skin with their mouthparts and prick the tissue with their proboscis. Then they start sucking blood in order to grow. They prefer to do this in areas where the skin is thin and there's a good blood supply. The parasites are also commonly found on children's heads.
Two diseases, only one vaccine
So far, so good. But why is it so important to remove ticks as quickly as possible once you find them? Because they can transmit unpleasant diseases, including tick-borne encephalitis, a severe form of meningitis that can even be fatal in the worst case scenario. But at least there's a vaccine – also for children. You need a booster every 10 years.
Ticks can also transmit bacteria, so-called Borrelia, which can result in Lyme disease. The first thing that develops at the sting site is an «expanding rash», but the disease can still be treated with antibiotics. If untreated, the disease can affect organs, joints, the nervous system and even the heart, which can lead to chronic rheumatic complaints or fatigue. If in doubt – especially if you have flu-like symptoms, a fever or notice a change or redness on your skin – you should consult a doctor.
The crucial question: twist or pull?
The mother of all questions is whether to pull or twist, and, if the latter, in which direction? The answer: don't. When you get hold of the tick, slowly and smoothly pull it upwards. Don't turn it, as the tick's mouthparts have no thread. It's also important to remove the tick as soon as possible once you notice it. The fact that the borreliosis pathogen is only transmitted after an estimated 12 to 24 hours doesn't change anything. It's best to use tick tweezers or a tick card to remove it.
Many people also don't know that there's no need to panic if the mouthparts get stuck in the skin. The body will expel them later. What if the head gets stuck? The tick may not be dead, but – contrary to popular belief – it can't grow back. Another mistake that you shouldn't make (but probably happens time and time again) is treating the tick with oil, glue or other substances before pulling it out. You can actually kill the tick this way, but it emits a lot of pathogens before it's pulled out. Speaking of death, how long does a tick live? The answer is a very long time in favourable conditions. Under test conditions in a laboratory, ticks that had sucked blood could survive for up to ten years without any other food. In the wild, a tick only lives for three to five years on average. And, because ticks need to consume blood several times in their lives, they also sting several times.
Are there any particularly dangerous regions in Switzerland?
Ticks are found all over Switzerland, but they're rarer from 2,000 metres above sea level. The Federal Office of Public Health (FOPH) classifies the whole of Switzerland as a risk area for the transmission of Lyme disease by ticks and has created a «tick bite map». It shows how high the risk is of being stung by a tick. «But it doesn't say anything about how high the risk is of contracting Lyme disease from a tick sting,» explains Werner Tischhauser, Vice President of the League for Tick Bite Sufferers in Switzerland (LiZ). The association was founded almost exactly 20 years ago to give those affected by tick-borne diseases a public voice. «In other words, there is no survey of where ticks are more likely to be carriers of Lyme disease bacteria in Switzerland,» says Tischhauser. And as far as the risk of transmission of the TBE virus is concerned, the whole of Switzerland is considered a risk area.
5 tips to protect yourself against ticks
Enough of tedious theory. After all, you mostly want to know how you can protect yourself and especially your children from tick stings. The simple and obvious tip is not an option: not going outside into nature. Nevertheless, you can still minimise the risk of a tick sting or subsequent illness by:
1. Avoiding tall grass and undergrowth
Whether you're out in nature or not, it's best to avoid tall grass and undergrowth. It's another misconception that ticks stay on trees and then fall onto their victims. They actually wait in the grass or undergrowth and can be wiped off as the victim walks past.
2. Wearing long, closed clothes
The be-all and end-all of tick risk control is clothing. Wear long trousers and a long-sleeved shirt and tuck your trousers into your socks like a cyclist (which has definitely come back into fashion). Light-coloured clothing is also an advantage because then you can spot ticks before they can sting you or your children. Because ticks like to settle on your head, it's also advisable to wear a hat or cap.
3. Using tick repellent
Let's face it: you don't want to wander around in long, closed clothing all summer, and your children certainly don't either. This makes tick repellent a good idea. It also makes sense to spray not only your skin, but also your clothing. Or you can use the Tickless Kid tick repellent. It works with ultrasonic pulses that are imperceptible to humans and pets, but keep ticks away within a range of 1.5 metres.
4. Freezing the ticks?
But what do you do once the tick has been removed? If you want to be absolutely sure that the parasite will die, it's not enough just to flush it down the toilet. A tick can actually survive that kind of wet roller coaster ride. If you want to be absolutely sure, crush it, cut off its head or burn it, like we did this morning after we removed a seemingly full tick from our cat.
Incidentally, there are also people who freeze the tick once removed. The reason: if symptoms become noticeable a few days later, a doctor can examine the tick and potentially determine whether it was a Lyme disease carrier.
5. Carefully checking everything when you get home
The best time to check yourself and especially your children for the little beasts everywhere – and I mean everywhere – is straight after you've come home and had a shower. The unwelcome guests seek out places where it's warm and humid, so under the armpits, in the groin area, in the back of the knees, on the neck and behind the ears.
And what about our beloved pets?
Finally. So far, we've only talked about people who are infested with ticks. But what about animals – especially cats and dogs? Until researching this, I always thought that you could simply let ticks have their fill of your pet until they fell off. I remember all too well how, as a little boy, I would occasionally find engorged ticks lying on the ground. It was always great fun (and disgusting) to wrap them in lots of toilet paper and then crush them. In principle, however, ticks can also transmit diseases to cats or dogs – including Lyme disease.
Well, if I had known that 30 years ago at Pentecost camp, I still wouldn't have roamed the forest with my hat on because it would have been extremely embarrassing. But maybe I would have actually applied tick spray a little more often.
---



Half-Danish dad of two and third child of the family, mushroom picker, angler, dedicated public viewer and world champion of putting my foot in it.
---
---
---
These articles might also interest you
Skeleton Loader

Skeleton Loader

Skeleton Loader

Skeleton Loader

Skeleton Loader

Skeleton Loader