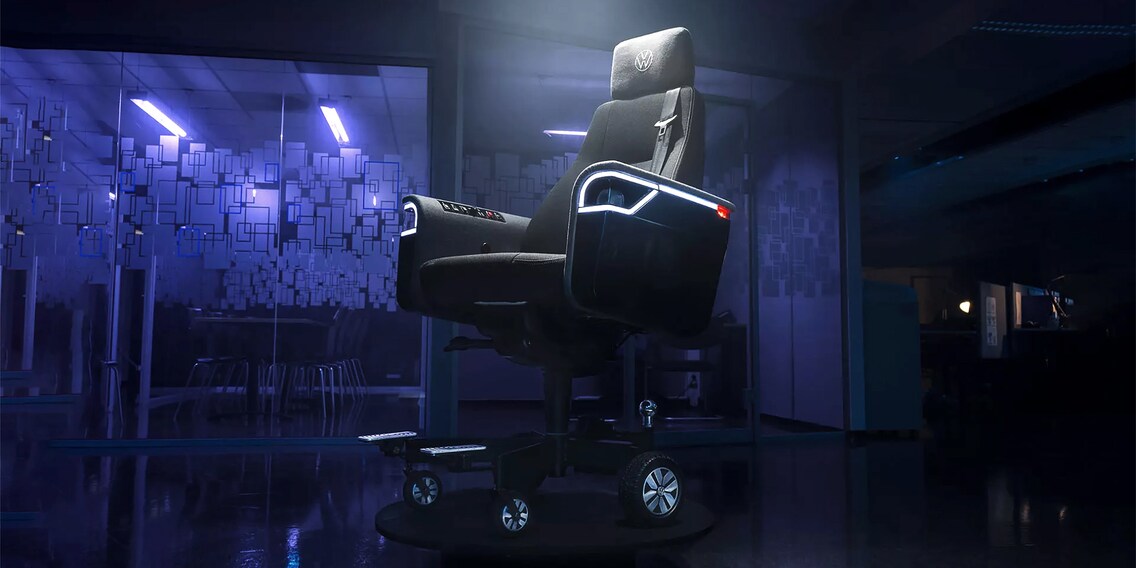 This article was translated automatically.
VW office chair: with heated seats, reversing camera and 12 km range
Volkswagen has built a motorised office chair with considerable equipment. From seat belts to flashing lights to assistance systems, it has it all. And it goes 20 km/h.
Too bad, it's just an exhibit. Because the office chair developed by VW has everything to make the hearts of fans of upmarket car interiors beat faster. Or the hearts of fans of the office chair race.
With a range of twelve kilometres and a top speed of 20 km/h, victory is within reach. Anyone who gets in your way will be honked off. Since you're wearing a seat belt, you don't have to worry about being knocked over. Nothing is known about the torque of the electric motor, but the chair also has a trailer coupling. Apparently the two-wheel drive is strong enough for that.
Of course, before overtaking, you set the indicator. If the office chair race takes you down the lift to the cool basement, you can warm up thanks to the seat heating. Powerful LED strips show you the way in the dark or blind your opponent when looking back. And should things get tight, the 4-inch rims made of solid aluminium will protect you.
The chair lacks a navigation system. Those who would like to drive autonomously cannot do so either - the chair is steered with the pedals. Instead, the luxury vehicle has an assistance system with a touch display. Thanks to 360-degree sensors and a rear camera, you can keep an eye on your colleagues and the executive floor. You can also use the entertainment system and listen to songs through the integrated speakers, which, according to VW, "give you the feeling of going on a journey". Once you have won the race or reached your destination, you activate the coloured LED party lights.
All you have to do is activate the LED party lights.
In order to be able to take luggage - i.e. a notebook plus notepad - with you on your travels, a compartment at the back offers an incredible 0.005 cubic metres of storage space. The notebook can also be charged at the same time via a USB port.
If you want to know more about the chair or see it in action, watch the following video.
Although the chair is well thought out, right down to a replaceable battery, it will remain a one-off for now. Nevertheless, I fervently hope that VW will one day produce it in series. Until then, it will remain a great marketing stunt.
---

I find my muse in everything. When I don't, I draw inspiration from daydreaming. After all, if you dream, you don't sleep through life.
---
---
---
These articles might also interest you
Skeleton Loader

Skeleton Loader

Skeleton Loader

Skeleton Loader

Skeleton Loader

Skeleton Loader