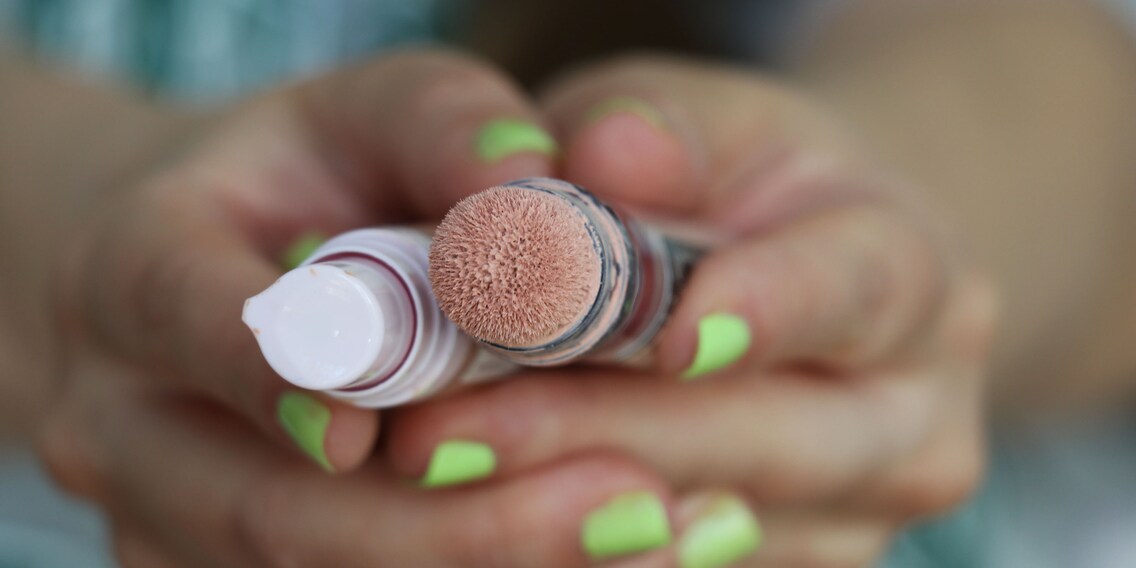 Tired eyes? This concealer mix makes dark circles disappear

Translation:
machine translated
Minimalists must now listen away for a moment. Because sometimes two products are better than one. That's when they make each other stronger. My latest discovery: a concealer combination that fights shadows under the eyes.
I paired two of my beauty products together and now they are inseparable: "Bare With Me Serum Concealer" by NYX and the "Instant Anti-Age Eraser Multi-Use Concealer" by Maybelline. The latter specifically in the colour "05 Brightener". I'll get to why this is relevant in a few lines. Both work quite well solo, but as a team they are unbeatable.
The concealer from NYX has a light texture that barely pools in the creases under the eyes. It's just that the coverage of my favourite concealer isn't enough for me on some days. That's when Maybelline's Brightener comes into play. It also has the word concealer in its name, but because of its pale pink-peachy colour, it functions more as a brightening colour corrector. In other words, it neutralises bluish eye shadows. In terms of texture, it is slightly thicker than the Serum Concealer. . How it works: Apply a pump of NYX Concealer to the back of the hand. Then add a little of the Brightener, mix with your finger, dab the mixture under the eyes and blend with a brush. You can use more or less Brightener depending on how dark your dark circles are. Some people prefer to use it under their concealer. By blending, I find that less product ends up on the face, which I personally like better. .
Important: This specific combo works ideally for my skin tone and needs. You can also implement the basic principle of blending with your personal favourite concealer(shade) and a corrector that matches your skin tone.
Sometimes subtleties determine whether we succeed with our hairstyle and make-up. In the "Beauty Quick Tip" series, I share useful techniques and product recommendations with you, which I either take from my own wealth of experience or have copied from the professionals. . Titelfoto: Natalie Hemengül
---



As a massive Disney fan, I see the world through rose-tinted glasses. I worship series from the 90s and consider mermaids a religion. When I'm not dancing in glitter rain, I'm either hanging out at pyjama parties or sitting at my make-up table. P.S. I love you, bacon, garlic and onions. 
---
---