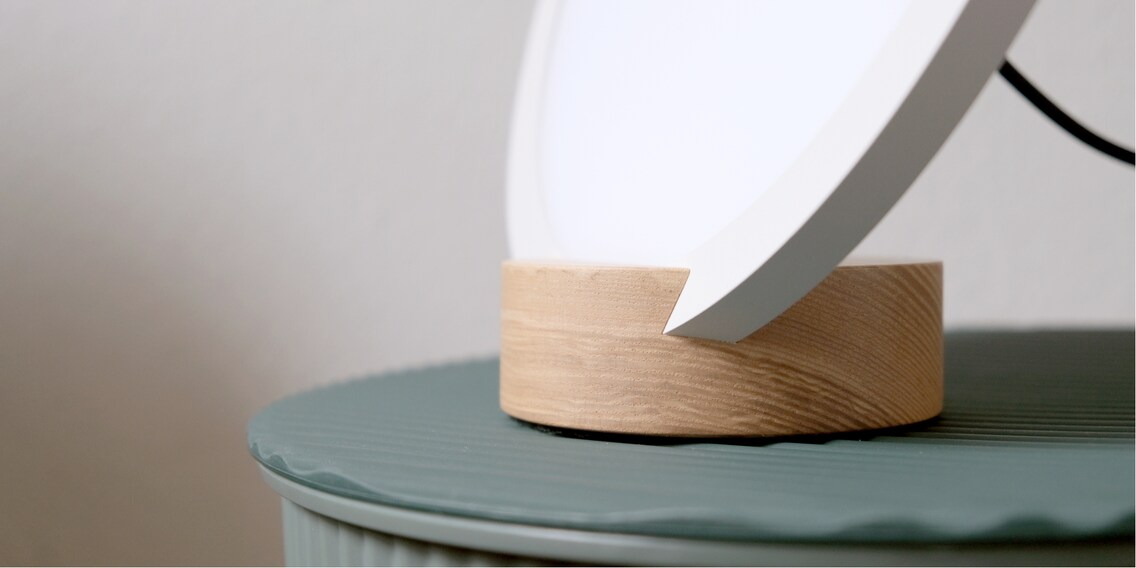 The sun on my desk

Translation:
Julia Graham
Most light therapy lamps are only used in winter. But Innolux's design piece called «Epic» is different. It adds atmosphere to your home all year round.
The Zurich winter has always disappointed me. From November, the city turns grey as the sunlight disappears along with the lively atmosphere. And I notice winter fatigue setting in. To counteract this, I decided to try light therapy for the first time. That way I can at least pretend on the inside that it's sunny outside.
You can use «Epic» by the Finnish company Innolux all year round. Unlike most bulky light therapy lamps, it also acts as a beautiful dimmable table lamp that provides better lighting for my home office. That's why I asked Innolux for a sample and put it to the test for four weeks.
How it works
Light enters the brain via the retina and nerve pathways. When it's dark, the brain assumes it's time for bed and releases more melatonin — a hormone that makes you sleepy. The Epic lamp comes into play when the daylight lux is weak. It's designed to prevent the release of melatonin by emitting UV-filtered and particularly intense 2,500 lux light. While that's only the equivalent to a fraction of what you'd get from sunlight, it's still more than what I receive from my current lighting – 50 to 100 lux.
You may also have heard light therapy referred to as a «light shower». To start feeling its effects and activate the stimulant hormone serotonin, you need to do light therapy three to five days a week. And for best results, with the light source between 40 and 145 cm away from your face. At 2,500 lux, it should be about 50 cm away from your face. The closer the light, the more effective the therapy. At that point, 30 minutes can be enough to trick the brain into thinking it's bright.
Unboxing and switching it on
Epic consists of two parts: a light-brown base made of ash wood and a white, disc-shaped lighting fixture made of plastic and steel. With the latter boasting a three-metre-long black textile cable and a power supply. The LED lamp has two buttons: an on-off button and a switch for the colour temperature. This lets you choose the type of light you want, from yellow-white, white or blue-white.
First impressions
Cold light is meant to make you more alert than warm light. To put this theory to the test, I start by setting the therapy lamp at the highest level using blue-white light while I'm working at my desk. It's in my field of vision, but not in such a way that I end up looking directly at it. According to the manufacturer, that isn't necessary. Nevertheless, the lamp can be a bit dazzling. But it's something I get used to over time. What's more, I don't feel any heat radiation from the lamp.
I use the relevant buttons to control brightness intensity as well as colour temperature. It's just silly that there's no display. The amount of lux depends on the distance. Epic can't give this kind of information as the company isn't measuring how close I am to the device. But having a brightness display would be helpful. But still. It doesn't matter if I stay under the light shower for a bit too long. What's more important is when I do it. If I start too late, I risk struggling to drop off in the evening. That's why they don't recommended doing this therapy after 6pm. Unless it's intentional in order to help with shift work. After I've completed my first half-hour shower, I dim the light a little and turn the yellow-white lamp towards the wall. This lets it act as a replacement for my desk lamp, which I had to put away for the time being due to lack of space.
After just two weeks with Epic, I feel like someone has flicked a switch on in me rather than the lamp. It's a similar sensation to having a shower with water – I feel fresher. Not only that, I seem to have got back into my summer routine, and I go out more or I do more exercise. In the weeks I was testing out this new device, I also ended up establishing a new ritual, namely that I'd leave the mood lamp on from 10am to 12 noon during the week.
Mood lighting and energy consumption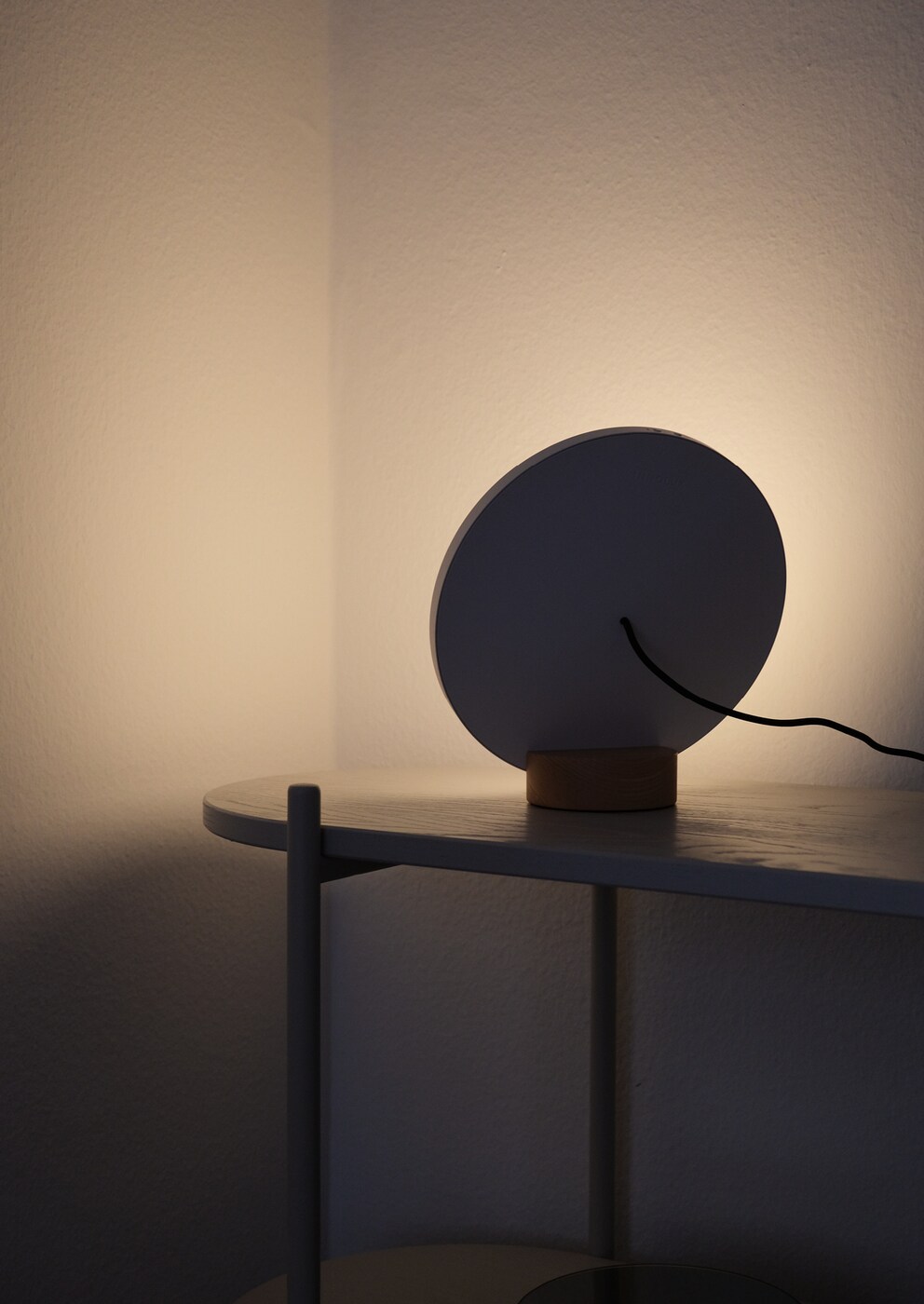 Thanks to its energy-efficient LED bulb, Epic doesn't have the same issue with high energy consumption that my colleague David complained about on his Beurer model.
ReviewBüro

Das Tageslicht aus der Steckdose wirkt besser als Kaffee
That's why I also turn the disc to the wall in the evening and use it as a table lamp in the living room. It doesn't take a minute to mount it somewhere else. The only place you shouldn't use it is the bathroom as it can't tolerate moisture. If it weren't for the black textile cable, you'd be forgiven for thinking the lamp had been sewn into my white walls.
Comparing the different brightness levels and colour temperatures.
Verdict: the opposite of a sleep mask
Epic is more than just a light shower device. In contrast to the very technical-looking (and as a result unsightly) light therapy devices, such as the current bestseller from Beurer, Epic also looks great as an elegant table lamp. While it is about three times more expensive, compared to the standard bulky models, it has the advantage that it can be disassembled and it doesn't take up much space the rest of the year.
Just as I'd hoped, I notice a difference after the four-week test. I still drink my coffee in the morning and go for a walk every day, but I don't feel that either of them are essential to help me wake up. That's what the light shower does for me. With the intense blue-white light of the Epic right next to my screen, the device ensures I'm more focused at work. I decided to get myself one of these lamps because it's almost like the opposite of a sleep mask. The only thing is, if I haven't slept well, the light therapy isn't able to do much to help. But thanks to the light shower, on most days I've started seeing Zurich through a bright lens again rather than a grey one.
---



«There are only two ways to live your life. One is as though nothing is a miracle. The other is as though everything is a miracle. I believe in the latter.»
– Albert Einstein
---
---
---
These articles might also interest you
Skeleton Loader

Skeleton Loader

Skeleton Loader

Skeleton Loader

Skeleton Loader

Skeleton Loader