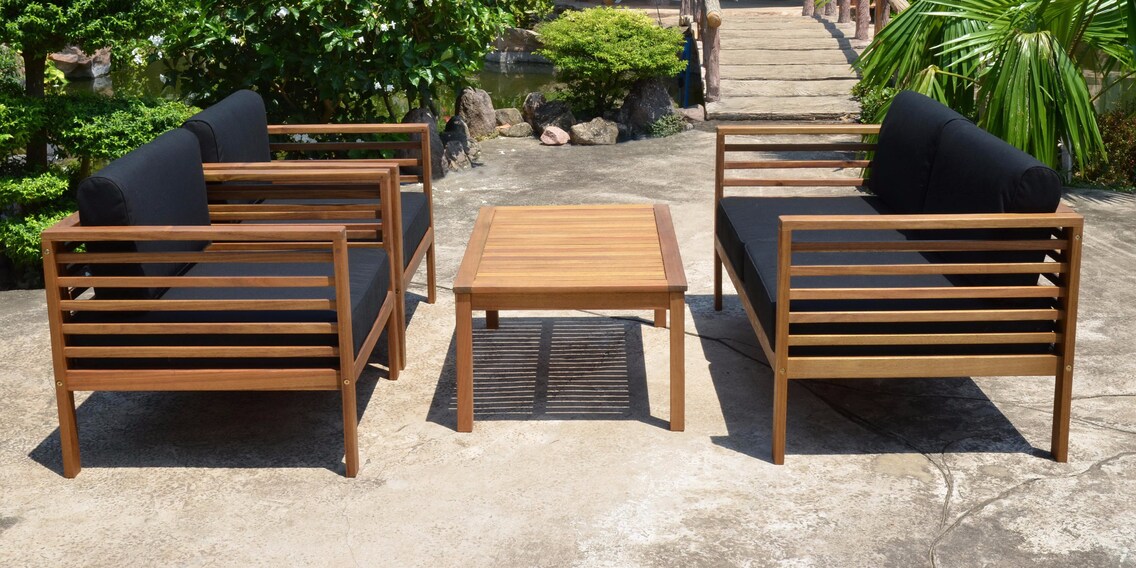 A wooden lounge exudes a natural atmosphere and warmth but needs to be protected from the weather in order to maintain its colour. Model: "Samui" by Giardimo.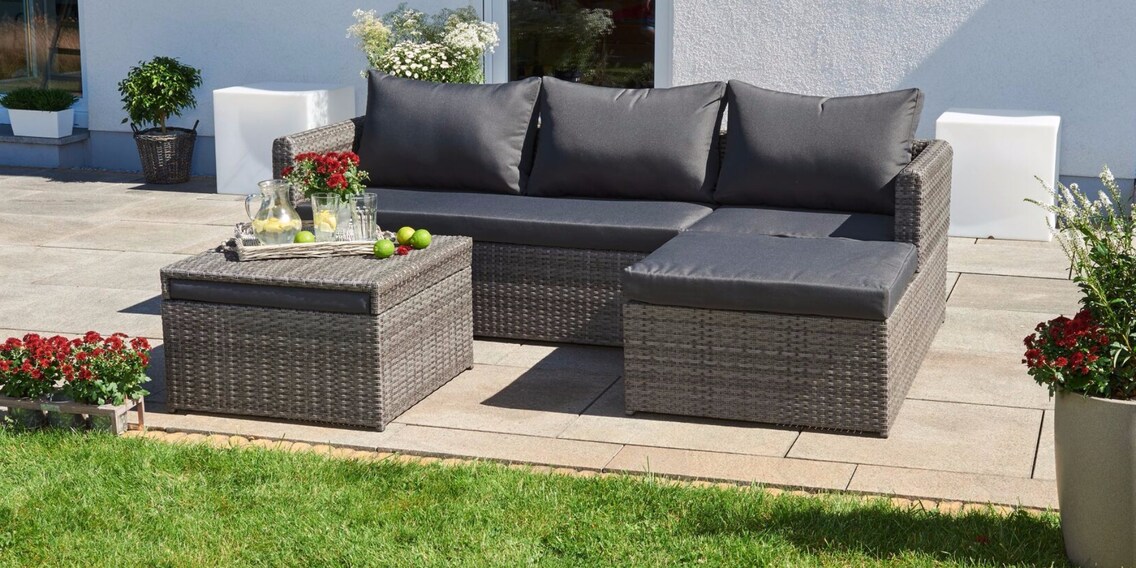 Low-maintenance, weatherproof and comfortable: It's not surprising that lounges made of poly rattan are amongst the most sold models.
The search for the perfect outdoor lounge set
Lounging is the latest trend in outdoor furniture. When you heard about it, you probably had lots of questions about different design options and buying your own. To make life that bit easier, I have taken a look at different types of outdoor sofas and listed the pros and cons for each.
Tried and tested but still bang on-trend: The outdoor wooden lounge set
Outdoor sofas crafted from water-resistant hardwood are a clear trend at the moment. If you want something that is close to nature, you can't go wrong with wooden furniture. As well as teak, there are now quite a few good alternatives. Acacia and eucalyptus wood are the main ones. But even with those types of wood you need to make sure you look for quality seals like FSC. It goes without saying that wooden furniture is better on covered terraces than open spaces. Although that doesn't mean the furniture isn't water-resistant. If you don't mind putting in a bit of effort with maintenance products, you can enjoy your wooden furniture for years to come.
Pros:
Warm, appealing look
Natural
On-trend
Cons:
Only water-resistant to an extent (depending on the type of wood, you have to oil the furniture once a year)
The robust solution: The poly rattan wicker lounge set
Wicker lounge sets made of poly rattan are perfect if you're looking for weatherproof furniture and design that won't date. This type of material is known for its resistance to light and weather, meaning you can leave the seating outside all year round. As well as this, poly rattan is UV-resistant, the colours don't fade and it is hard-wearing against dirt. But if you're looking for something more unique, you may be struggling as these types of outdoor sofas are now ten a penny.
Pros:
Weatherproof
Made to last
UV-resistant
Low maintenance
Cons:
Not particularly unique
Can lack elegance
Wear-resistant: The stainless steel lounge set
Metal outdoor seating sets are particularly popular at the moment. In fact, the stainless steel version is considered the Rolls Royce of lounge sets. It has the advantage of being rust-proof and easy to maintain. Stainless steel is a modern look, making it the perfect choice for fans of cool, minimalist design. This material even allows delicate shapes and basic workmanship to be incorporated.
Pros:
Low maintenance
Made to last
Elegant look
Rust-proof
Cons:
Can seem cold
Has a price tag to match the pros
New and on-trend: The lacquered aluminium lounge set
If you opt for a lacquered lounge set, it's always best to check that it has been made from aluminium – especially if it's going to see a lot of rain. However, the lounge set is much less likely to get rusty on a covered terrace or balcony. If that sounds like your set-up at home, you could go for the much cheaper type of steel. Generally speaking, a good powder coating provides long-lasting protection. Metal lounge sets are definitely top of the class when it comes to cool. You can count on them to turn up the modern, trendy look in your outdoor living space. The only disadvantage is an obvious one, namely that dark metal gets hot when in the sun.
Pros:
Affordable
On-trend
Lightweight
Rust-proof
Cons:
Can get hot when in the sun
Plastic is fantastic: The synthetic lounge set
The synthetic lounge set is the most steadfast and low maintenance of the lot. Prices vary a lot from model to model, so you can choose from entry-level lounges to designer models. There is something for everyone, as long as you like the base material. If you want to leave your outdoor furniture in the hands of mother nature all year round but don't want the hassle of a cover or any kind of maintenance, a synthetic lounge is the best option for you.
Pros:
Weatherproof
So low maintenance it practically takes care of itself
Cons:
Forever changing: Modular lounge furniture
If you like change and don't want to be stuck with a fixed outdoor furniture set, you should have a look at modular options. The big advantage here is that you can add to your seating area. You can also rearrange sections of it any time you like. If you don't have a lot of outdoor space, you can attach individual pieces – such as a garden sofa and a stool ¬– to create a small, unique lounge corner.
Pros:
Con:
You have to factor in more time for designing and putting together
From a natural source: Rattan outdoor furniture
Rattan is a natural material that is sourced from the woody shoots of the rattan palm Calamus. The only advantage of furniture made of natural wicker is that it looks great. Real rattan pieces should only be used in a conservatory or an outside area that is covered. This kind of material is not weatherproof and the colour can quickly fade or the furniture can even become brittle in strong sunlight.
Pros:
Con:
A brief note on weatherproof outdoor furniture
Lounge set covers
Even if your lounge set is weatherproof, you should still protect it from sun, hail and rain when you're not using it. With the right cover, it's ready for whatever our erratic Swiss weather throws at us. What is a real deal-breaker is being able to use the lounge set right after a downpour. Wooden furniture in particular needs protection from the weather. This maintains its beautiful colours and means you don't have to oil it as often.
Outdoor seat cushions
The best cushions for a lounge set are weatherproof and non-fade. There are, of course, a number of innovative new options available but they are much more costly. Make sure you choose a cushion with 8–10 cm thickness so that you get something that is comfortable. Ideally, you should opt for cushions with removable and washable covers. As a general rule, it's a good idea to store your cushions in a garden box when they're not in use to help protect them from damp. But if there is no risk of your lounge set getting rained on that's not absolutely necessary.
See all outdoor seat cushions and pallet cushions // See all garden storage boxes // See all lounge covers
Get more inspiration for your outside space here:
Skeleton Loader

Skeleton Loader

Skeleton Loader

Skeleton Loader

Skeleton Loader

Skeleton Loader

Skeleton Loader

Skeleton Loader
---



I'm always looking out for new trends, true to the motto: «Decorate in a style today everyone will want tomorrow». As I have to take it down a notch at work, I express myself in my own home. It's where you'll find curiosities, collectables from faraway places and handmade things side by side. Interior design should always be personal and authentic – just like you are. 
---
These articles might also interest you
Skeleton Loader

Skeleton Loader

Skeleton Loader

Skeleton Loader

Skeleton Loader

Skeleton Loader