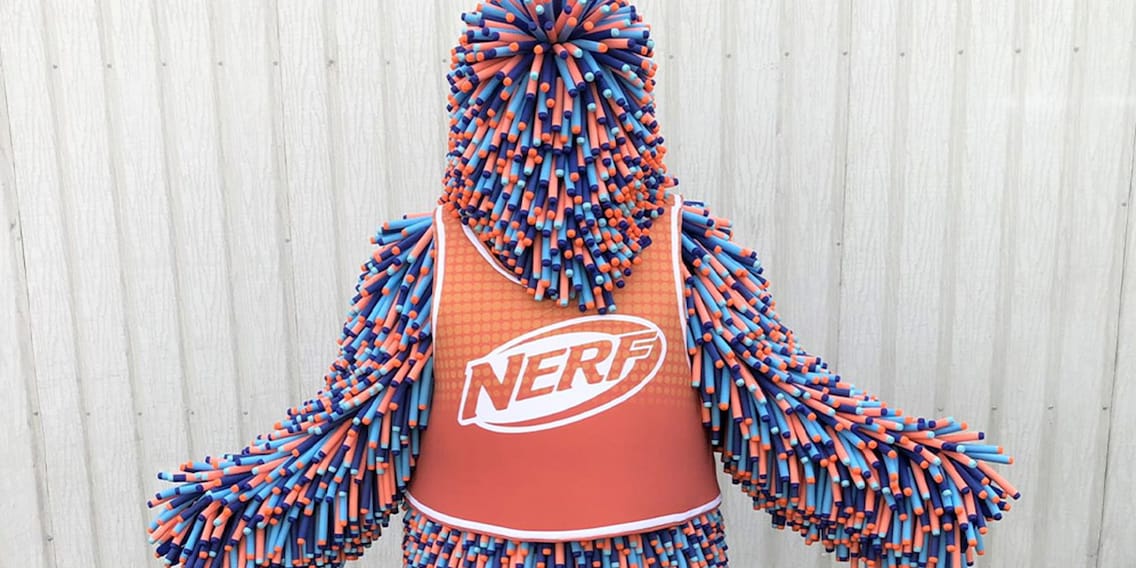 This article was translated automatically.
The new Nerf mascot is stuff of nightmares
Nerf now has an official mascot: Murph. He is supposed to embody the playful spirit of the brand, but in me this thing triggers serious anxiety. Unfortunately, Murph is not an isolated case.
I have my problems with mascots. I always find these costumes creepy. Rarely is there a figure that doesn't awaken nightmares in me. Also the new mascot of Nerf joins the marketing horror cabinet. Murph is the name of this thing and consists of Nerf arrows from head to toe.
Murph is at the center of Nerf's new marketing strategy, which launches this summer under the slogan "unleash the game within you." When I read the word "unleash" and look at a picture of this mascot at the same time, nightmares start to spread through me even when I'm awake.
9 other creepy mascots
Unfortunately, Murph isn't the only marketing creature making its mischief at events. Other organizations just couldn't help it either and created horrors.
Wenlock and Mandeville: the official mascots of the 2012 London Olympics. The two figures are supposed to represent two steel drops. To me, they look more like anal probes personified.
Mr. Redlegs: The mascot of the Cincinnati Reds is a human-shaped baseball with squiggles. He looks like the strange man our mothers used to warn us about.
Stanford Tree: This tree is the unofficial mascot of Stanford University. No wonder this big-lipped fir didn't make it to the official talisman. This is what happens when biology students experiment with crack.
WuShock: The yellow face of the Wichita State Shockers. Or as I would say: The former President of the United States of America.
Purdue Pete: The disproportionately large head with a vacant stare feels right at home in any nightmare. However, Purdue University's mascot only makes an appearance at their sporting events. The university's official mascot is a steam locomotive, the Boilermaker Special.
Friar Don: No, it's not the Vatican's mascot, but it's still the terror of all altar boys. Apparently, the Providence College character was born from the ashes of a Dalmatian. That's all there is to it.
Gritty: There's that stare again. It sends shivers down my spine every time. Gritty of the Philadelphia Flyers became an internet megastar despite his creepy looks.
King Cake Baby: Okay, now it gets really bizarre. Chucky doesn't make enough money in royalties and has a new side hustle: mascot of the New Orleans Pelicans. Why the club didn't choose a waterfowl with the name remains a mystery to me.
Kingsley: Another example of how excessive drug use can only make you so creative. It's like throwing up two liters of orange vodka and painting a face on it. Et voilà: the mascot of Partick Thistle, a Scottish soccer club from Glasgow.
At least the new mascot from Nerf has something good: you don't have to rack your brains for the next costume party. A hot glue gun and a few thousand Nerf darts in different colors are all you need to stand out.
---



Riding my motorbike makes me feel free, fishing brings out my inner hunter, using my camera gets me creative. I make my money messing around with toys all day.
---
---
These articles might also interest you
Skeleton Loader

Skeleton Loader

Skeleton Loader

Skeleton Loader

Skeleton Loader

Skeleton Loader