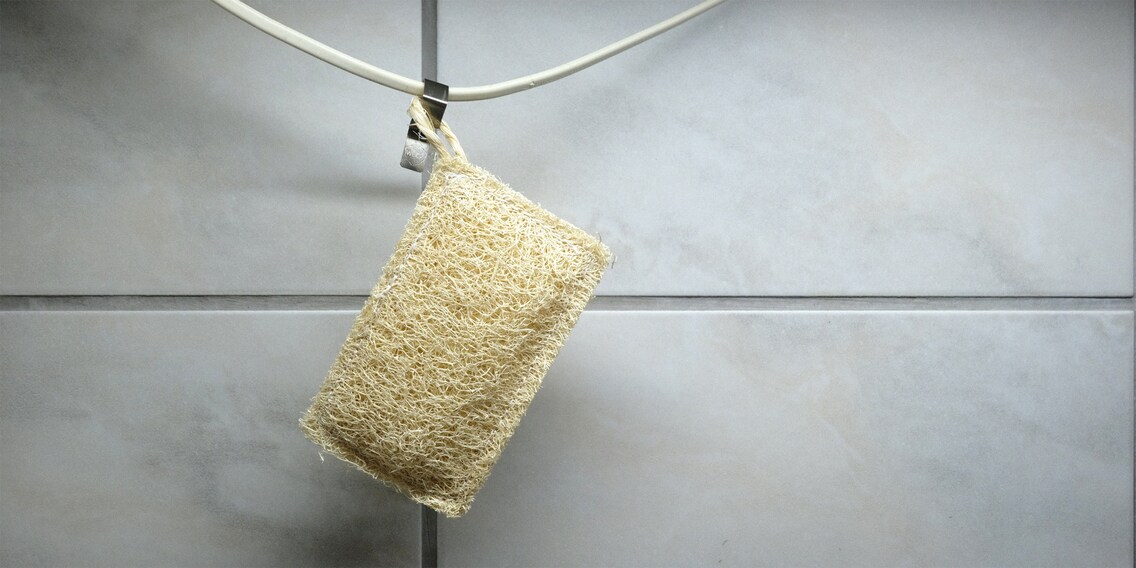 The Naiked loofah sponge: if only it didn't have a seam...

I keep replacing household items to make my home more sustainable: plastic bags, cosmetics, meat – and now my dish sponge. Unfortunately, the loofah sponge by Naiked isn't finding a permanent home with me.
Microplastics are harmful for the environment. As is disposable plastic. Or flying. Same goes for fossil fuels – except natural gas, of course (looking at you, EU). There are a lot of things that could be changed in everyday life to get a grip on all the environmental problems we have brought on ourselves.
Washing the dishes is one of them. I always have to force myself to turn off the tap while I'm washing up. I'm too lazy to fill the sink, clean the dishes in it and turn on the tap briefly each time to remove the foam from each dish. The plastic washing-up sponges I usually use aren't a great choice for the planet either. Especially because, according to a study by Furtwangen University, they should be disposed of weekly, as they are loaded with bacteria. That's even more plastic that fills landfills or is burned.
I've decided to get rid of my usual dish sponge once and for all and buy a sponge made of loofah by the brand Naiked.
A washing-up pumpkin
Luffa sponges are 100% natural, as they're made of vegetables. Young sponge gourd, which resembles a zucchini, is eaten as a vegetable in Asia. Ripe gourd plants become fibrous and dry inside – perfect to turn them into a bath sponge or even a dish sponge. As far back as in pre-Christian Israel, people knew this and used them for personal hygiene. Until the early 20th century, loofah was also used as an oil filter on steamships. Today, the fibres are used in Paraguay as wood substitute for building houses. Out of necessity, by the way, as Paraguay simply has almost no wood left after decades of overexploitation of the forests.
But back to the washing-up sponge. I really like the packaging design and marketing. The consistently positive online articles on the subject of loofah sponges have also made me look forward to trying this sponge. Unfortunately, unpacking it is somewhat of a disappointing experience. The sponge smells strange, paradoxically quite chemical. Once wetted, the sponge becomes softer and more flexible – but the edges stay hard. They've been cut, so there's a hard seam, which makes the loofah feel pressed and rigid. This doesn't bother me much when washing plates, but it does when washing glasses, as the sponge doesn't adapt to the round surface.
Urbi et orbi
Due to the rigid edges, the loofah sponge by Naiked also can't be wrung out properly, but I have to virtually spin the water out with quick hand movements. Like a priest blessing his believers. If I don't do this, the sponge is far too wet, which bothers me especially when I want to clean the surface around the sink. However, the sponge can be hung up to dry, which I like very much.
After using it several times to wash the dishes, my first impression turns out to be true: this natural sponge produces much less foam than a synthetic one. This isn't bad as such, but it messes with my mind, as I'm used to thinking that foam means something is clean. By the way, I have the same problem with many natural toothpastes.
Because loofah is scratchier than plastic foam, stubborn residues are easy to remove from pots and pans, but somewhat harder to remove from the sponge. I have to keep digging out food residues. But at least I get rid of them. A lot of stuff gets stuck on the rough side of the conventional sponge, and some of it can't be removed at all. If you recently cleaned your caquelon after a cheese fondue, you know what I'm talking about.
Good idea with room for improvement
I want to love this sponge because it's good for our planet. My model by Naiked is washable at 120 degrees, so I can put it in my washing machine at 90 degrees. It's compostable and handmade in Spain (whether the loofah itself was also grown there is unclear). These are all wonderful qualities, yet I'm still drawn to the synthetic sponge. Why? It's softer and more flexible, so it adapts perfectly to any surface and is easy to wring out. Besides, its edges don't prick my hand. Maybe I'll try a cellulose eco-sponge until I've found the right loofah dish sponge for me. At least the cellulose eco-sponge only has one artificial element and that's the glue between the rough and soft side, which is made of polyurethane. I don't want to keep producing harmful micro- and macroplastics.
---


My life in a nutshell? On a quest to broaden my horizon. I love discovering and learning new skills and I see a chance to experience something new in everything – be it travelling, reading, cooking, movies or DIY.
---
---
These articles might also interest you
Skeleton Loader

Skeleton Loader

Skeleton Loader

Skeleton Loader

Skeleton Loader

Skeleton Loader