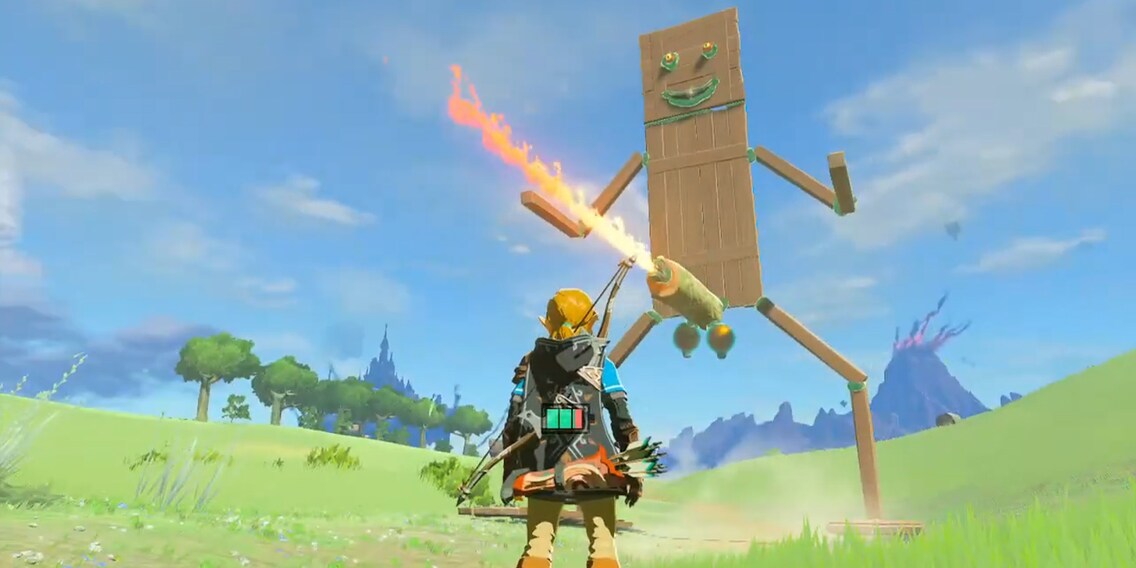 The craziest constructions from "The Legend of Zelda: Tears of the Kingdom"
Translation:
machine translated
"The Legend of Zelda: Tears of the Kingdom" is barely a week old. Players from all over the world are already using Link's new abilities to create absurd and ingenious constructions. I'll show you my favourites here.
No other game gives me as much creative freedom in exploring the game world and solving puzzles as "The Legend of Zelda: Tears of the Kingdom". Above all, Link's new "Ultrahand" ability is a real gamechanger. With it, I can pick up, rotate and stick various game objects together.
I played the game for 100 hours for my game review. Actually, I felt that I was being creative with my Ultrahand constructions. But the crazy "Zelda" community proved me wrong just one week after release.
Flying hell machines
As you progress through the game, you unlock more and more so-called Sonau machines - relics of a long-gone civilisation. Many of these gadgets are great for crafting flying machines.
While I'm off with boring aeroplane constructions, the "Zelda" community is crafting flying hell machines with which they commit all kinds of war crimes against Bokoblins, Moblins and co. . User SkysOutThighsOut builds a combat helicopter with rotor blades and laser cannons and writes in his Reddit post: "I love the smell of Zoanite in the morning" .
trung_anh forgoes rotor blades and makes a manned drone with automatic-firing cannons that bomb away bokoblins.
An even more elegant solution is this unmanned drone on Twitter that automatically takes to the skies and kills the dragon Gleeok on its own.
Cars
Also on the ground, "Zelda" fans are in creative vehicles. For some reason, trucks seem to be trending . @Schlobster is building a giant truck and playing The Legend of Zelda: Trucker of the Kingdom. Is the truck useful? No. The lonely trucker life in Hyrule seems fun anyway.
Somewhat less peaceful is the Death Truck of @ArmandoSionosa. He builds a two-storey killing machine with flamethrowers and laser cannons. Instead of packages, this delivery truck brings death and destruction. The user only has to work on the controls of the Transformers-like killer machine.
Boats
No-Frogs has developed a device with giant paddles. The big advantage: the paddles use far fewer batteries than the small wind turbines that are usually used on boats.
GtaHov happens to build a flying boat. The user sticks a glider to the bottom of his boat and suddenly takes off.
Korok's torture machines
For some reason, the "Zelda" community has conspired against the cute little Koroks. In "Tears of the Kingdom", the little critters are tortured in creative ways .
Do you like the little Koroks?
The little creatures get on the nerves of many players. What do you think of the leafy creatures?
I love Koroks!
I hate Koroks (and I am a bad person)!
The competition has ended.
The Koroks are crucified...
... Glued together to form a "Korok Centipede" ...
... And even grilled! Is such a korok skewer actually vegan?
With all the violence against the cute critters, my heart bleeds .
Mechs and robots
Okay, now it's really getting crazy. With all the mech creations from the "Zelda" community, you'd think the robot action game "Armored Core 6" was already released.
TikToker SoulBanana in particular is going wild with the creation of giant manned robots. He has already built flying killer machines and "Gundam"-like robots to fight on the ground.
An genitale ingenious idea also comes from Twitter user @ZAKUYA_BOTW. He is building a flame-breathing penis robot. Why? Because he can.
Small, practical transport
. After the absurd constructions, I'd like to introduce a few more practical machines to help you get around Hyrule. I'm annoyed I didn't come up with these ideas myself . Jtneagle presents an extremely simple hoverboard that consists of only a steering element and two fans. I used the design while exploring Hyrule's underground world and I am thrilled. You can move incredibly efficiently through the game world with this thing. It also costs very little to Bautomatic manufacture (only nine Sonanium) and uses few batteries. .
In the predecessor "Breath of the Wild", Link was already able to surf, or snowboard, on his shield. "Tears of the Kingdom" expands on this idea and gives you the option to build a skateboard. Just glue a mine cart to your shield and you're suddenly playing "The Legend of Tony Hawk's". Yes, even grind is possible. And silly me, in over 100 hours of play, I never thought of it.
Another surprisingly efficient contraption has been tinkered with by user championplayuh. Take a Sonau wheel, a steering element and a stand-up manikin and glue them together with the Ultrahand. The result: an amazingly fast Segway device with which I can jet through Hyrule like a lazy tourist. So simple. So good.
Other ingenious (?) ideas
Catching horses can be quite tedious in Tears of the Kingdom. Reddit user FeedbackUpper6182 has the solution for lazy cowboys. The "Horse-Catcher 3000". The horse trap consists simply of a few pieces of wood glued together. He puts them over a wild horse that can no longer escape. I've always said it: laziness promotes creativity.
Speaking of horses. DasMatt has crafted a Trojan horse. Link reaches the inside of the construction with his blanket jump. Totally useless, but ingenious nonetheless.
Enough about horses. Did you know that you can defeat enemies in Tears of the Kingdom using only wood, stones and Link's new Time Reversal ability? This video shows you how. The fact that the device looks phallus-like is surely just a coincidence.
---
What absurd, ingenious or useful constructions have you made? What tinkering by other users has impressed you?
You can see my rather boring constructions, compared to the ones mentioned above, in my game review:
---
My love of video games was unleashed at the tender age of five by the original Gameboy. Over the years, it's grown in leaps and bounds.
---
---