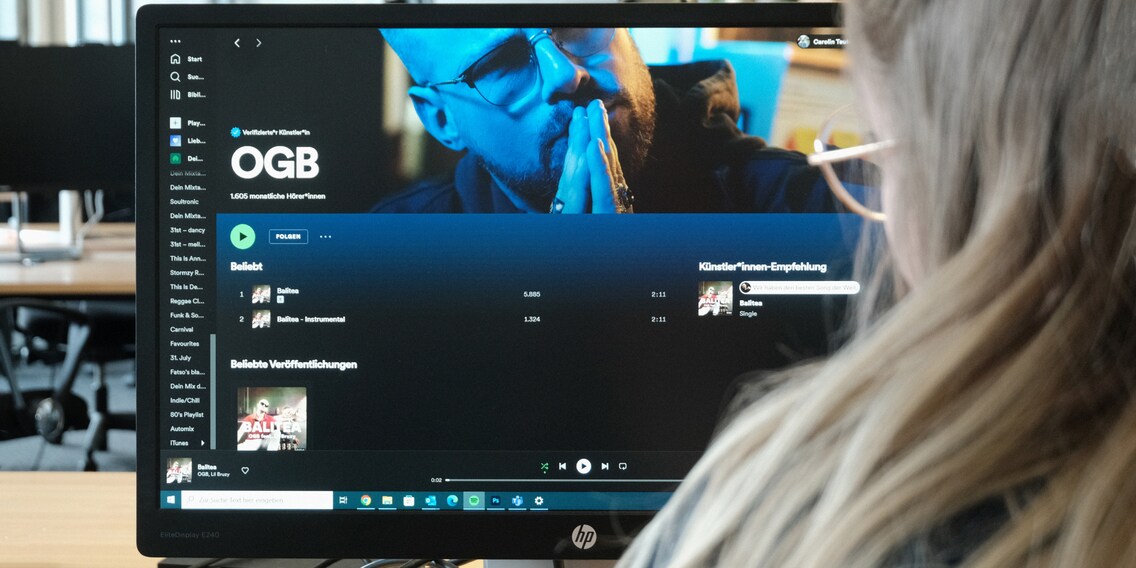 This article was translated automatically.
That's why the Balitea rap didn't make it into the charts
Colleague Simon Balissat released an iced tea rap song on Galaxus and wanted to enter the charts with it. This project failed. But what counts as a stream on the various music services and how do they relate to the charts?
If you have been on galaxus.ch or listened to the digitec podcast recently, you couldn't miss it: Simon has released a rap song together with Lil Bruzy. released a rap song. The song is about his own iced tea, which he produced for Galaxus and himself, because he found all other iced teas undrinkable. The rap has been available since April 1 and can be streamed and watched on Youtube since then.
Humble as Simon is, he had the goal of making the charts as a newcomer with his tea rap - mainly so that he would be announced on the radio by his former presenter colleagues and his rap would be played everywhere. Iced teas with a label featuring his face are not enough for Simon.
This much in advance: Simon bei Weitem did not make it into the charts. But what would it have taken to make it into the Swiss Top 100? To answer the questions, we first need to clarify how streams are counted on the individual music platforms - because the Balitea rap was only launched digitally, not on physical media.
Spotify
On its Spotify for Artists page, the Swedish streaming service lists how streams are counted:
A stream is counted if someone plays the song for 30 seconds

If a song is downloaded, the streams are counted offline and added up as soon as the listener* goes back online.

Spotify makes no difference whether you let the song run on repeat or not. Every time the stream lasts at least 30 seconds, it is counted.

Even if you run a song without sound in continuous repeat - theoretically. If you overdo it with this, you violate Spotify's guidelines. Bots, scripts or other automated streams can be punished by Spotify and in the worst case lead to a block - so it is not recommended to generate streams in this way.

It is likely that Spotify streams are the most relevant to the charts, as the service is by far the most used.
Apple Music & iTunes
Apple is also relatively transparent in showing what counts as a stream and counts in terms of time like Spotify:
Replays are recorded if the track is played in Apple Music for more than 30 seconds.
Tracks purchased and then played in iTunes, on the other hand, do not count as a stream, but as a purchase and thus flow into the charts.

Repeats in Apple Music are also counted as streams.

Apple also records Shazams, i.e. when the song is searched for using the recognition app. However, Apple does not provide any information about whether a stream is counted when the device is switched to silent.

Deezer

With Deezer, I have to search a bit longer to find out what counts as a stream. RouteNote, a music distributor writes that a stream is counted from half a minute of playback time, as with the other providers. Repeats and offline plays should also count as streams for the charts, according to RouteNote. No information about stream counts can be found at Deezer itself.

Amazon Music

The music streaming service from the US informs about the stream counting system in the FAQ. The stream counts when at least 30 seconds of the track have been heard. Further, Amazon specifies the stream sources. These are: Amazon radio stations, playlists, libraries as well as the search results - whenever the song is heard there for half a minute, a stream is generated.

How the charts work

So the streaming services themselves count their streams. The Hitparade, as the charts are called in Switzerland, filter out the streams with their own system. The chart statistics are collected by a market research institute on behalf of the International Federation of the Phonographic Industry, or IFPI Switzerland for short. The results are then published on the hitparade.ch platform. The chart survey is based on 13 pages of regulations. In addition, there is a chart commission that ensures law and order and is responsible for ensuring that the measurements are adapted to new market developments.

Since 2014, streaming figures have also been counted for the chart survey. At that time, digital music sales in Switzerland overtook physical sales for the first time. The streams are included in the physical sales and digital downloads with a so-called admixture rate. This admixture rate is currently 1:267, which means that one download is worth as much as 267 streams.

This mixing rate also includes a 65 percent active/passive weighting - because streams that come about through automatically generated playlists are not counted and are taken out with this weighting. The hit parade represents the active music consumption of the Swiss population, the IFPI said. Digital downloads count the same as physical units (CDs or records) sold.
Free does not count
In addition to this down-calculation by means of admixture rate, only streams that were listened to via a paid subscription count. Free releases - including physical CDs that musicians hand you or bait-and-switch offers - do not count for the charts. This is stated on page nine of the chart regulations and is confirmed to me by Marco Büsch, Senior Manager Charts at the IFPI. So anyone who streams the Balitea rap up and down on Spotify but doesn't have a premium subscription, their streams won't be counted for the charts. And Youtube streams are also not counted for the Swiss charts, Büsch said.
The local charts are determined weekly in the period from Friday to Thursday. The sales outlets - meaning sellers of CDs and records based in Switzerland as well as online outlets with a CH domain, such as Apple's iTunes - report the units sold and streamed during this period.
On Friday evening, the collected numbers as well as the achieved streams are filtered and evaluated to be published on Sunday. The IFPI presents this process for collecting the charts with a clear graphic. So if Simon had made the charts, we would have known on Sunday, April 10.
This is how far the Balitea rap has come
Unfortunately, Büsch from IFPI can't tell me how many streams would have been needed to make it into the charts. Simon's 8000 streams - as of April 12 - apparently weren't nearly enough. The lion's share was generated by Spotify, followed by Apple Music at a great distance. Simon seems to appeal less to women with his gangster rap: Only one in five streams is assigned to a female. Someone from Indonesia listened to it - but unfortunately that doesn't count.
In Simon's defense, however, it must also be said that without a physical medium, he is at a massive disadvantage in the Swiss chart calculation. And as a consolation for the miserablen streaming and chart results, at least the iced tea itself can claim great success. Both iced teas were sold out within a few days.
In order for the streaming figures to match the success of the iced tea after all, Simon is planning a radio commercial. In this context, he said something in the office about a bathrobe and sunglasses - at least he's leaving the Speedo swim trunks at home this time. If you want to help Simon get into the Top 100 next week, you can listen to the song here on Spotify and Co.
---


Testing devices and gadgets is my thing. Some experiments lead to interesting insights, others to demolished phones. I'm hooked on series and can't imagine life without Netflix. In summer, you'll find me soaking up the sun by the lake or at a music festival.
---
---
---
These articles might also interest you
Skeleton Loader

Skeleton Loader

Skeleton Loader

Skeleton Loader

Skeleton Loader

Skeleton Loader