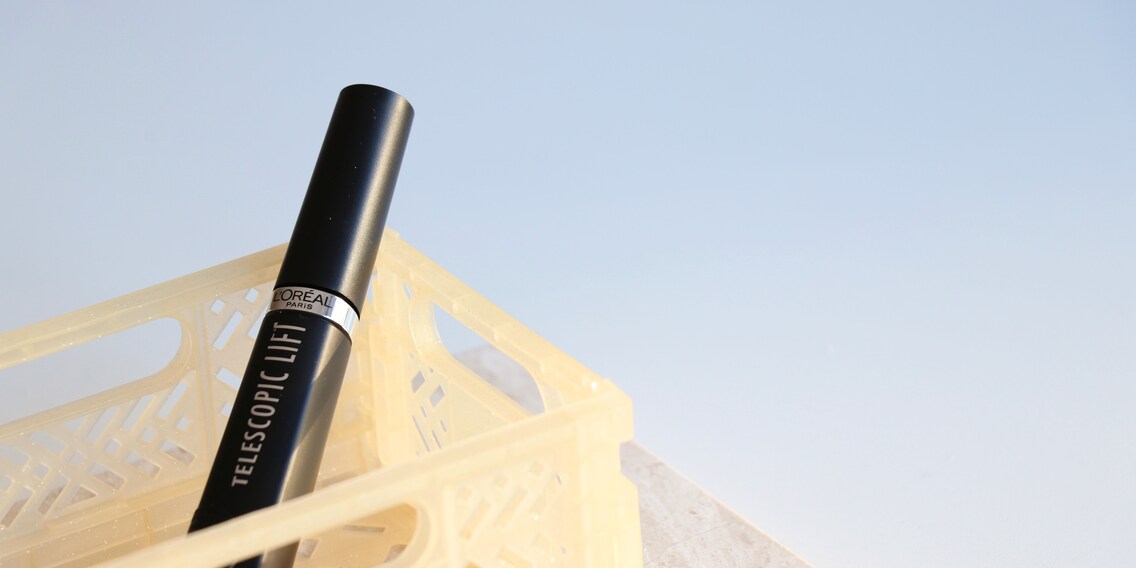 Telescopic Lift: putting L'Oréal's controversial mascara to the test

A questionable mascara review has been the prime topic of conversation in my social media bubble for the past few weeks. Controversy or not, I'm dying to test the Telescopic Lift Mascara by L'Oréal.
So much drama around mascara. It was supposed to be a bog-standard sponsored influencer ad promoting L'Oréal's latest mascara. Instead, the short clip made by a beauty influencer went down as «Lashgate» in TikTok history. In the video, the beauty expert gives us a demonstration of the new Telescopic Lift Mascara – with impressive results. So far, so good. Then there's a cut. Hang on a minute, are those artificial eyelashes that have suddenly appeared on the outer corner of her eye? The speculations fuelled heated debates on misleading influencer ads and trustworthiness. So did she or didn't she? I guess we'll never know. But one thing's for sure. I can't wait to test this scandalous product.
Before I get started, I use my eyelash curler as usual.
The wand has two sides. The broad one's meant to both lift the lashes in a first step and coat them with a base layer of mascara. The slim side is designed to separate the individual lashes in a second step and provide volume as well as length.
First impressions
Step one: Coating my lashes. Thanks to the generous brush surface, distributing the mascara is quick and easy. For my taste, however, there's a little too much mascara that collects at the base of my lashes when I start applying it. This creates an almost continuous dark edge. Having said that, I do manage to distribute most of it towards the tips of my lashes in the next step using the side hook comb. Unfortunately, I hit my waterline and eyelid with it in some places. This could be down to my clumsiness or the design of the brush. I'm sure with a little practice this will no longer be an issue.
Step two: building volume. I'm impressed with how nicely my lashes are separated. I find that while this does make them gain volume, it's mainly length that gets added. Not a trace of lashes that are stuck to each other or clumps at the tips. The result is quite something.
I'm also taken with the brush. Its design is practically perfect. There's just one thing: the broad side has a slight curve that doesn't run parallel to the lash line, but curves in the opposite direction. This doesn't pose a problem when applying mascara to the upper lashes. But things get a little tricky on the lower and shorter ones. There, I'd like a brush that hugs my lash line. So intuitively, I have the urge to flip the brush by 180 degrees and use the back of the curve. Only, there's no comb on that side. So I have no choice but to work with the slim side to get a reasonably clean result.
After a few hours have passed, I check the mirror: no smudging on the upper or lower lid. That's what I'm talking about!
Conclusion: despite small shortcomings when it comes to handling, I'm convinced by the result – even if my eyelashes look nothing like those featured in the influencer video. The L'Oréal Telescopic Lift is a sound mascara with minimal room for improvement, and I'm happy to continue using it.
---



As a massive Disney fan, I see the world through rose-tinted glasses. I worship series from the 90s and consider mermaids a religion. When I'm not dancing in glitter rain, I'm either hanging out at pyjama parties or sitting at my make-up table. P.S. I love you, bacon, garlic and onions. 
---
---