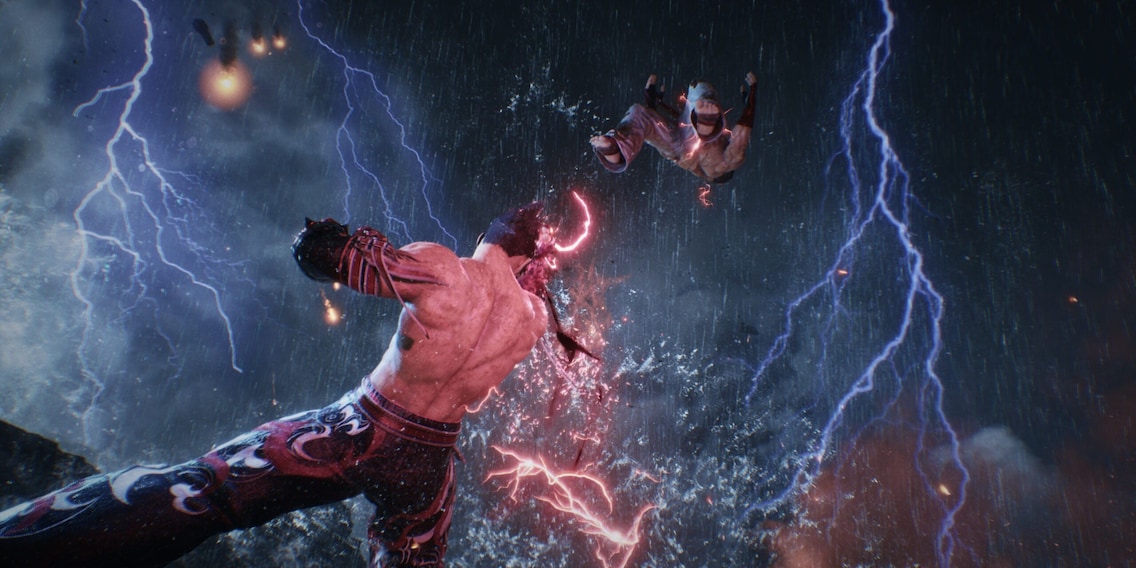 This article was translated automatically.
"Tekken 8", "God of War", "Rise of the Ronin" and more from Sony State of Play
In addition to a new "God of War Ragnarok" trailer, Sony had one or two surprises in store at the live event on Tuesday evening.
Sony promised 20 minutes packed with games for PS4, PS5 and PSVR2 and kicked off with a scoop: the State of Play livestream started with the next "Tekken". The "God of War Ragnarok", which will be released in November, was of course also promoted and Team Ninja is also working on a new title. But first things first.
"Tekken 8" is in development
There's no long talk in the trailer before the fists start flying. According to game director Katsuhiro Harada, the spectacle is not pre-rendered. So we can expect a visual fireworks display.
"Tekken 8" will be released for PC, PS5, Xbox Series S/X. No date.
Story Trailer for "God of War Ragnarok"
The trailer reveals a little more about the story of the sequel to 2018's hugely successful "God of War" reboot, and there will also be a matching Ragnarok dual-sense controller available to buy at launch.
"God of War Ragnarok" will be released on 9 November for PS5 and PS4.
"Like a Dragon: Ishin!" is a samurai game from the "Yakuza" makers
After street fights with the mafia in present-day Japan, developer studio Ryu Ga Gotoku turns back time and sends protagonist Kazuma Kiryu into battle as a samurai. The game is a remake of "Ryu ga Gotoku Ishin!", which was only released in Japan.
"Like a Dragon: Ishin!" will be released on 23 February 2023 for PS5 and PS4.
"Rise of the Ronin" is Team Ninja's latest work
. Team Ninja also travels to historical Japan. Following on from "Nioh" and "Dead or Alive" comes "Rise of the Ronin", an action game set in the 19th century .
"Rise of the Ronin" will be released in 2024 for PS5.
"Pacific Drive", a stormy car adventure
Rogue-like, but with a car? Now that's a fresh idea. As the world falls apart around you, you try to make it unscathed to a safe zone on the northwest coast of the US .
"Pacific Drive" will be released in 2023 for PC and PS5.
"Project Eve" becomes "Stellar Blade"
The action thriller "Project Eve", which was introduced in 2021, is now called "Stellar Blade". In it, you play Eve, who, together with the survivor Adam, tries to save the world after all. In the process, a series of wacky monsters are slaughtered.
"Stellar Blade" will be released for PS5 in 2023.
"Synduality" promises massive mech action
You sit in the cockpit of an intelligent mech named Magnus and explore a dystopian world in the year 2222. Sneaking, climbing and sliding are just as much a part of the programme as wild baller action. In the latter, you also have the option of encountering human opponents.
Will be released in 2023 for PS5.
"Star Wars: Tales from the Galaxy's Edge Enhanced Edition" is an upgraded version of a quest game
. Meta Quest owners should find the title familiar. The game has been available since late 2020. It's being spruced up for the upcoming PSVR2 before going on an adventure with R2-D2 and other familiar characters .
To be released in 2023 for PSVR2.
"Demeo" is a tabletop board game for PSVR2
. "Demeo" also looks interesting - also a further development of an existing VR title. There you play a typical fantasy board game with dice, cards and little figures - but in virtual reality.
.

Releases in 2023 for PSVR2.
Exclusive quest for "Hogwarts Legacy"
If you really want to experience the full scope of the upcoming adventure game in the "Harry Potter" universe, you will have to reach for the Playstation version. There, there will be an exclusive quest called "The Haunted Hogsmeade Shop"

.

"Hogwarts Legacy" will be released on 10 February 2023 for PC, PS4, PS5, Xbox One, Xbox Series S/X.
---


Being the game and gadget geek that I am, working at digitec and Galaxus makes me feel like a kid in a candy shop – but it does take its toll on my wallet. I enjoy tinkering with my PC in Tim Taylor fashion and talking about games on my podcast http://www.onemorelevel.ch. To satisfy my need for speed, I get on my full suspension mountain bike and set out to find some nice trails. My thirst for culture is quenched by deep conversations over a couple of cold ones at the mostly frustrating games of FC Winterthur. 
---
---
These articles might also interest you
Skeleton Loader

Skeleton Loader

Skeleton Loader

Skeleton Loader

Skeleton Loader

Skeleton Loader