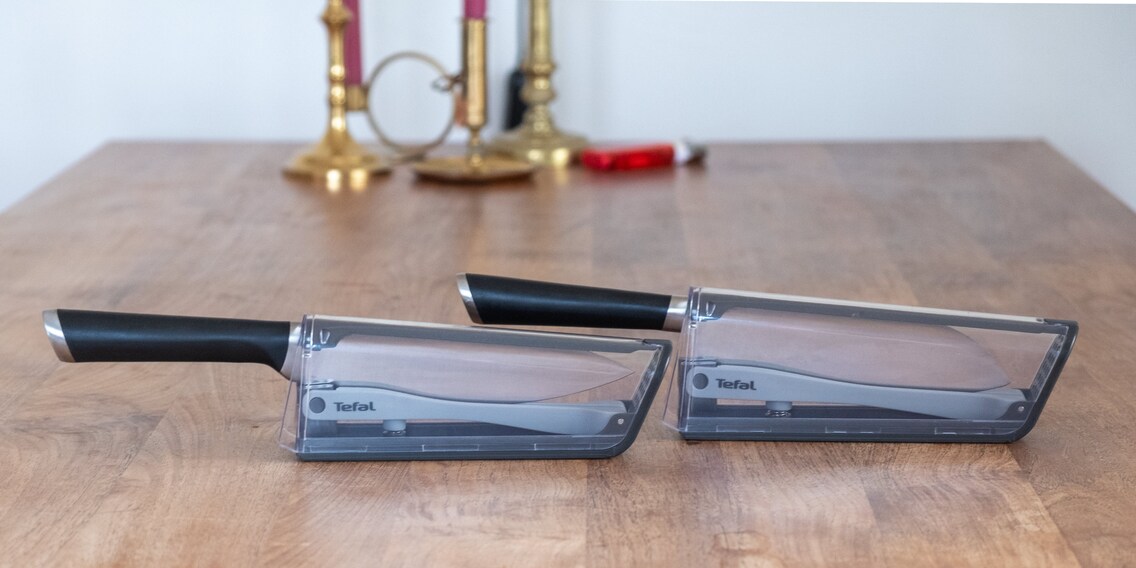 Tefal Eversharp: knives that sharpen themselves

They seem like a bit of an oddity – these knives come in a cover that doubles as sharpening stone. It works, but I'm sticking with my expensive knives.
The Eversharp system is easy to explain: every time I take the knife out of its cover or put it back, it's sharpened. As far as I can tell, this works. The biggest problem with these two products isn't the sharpening system, but that the knives aren't great. All the re-sharpening in the world can't change that.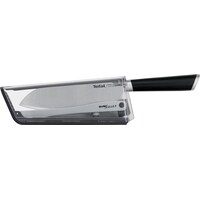 Cheap everyday knife that can be stored in the drawer
Of course, I can't expect a stainless steel knife to be as sharp as the Japanese knives from Tokyo I'm used to. They don't have to be either as they're good enough as cheap everyday knives. They're kept inside a cover, so you can store them in a drawer with other kitchen utensils without damaging the blade.
Both blades are made of X50CrMoV15 steel. You can read what that cryptic designation means here. In short, knives made of this alloy don't stay sharp for a long time. The Eversharp compensates for this disadvantage by adding automatic sharpening. I've tried both knives and they worked well for me in everyday life. Cutting vegetables with rather tough skins such as tomatoes or peppers isn't a problem at all. The blades also slice raw and roasted meat with ease. However, they're not suitable for harder things such as cartilage or bone.
They sit nicely in the hand
Both knives sit nicely in the hand. Weighing in at 153 grammes (Santoku) and 159 grammes (Chef's knife), they carry some weight, but don't feel heavy. My Japanese Santoku is significantly heavier – it weighs almost 190 grammes. The Santoku by Victorinox, on the other hand, is just 110 grammes. What's important to me is that a knife well balanced, i.e. that there isn't too much weight on the blade or the handle. Both Eversharp knives pass this test. The only thing that bothers me while cutting is the small edge on the blade, which is needed so that they don't fall out of their cover.
Controversial: are these knives dishwasher-safe?
Finally, I dare to make a highly controversial statement. Although the manufacturer recommends washing the knives by hand, I see no reason why they shouldn't be dishwasher-safe. After all, they're sharpened every time they go back into their cover, so it shouldn't matter that the machine dulls the blades a little (the main argument against putting knives in the dishwasher).
Conclusion: good everyday knives that can be taken with you
I like oddities such as these two self-sharpening knives. My expectations were low – and both knives met them. I wouldn't say they're always sharp, but rather never blunt. In addition, the cover protects the blades, so I can easily take these knives with me – to a rented holiday home, for instance. However, they're no replacement for expensive and specialised knives that are expertly sharpened.
Would you buy such a knife? Join the discussion in the comment section.
---



When I flew the family nest over 15 years ago, I suddenly had to cook for myself. But it wasn't long until this necessity became a virtue. Today, rattling those pots and pans is a fundamental part of my life. I'm a true foodie and devour everything from junk food to star-awarded cuisine. Literally. I eat way too fast. 
---
---