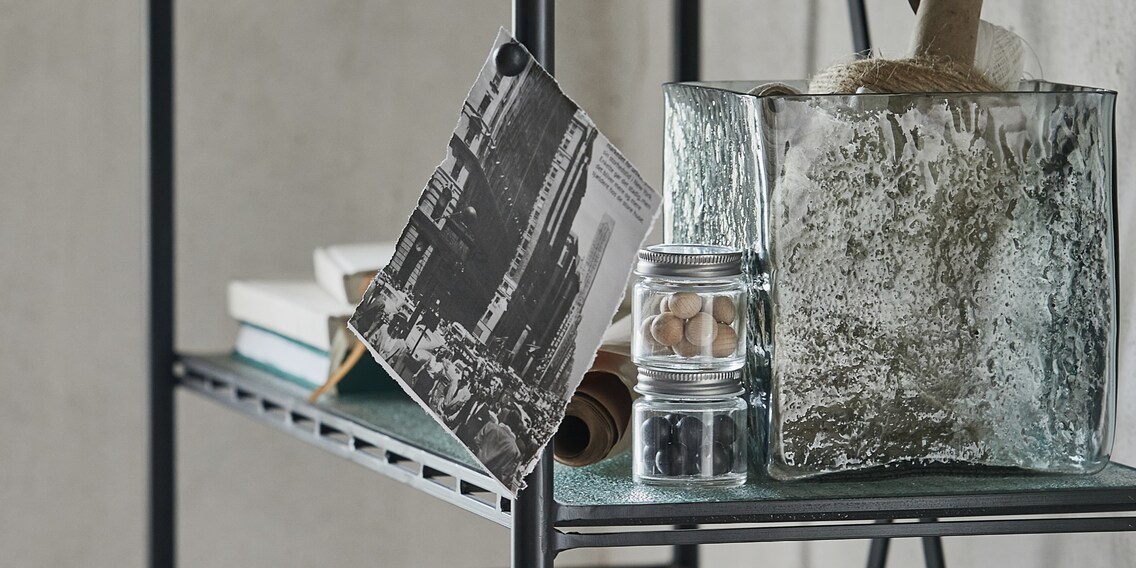 Staging pictures differently: 5 ideas

Translation:
machine translated
Whether with magnets or on cake plates - there are numerous ways to show off photos and small pictures. Five not everyday suggestions.
Rectangular picture frames are nice, but they're also a bit unimaginative. That's why I've rounded up five other creative solutions for displaying photos or illustrations .
1. On a wire
Ropes are usually used to secure people or equipment, or to attach materials. [Photo ropes or wires], on the other hand, keep your shots from falling in a box where they gather dust. They can be hung either vertically or horizontally on a wall, or you can hang them across the room from one wall to the opposite wall. Best of all, unlike individually framed photos, a photo rope is quickly mounted elsewhere - or you can change the motifs at any time.
2. With a pinboard
A beautifully designed pinboard is like a mount, which is an extra frame for your photo or postcard. It is an ideal solution to combine your artwork with your thoughts, inspirations and ideas. Experiment with different elements and arrange them to create an aesthetically pleasing composition. A uniform colour palette contributes to a harmonious overall picture. Depending on the style, it can also enhance the effect of depth, making what is framed stand out even more. The result can be leaned casually against the wall or hung up. Both require little effort, just a suitable free space.
2. On a shelf
Pictures don't have to hang on the wall either. Thanks to magnets, they also shine on a metal shelf, fridge and other magnetic surfaces. As long as you place them at eye level and leave some empty space around them, they will look great. When choosing your magnet, just make sure that it is visually appealing. It should be as small as possible so that your motif or your favourite saying is not covered up.
3. In front of a stone
Is this still design or already art? There are designs on the market that call themselves "frames" and serve the same purpose, but look more like a sculpture. The model "Klint Standing Frame" by Ferm Living is a good example. It is a modern interpretation of the traditional picture frame and consists of a travertine base with a round glass piece that protects your favourite photos. You can display a "picture frame" like this on a desk, shelf or chest of drawers. Thanks to its extravagant look, it will also stand out as a soloist.
4. On a stand
Not only devices can be placed stably and upright on a stand, but also photos. The design by Alessi shows that this really makes a visual impact. It serves as a photo frame that almost disappears and leaves the entire room to your memento. Such a stand is great for increasing the visibility of your favourite motifs. It looks especially good on the dining table, the sideboard or your desk.
5. On a cake plate
It may sound strange at first, but a cake platter is not only suitable for baked goods. Precisely because it is suitable as a centrepiece on dining tables, it can also be used to serve up selected pictures. Within easy reach, such an arrangement encourages people to pick up photos or turn postcards over to read them. What it needs apart from the cake plate is an interesting paperweight.
Whatever you choose, the most important thing is to find a place where nothing distracts you. That way, your favourite motifs can have the best effect.
---



«There are only two ways to live your life. One is as though nothing is a miracle. The other is as though everything is a miracle. I believe in the latter.»
– Albert Einstein
---
---