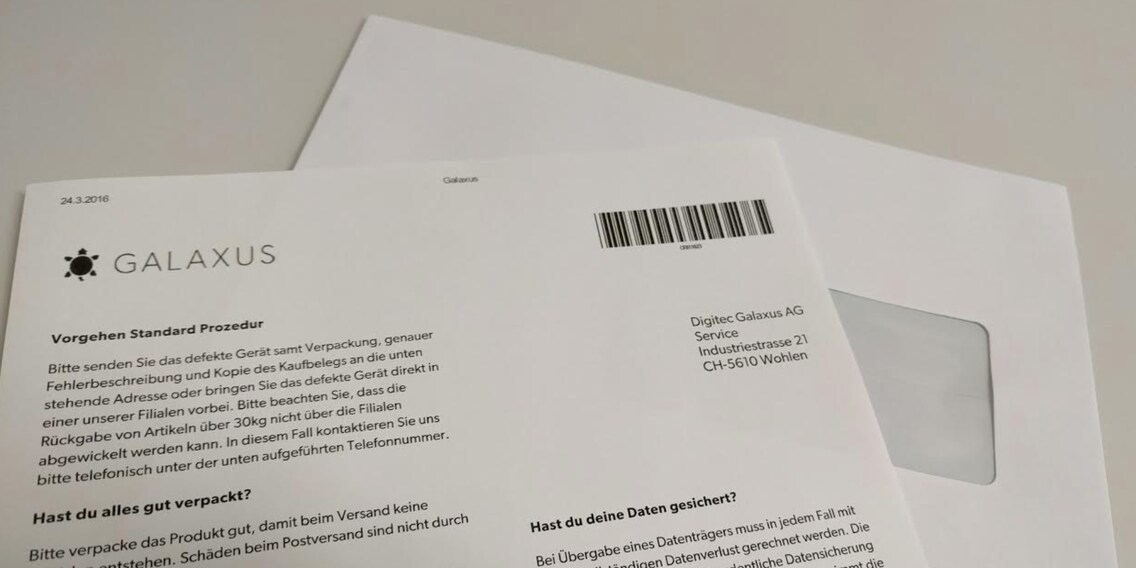 Simplified warranty and returns process

As part of a bigger project, we are currently improving numerous processes related to warranty and returns. The first enhancements were recently implemented and are now visible in our online shop.
Every other week, changes are implemented to improve our online shop and ERP – these changes are not always visible at first sight. As regards this particular change, being invisible is a good thing. After all, warranty cases generally arise at the worst possible time and are usually a nuisance for all involved – we'd like to avoid them all together. If only manufacturers made flawless products…
This large project – we call it an "initiative" – involves revising and simplifying our processes with the goal to speed them up and to make things easier. Not only for our customers but also for us. One of the visible improvements was recently activated. Thousands of customers have already benefited from it and we think it's high time to introduce it to you.
Every customer account now features the button "return and warranty" – the new control hub when it comes to processes of this kind. Click on the button and you will be given three options. Alternatively, these options can also be accessed via the respective product in your order history:
Return undamaged article (in accordance with the described terms)
Make a warranty claim for a damaged article
Report transport damage caused to article during shipment
Returning an article
If you are returning an item within 14 days, and taking into account any further terms, all articles that are returnable at that point in time will be listed together with the required steps that need to be taken in order for the respective product to reach us, be identified and be displayed as a credit note in the customer account as soon as possible. As soon as the return has been registered, a PDF with a parcel label and the returns request form can be printed off. You may then choose between the following options.
Shipment through Swiss Post (from CHF 7.–)
pick@home: Collection by postal service (from CHF 7.–)
Drop off at Päckli-Punkt (CHF 3.90)
Drop off at one of our stores (free of charge)
The costs will be deducted from the credit note. Textiles and shoes can now be returned free of charge.
Warranty
In the event of a warranty case, all ordered products that are still covered by the warranty are clearly displayed. The warranty can be directly registered via the tool. In these cases, we strongly recommend sending the item straight to the responsible service centre as this helps shorten the waiting period.

First, you will be asked to give a detailed damage description. This information is saved and forwarded and helps the manufacturer identify the problem at a later stage. Therefore, it is important to provide information that is as precise as possible.

After entering this information, our system will save your warranty registration that includes the damage report as well as the order and warranty data. Any further information, such as improved warranty conditions if you are registering the product with the manufacturer, is given here. In addition, the warranty registration including all information can be viewed and printed in A4 format. Please remember to include this document when returning the item!
In your customer account, click on "returns cases" to check the status of the warranty cases and to find out what the further steps are.
Transport damage
While transport damage cannot be automatically processed due to the different requirements of the involved transport companies, the first two steps can be done through the tool.
Important: Please do not try out this feature as it generates a warranty case as soon as a damage description is registered. This may cause problems in the event of later warranty claims and also creates inconvenience. Should you have any questions or queries, simply post them as a comment.
PS: In case you were wondering – My Gingko Cube Click Clock works like a charm and is listed here for demonstration purposes only. Actually, it never fails to wake me nice and early, even when I'm still tired…
---



I'm passionate about observing the development of the digital environment – particularly when it comes to the countless exciting and interesting challenges and changes it has in store for our society, our everyday lives and businesses. Apart from that, gaming has been a part of my life since I first started out at Digitec Galaxus as well as IT in general, travelling, sports, concerts and good food. 
---