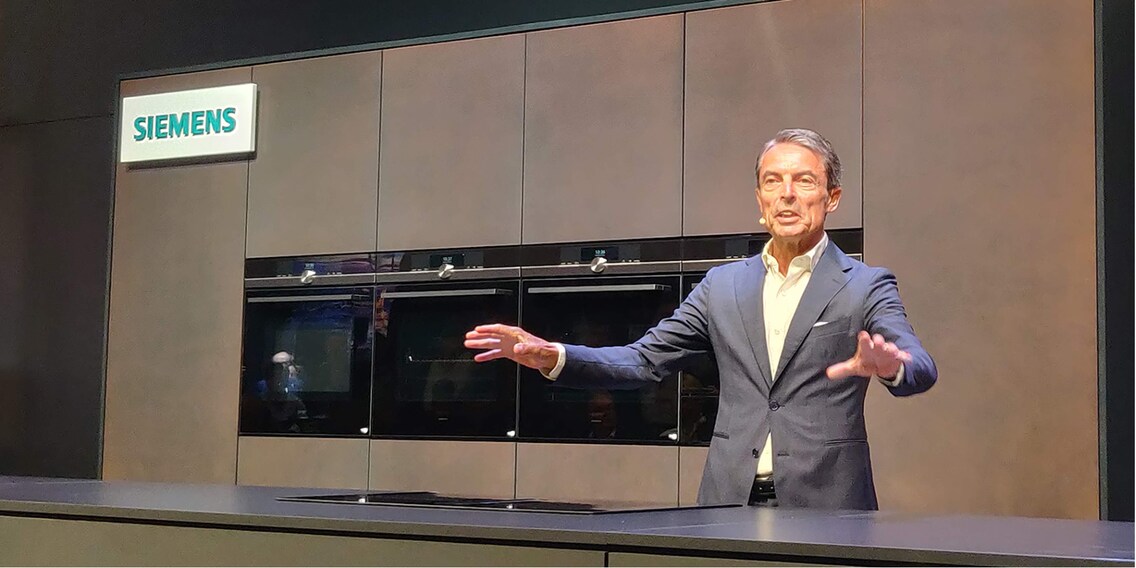 Siemens at IFA: of refrigerators and intelligent ovens

At IFA in Berlin, Siemens is presenting innovation the world hasn't seen before – using the metropolitan lifestyler as an example. Despite a lot of marketing blah blah, I must admit that these new smart household appliances are definitely interesting.
World firsts. The charismatic Roland Hagenbucher, Managing Director of Siemens, emphasises this word as he enters the lavishly equipped kitchen, which becomes his personal stage. Then he talks about megacities – huge metropoles. There are more and more of them all over the world. For this reason, Siemens has dedicated its household appliances to the metropolitan lifestyle.
The question is: what the heck does that mean?
Metropolitan lifestyler: let's talk about Laura, Steffen and Andreas
When Siemens talks about the metropolitan lifestyler, it's about urbanisation: the shift from the countryside to cities, which are populated with pioneers who try out new consumption and lifestyle styles. They're also known as early adaptors.
Siemens interviewed about two thousand of these early adopters in Germany. Two hundred of them apparently belong to the group of metropolitan lifestylers. Alright. Hagenbucher illustrates what this lifestyle is all about by creating three fictitious people – buying personas: 25-year-old Laura from Berlin, 63-year-old Steffen from Cologne and 40-year-old Andreas from Munich.
You have to know: Marketing people love to imagine such very detailed, fictitious profiles and adorn them with marketing terminology. This helps them understand exactly who they want to sell their products to.
Laura likes to go out after work and party until late at night. Steffen is a sportsman and runs marathons. Andreas is politically active and a fan of FC Bayern Munich. All three are cosmopolitan people and interested in technical innovations. All three love city life and appreciate the work-life balance. Nevertheless, they find city life exhausting, hectic and want solutions that make their life easier.
That's where new technology comes into play. For Laura, Steffen and Andreas, technology is more than just a gimmick or a hobby, it's something that makes their everyday life easier and more efficient. That's when innovations are really useful.
So our three metropolitan lifestylers are looking for efficient programs, intelligent services and smart household appliances. The key to this is the Internet: the Internet of things. Lifestylers value features and are willing to spend a little more money on gadgets with good features. Especially in the kitchen. For them, this isn't only where they prepare food, it's also a meeting place that shows personality and status.
Here we are again. Deep into marketing talk territory.
Smart washing machines and ironing dryers
Roland Hagenbucher might be in a kitchen, but he starts off by speaking about washing machines. What's special about the latest model, the iQ800, is its «powerSpeed 59». Five kilos of laundry can be washed in less than an hour. This can be achieved by incorporating detergent directly into the textile, which helps to combat dirt better and uses even less water: energy efficiency class A+++.
On top of this, as he states, AI recognises how dirty the laundry is and adjusts the washing programme accordingly. The AI even knows how bad the laundry smells, even if it has no visible stains: bad odours are removed by spraying in active oxygen. «This saves time when you're having to freshen up a shirt that's been worn but isn't stained,» the managing director says.
The matching tumble dryer has the same name as the washing machine: iQ800. According to Hagenbucher, this is the most convenient tumble dryer in the world. That's bold. He might be a bit biased, but his statement is based on three impressive cornerstones:
«Intelligent Dry»: the washing machine is connected to the dryer via WLAN and sends on all relevant information about the washing program that's used. The tumble dryer then automatically selects the appropriate drying program and adapts it individually.

«Intelligent Cleaning»: a system that automatically cleans the fluff filter and collect it in a depot that only needs to be emptied every 20 drying cycles.

«Smart Finish»: dry and high-quality textiles such as shirts can be placed in the tumble dryer. Hot steam is then sprayed into the tumble dryer to remove wrinkles and creases from the laundry. This means there is no need to iron clothing.
That sounds quite handy. Maybe Hagenbucher is right after all.
Flexible induction cooker and designer extractor hoods
Roland Hagenbucher proudly points to the pitch-black hob in front of him: no print can be seen on it. Then he mentions «Active Light», a blue active matrix that illuminates the induction stove from below. That really does look nice. But what's even more impressive is what Siemens calls «Vario Motion»: the hot surface is equipped with sensors that allow it to automatically adjust to the shape of the pots and pans that are placed on it.
Then talk turns to extractor hoods. Siemens offers stoves with an integrated extractor hood. So instead of escaping upwards, the steam escapes sideways. The attachment can be removed with one hand and washed in the dishwasher.
But Hagenbucher is particularly proud of the designer extractor hood that's hanging from the ceiling on four steel cables. «The metropolitan lifestyler is very fond of design,» he says. This extractor hood looks very elegant indeed and can be raised and lowered by voice command.
The Siemens Managing Director then presents the interior of a wine storage cabinet that comes with LED lights on every level to create different moods – metropolitan lifestylers want to express their personality – and an American side-by-side refrigerator with a built-in ice cube maker. Inside the fridge there's a network camera that lets you check what's in your fridge at any time via your mobile phone. This comes in handy when you're shopping. Thinking of food waste and the such.
Connected with Amazon's Alexa
At the end of his presentation, Hagenbucher talks about connectivity. He mentions that the Siemens Home Connect app has been updated to make it even easier to control household appliances. In addition, more and more devices can be voice-controlled via Amazon's Alexa. Hagenbucher demonstrates this: «Open sesame,» he says, and the pizza oven opens. The media representatives give him a round of applause.
What have we learned? Metropolitan lifestylers expect much more from a refrigerator than cooling food and more from a stove than heating food. Hagenbucher's conclusion: «Household appliances have to be smart and offer convenient functions that support everyday life.» But somehow I can't shake off the feeling that Siemens is using these ominous metropolitan lifestylers to create needs that don't really exist yet.
Nevertheless, the future of smart homes remains highly interesting.
---



I'm an outdoorsy guy and enjoy sports that push me to the limit – now that's what I call comfort zone! But I'm also about curling up in an armchair with books about ugly intrigue and sinister kingkillers. Being an avid cinema-goer, I've been known to rave about film scores for hours on end. I've always wanted to say: «I am Groot.» 
---
---
---
These articles might also interest you
Skeleton Loader

Skeleton Loader

Skeleton Loader

Skeleton Loader

Skeleton Loader

Skeleton Loader