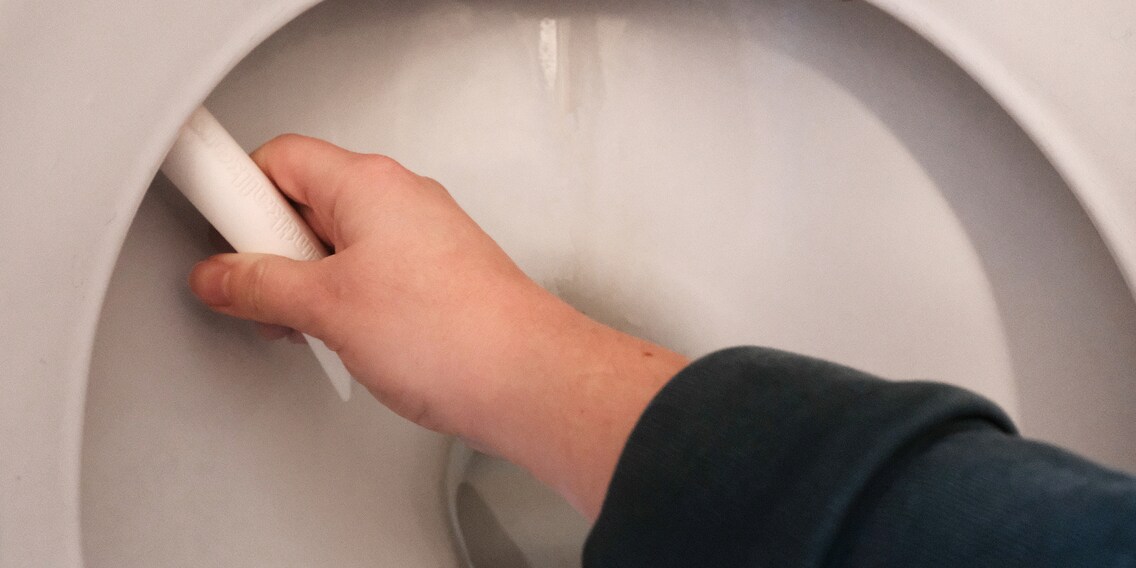 Rolfs descaling wand: cleans your toilet (almost) without chemicals

Urine deposit and limescale aren't a problem as such, but they're quite unsightly. To spare my guests the sight of a gross-looking loo, I need to crack down on those deposits. So far, I've relied on chemicals to do the job. Starting now, I'll be scratching away with the help of bauxite.
Three months ago, I chucked some denture cleaner in my toilet to get rid of urine deposit. A straightforward solution with a pretty decent result. The downside? Chemicals that end up in the water cycle. That's when the Rolfs descaling wand was recommended to me in the comments. Now I finally own one.
The curved wand made of acrylic and bauxite is harder than lime and urine deposit, but softer than ceramics. This means you can use it to remove caked in residue from your sink, shower and toilet without scratching them. I put the tool to the test. And it works.
But there's a but. If you're dealing with tough stains, you'll still have to use a bit of descaler to get rid of them. And you need lots of elbow grease to remove all the gunk. Simply cleaning the shower drain already takes several minutes. Using the wand is definitely more work than pouring aggressive cleaner over it from the get-go. That doesn't bother me, though. I love to pick off glue residue and the like. Or scabs.
As does this stick, which was invented by a Swiss man named Rolf Baumgartner. A master carpenter by trade, he was searching for an environmentally friendly solution to combat limescale and urine deposit. He finally found it in the kitchen countertops he makes in his workshop. The wand is made of the same material, the only difference being its shape.
The best-selling model, the «Plus», is curved, so that you can run it down the sides of the toilet bowl and even use it under the rim. That's the biggest plus for me, as I can't reach that area with a toilet brush or denture cleaner. In addition, the wand is sharpened on both sides. This allows you to work away on flat surfaces as well as curved areas – your tap, for example.
What really bothers me, though, is its length. When I tried to remove urine deposit from the bottom of the toilet, I had my hand in the toilet water. Not the end of the world. I could use gloves, after all. However, it is a little unpleasant. In fairness, none of the manufacturer's demo videos featured any scratching below the water's surface. So I'm assuming the wand wasn't designed for this purpose. But in my case, that's the exact location that needs some TLC.
If the edge gets a little dull after dozens of scraping missions, you can easily sharpen it with sandpaper. This will make the wand last for years. In combination with its user-friendliness, this fact makes the Rolfs descaler wand a good alternative to chemical descalers – even if I can't manage to do without them entirely.
---


My life in a nutshell? On a quest to broaden my horizon. I love discovering and learning new skills and I see a chance to experience something new in everything – be it travelling, reading, cooking, movies or DIY.
---
---
These articles might also interest you