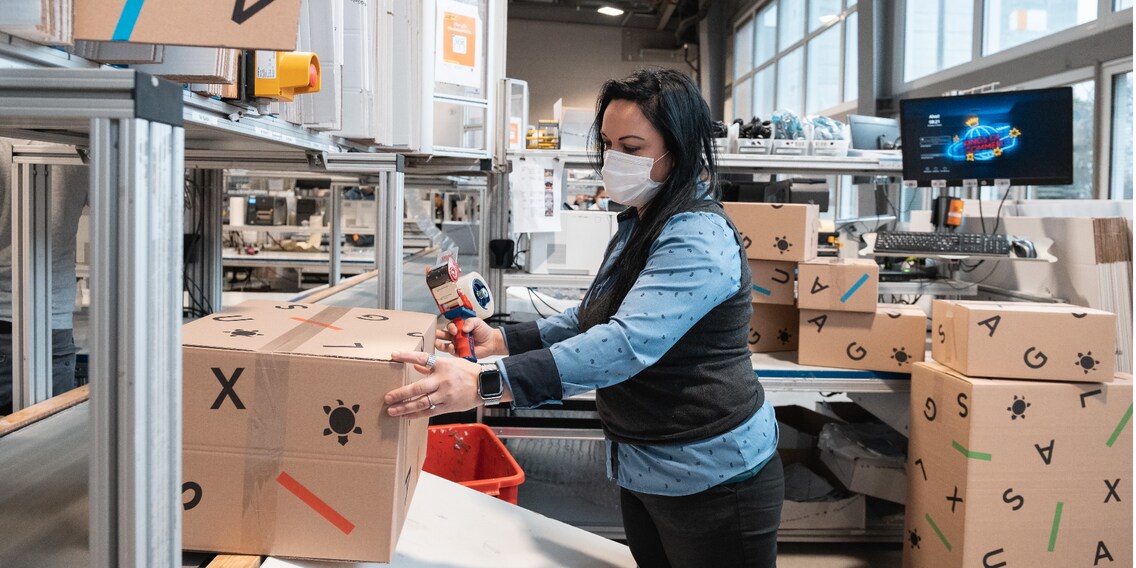 Our carbon crash diet: time to shed half the weight
Halving our carbon footprint by 2030 despite growth is ambitious, but feasible. We've already managed to reduce greenhouse gases by tweaking packaging material, energy consumption and employee mobility. However, there's still room for improvement when it comes to how we handle advertising.
By joining Science Based Targets initiative (SBTi), we've signed up for a tough carbon emission boot camp. The goal is to lose 50 per cent of the CO₂ tons our online shop and services annually release into the atmosphere by 2030. The reference value is our carbon footprint, which we first measured for the 2019 fiscal year. Just under 70 per cent of the greenhouse gas emissions we create are generated by advertising, packaging, energy consumption and commuting.
Advertising footprint under scrutiny
We're currently racking our brains over how to place advertising that's not just good but also low emission. This is because recent studies have revealed that we need to review the advertising footprint we calculated for the first time this year. Our previous method of calculation was based on a prehistoric reference model dating from 2006; a time when digital advertising formats were categorised as science fiction. Over the next few weeks, we'll be fleshing out a solid estimate. Until then, we'll be focusing on our major CO₂ producers: packaging, energy and commuting.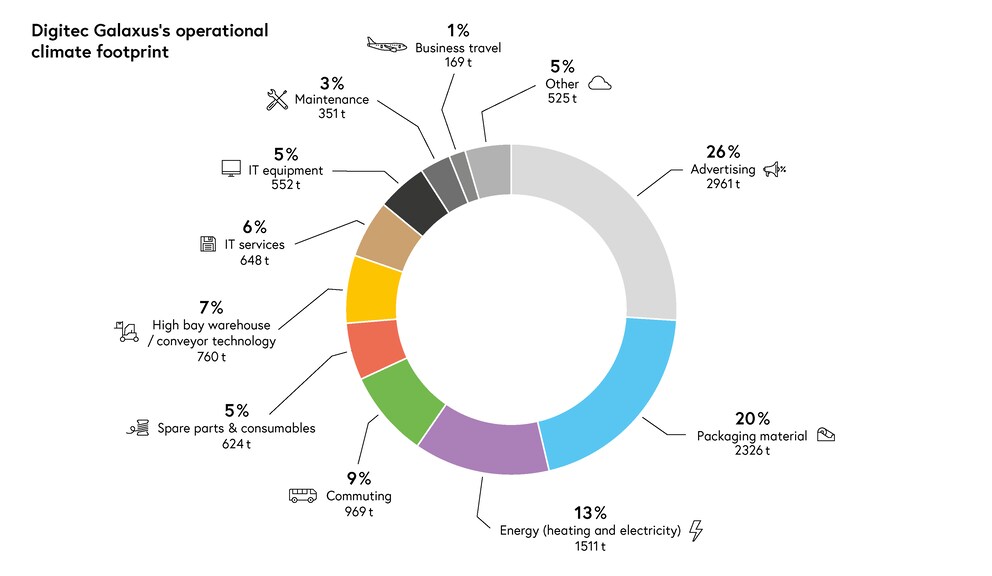 Less is more
Let's talk about the much-discussed scapegoat of online retail – packaging. Parcels generate 20 per cent of our operational greenhouse gas emissions. To cut the carbon calories they're consuming, we've launched two initiatives. Firstly, we're saving several tons of cardboard and filling material by putting the packaging process into the hands of efficient machines. Last year, tens of thousands of packages left our warehouses every day – around 70 per cent of orders were sent out in cut-to-size boxes and free of filling material. The other 30 per cent were multi-orders or fragile products that needed to be put in boxes by hand. They also usually come with quite a bit of bubble wrap. But this is all about to change in the next few months. Our goal is to ship products in the smallest boxes possible. To make this happen, we're currently evaluating high-tech computer-controlled packaging machines that churn out perfect parcel sizes.
Secondly, we try not to use repackaging whenever possible. Many products have already been packaged by the manufacturer – think mixing wands or electric toothbrushes. Putting them into yet another cardboard box just doesn't make sense in most cases. This is backed by our experience with logistics partner «notime». Their flash delivery service means orders are delivered to customers' doorsteps – in their original packaging and with zero CO₂ emissions. We've tested this service extensively in the greater Zurich area. 2023 will see the flash delivery service being rolled out in ten more brick-and-mortar store locations in Switzerland.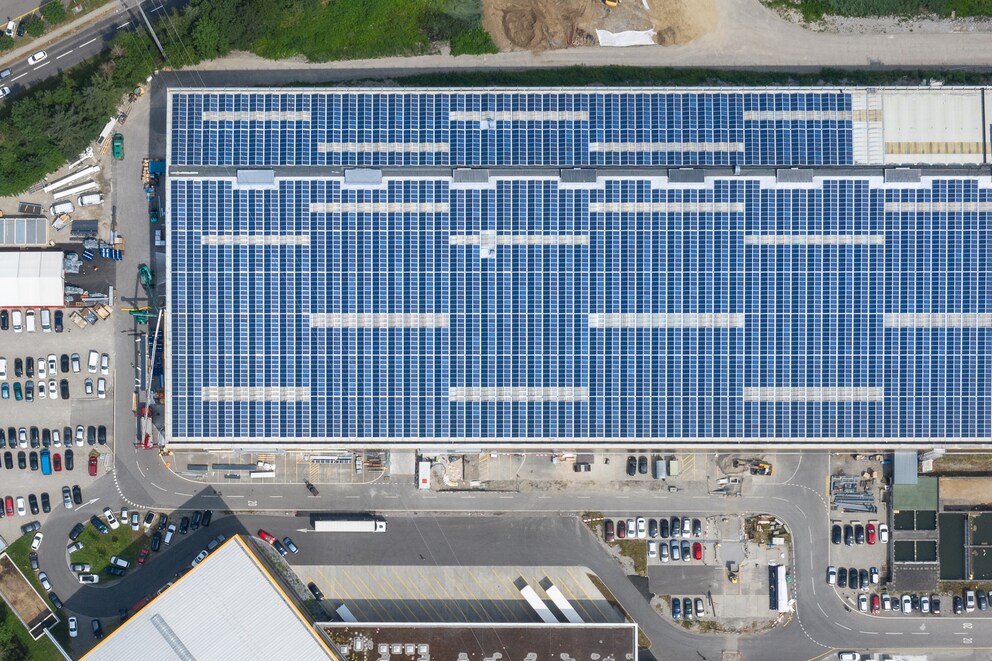 Only green energy will do
The second area we need to work on is energy. In our case, this means electricity and heating. Our declared goal is to switch to CO₂-neutral and sustainable energy sources as quickly as possible. Last year, we cancelled all existing power purchase agreements and switched to 100 per cent renewable electricity starting 2022 at the latest. The only exception is our site in Serbia. As Belgrade's electricity company doesn't currently offer green power, we offset the electricity through CO₂ certificates. Furthermore, we want to free our logistics centres in Wohlen and Dintikon from their dependence on Putin as soon as we can and, instead, go for climate-neutral heating. In other words, starting now, our main focus at all our old and new sites is energy efficiency. The construction of our new Utzenstorf logistics centre will include the installation of the largest solar plant in the canton of Bern on the roof of the facility. In addition to solar power production, we're also looking at the energy optimising building envelopes, lighting, heating and transport technology.
Working from home halves traffic emissions
Carbon calorie counting is also happening for commutes and business trips. Two years ago, we conducted a survey to find out more about our employees' travel habits. Based on these numbers, we calculated the carbon emissions our travelling and commuting generates. The verdict? The greatest saving potential lies in bus and car miles. And these have dwindled in the last two years of the pandemic. Covid has dramatically changed the way we commute. The remote work alternatives have been a breath of fresh air for the environment. Our spring survey has yet to reveal whether these saved commuted kilometres are reflected in the 2021 climate footprint calculation. The same goes for business trips. Video conferences and other tech tools have made most business flights and miles clocked up on the motorway obsolete.
Here's an overview of the targets we have to reduce our greenhouse gas emissions:
Packaging: we'll reduce carbon emissions generated by packaging material per item shipped from our own warehouse by at least 3 per cent per year.
Power (electricity): we'll use 100 per cent renewable energy by 2040.
Heat: we'll reduce carbon emissions from heat generation by 25.2% by the end of 2025 compared to 2019.
Business travel: we'll reduce carbon emissions caused by business travel per FTE by 30% by the end of 2025 compared to 2019.
Commuting: we'll reduce carbon emissions generated by commutes per FTE by 30% by the end of 2025 compared to 2019.
Do you think we could be more ambitious when it comes to our climate goals? Maybe you have ideas on how to make our online shop more sustainable? Thanks for letting us know in the comments field.
You might also like:
Company newsSustainability

SBTi: achieving net zero CO2 emissions under scientific supervision

Behind the scenesSustainability

Climate neutrality: digitec Galaxus will be at zero emissions starting 2022
---
Making sure employees and media know what's up at Digitec Galaxus is my job. But without fresh air and a lot of exercise, I basically stop functioning. The great outdoors provides me with the energy I need to stay on the ball. Jazz gives me the tranquility to tame my kids. 
---
---
These articles might also interest you
Skeleton Loader

Skeleton Loader

Skeleton Loader

Skeleton Loader

Skeleton Loader

Skeleton Loader