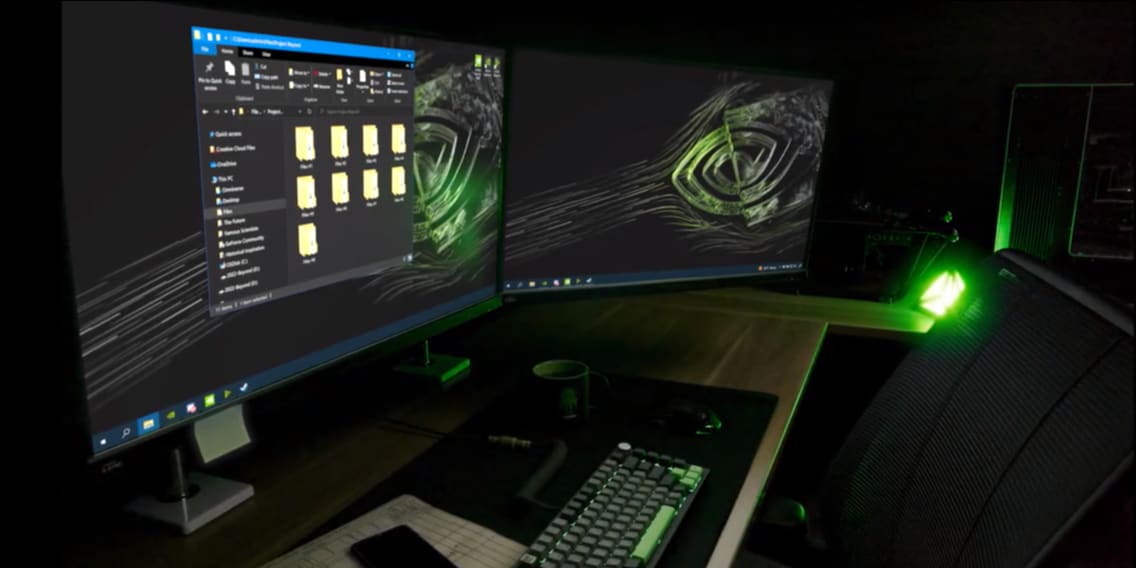 This article was translated automatically.
Nvidia will probably present the RTX 4090 on 20 September.
In recent weeks, Nvidia has left several hints on the GeForce Twitter account about the RTX-40 series. These point to a presentation at the GeForce Beyond event in four days.
The newest teaser shows a dual-screen monitor setup in the GeForce look. On one of the monitors hangs a Post-It with a supposed phone number on it: (208) 629-7538. The numbers could point to specs of the AD102 chip that is supposed to be in the RTX 4090.
The 208 could be interpreted as 2.08, which could mean the performance increase by this factor compared to the previous model. The die size of the GPU is rumoured to be 628 square millimetres. Perhaps the rumours are off by one square millimetre and the die size is 629 square millimetres. The last four numbers could be read as the number of transistors on the card. Rumours speak of 75.38 billion transistors.
Further on the desk is a paper with mathematical formulae. These point to Ada Lovelace. She is considered the first female programmer. Nvidia's new GPU architecture is said to be named after her.
Whether there is any truth in the interpretations will become clear on 20 September at 5 pm our time. That's when CEO Jensen Huang will give his keynote speech at the GeForce Beyond Event.
---



From big data to big brother, Cyborgs to Sci-Fi. All aspects of technology and society fascinate me.
---
---
These articles might also interest you
Skeleton Loader

Skeleton Loader

Skeleton Loader

Skeleton Loader

Skeleton Loader

Skeleton Loader