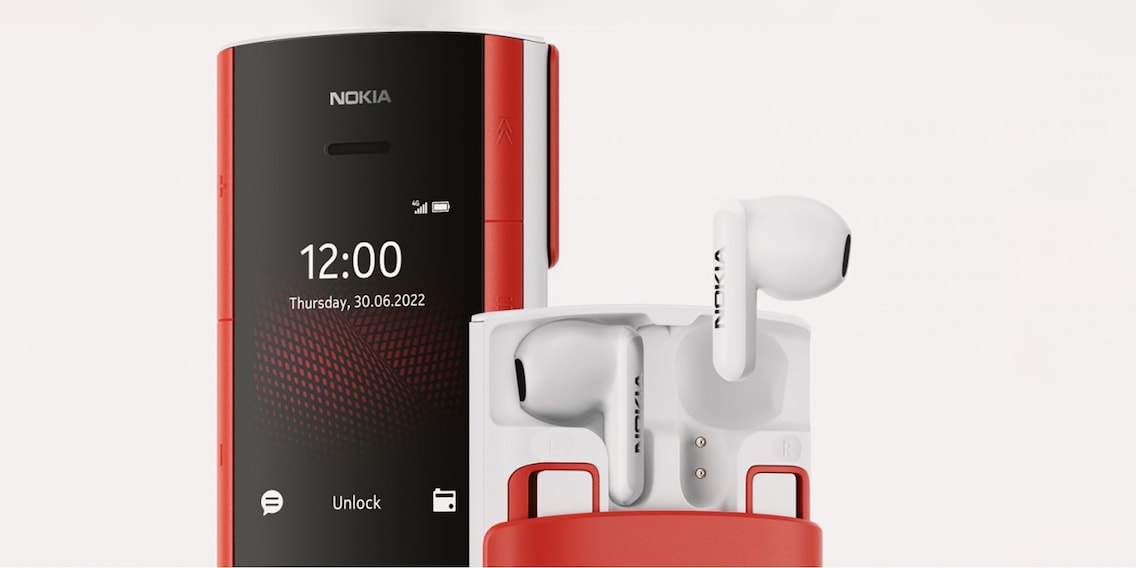 This article was translated automatically.
Nokia shows retro phone with built-in Bluetooth earpiece
HMD Global has unveiled a new retro phone. The Nokia 5710 comes with removable Bluetooth headphones, music control keys and a very basic feature set.
Retro nostalgics can take notice: HMD Global has introduced a new Nokia phone. As the name suggests, the 5710 Xpressaudio is designed for listening to music. The Finnish manufacturer has installed removable true wireless headphones in the fold-out back of the device. Thus, the Earbuds are always at hand and won't get lost. Buttons for quickly controlling the music are also built into the phone's side edges.
Open headphones and FM radio
The built-in Bluetooth headphones have an open design. This means that they do not offer passive or active suppression of ambient noise. Bluetooth runs on version 5.0, and the headphones charge while they are in the phone. HMD does not specify the battery life of the headphones - for the phone, the company writes about a runtime of weeks. Weeks. Seriously. No joke.
The Nokia 5710 also has a built-in MP3 player - but only 128 MB of memory. The slot supports memory cards up to 128 GB. There is also an FM radio. However, those who want to use it will have to hurry: FM will be switched off in Switzerland at the end of 2024.
Besides the built-in Bluetooth headphones, wired headphones can also be used since the phone has a jack. The Bluetooth headphones can also be paired with another device.
0.3 MP camera and no 5G
Apart from the headphones, the 5710 has very basic features. There's no selfie camera and the camera on the back only has 0.3 megapixels. This won't win you any photo prizes, but at least the photos look better than those from the Game Boy camera back then. The phone's display measures 2.8 inches and typing is done with the numeric keypad.
5G is not available - only the 4G network standard is supported. 4G is not important as a data connection for this device, but for making calls. Because of the simple operating system, streaming services cannot be used with the 5710. That wouldn't be much fun on the 2.8-inch display anyway.
In addition to the 5710, HMD is also showing two other new Nokia devices: the foldable Nokia 2660 Flip and the Nokia 8210 4G. The 5710 Xpressaudio costs 89 Euros, the other two 79 Euros.
---


Testing devices and gadgets is my thing. Some experiments lead to interesting insights, others to demolished phones. I'm hooked on series and can't imagine life without Netflix. In summer, you'll find me soaking up the sun by the lake or at a music festival.
---
---
---
These articles might also interest you
Skeleton Loader

Skeleton Loader

Skeleton Loader

Skeleton Loader

Skeleton Loader

Skeleton Loader