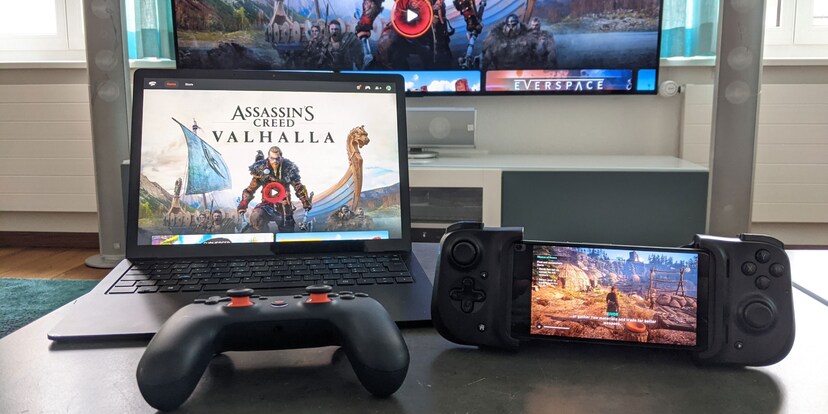 No special treatment, the same as everywhere else: Google Stadia is launching in Switzerland
Google's cloud gaming service is now available in Switzerland. While Stadia is still in its infancy, the technology is as exciting and promising as ever
One year after the international launch, Google Stadia will arrive in Switzerland. The cloud gaming service definitely needed the extra time. From the games on offer to the subscription options, a lot has improved. Having already tested Stadia in November 2019 using a VPN, it's now high time for a second hurdle-free look at Google's ambitious project
No real flat rate, but with a steadily improving offer
Unlike the initial launch, there are now two subscription options for Stadia. In the free model, all you need is a Google account and you're ready to go. Then you can stream games in up to 1080p at 60 fps. Aside from the free-to-play «Destiny 2», though, you'll have to buy all the games. There are now over 100 to choose from.
Stadia Pro costs CHF 11 per month after the one-month trial period. This currently includes 31 games that you can unlock directly. They're yours, as long as you're a Stadia Pro subscriber that is. New games are added at regular intervals. With a Pro subscription, games run at up to UHD resolution, at 60 fps, with HDR and 5.1 surround sound. There are also some generous discounts on game purchases.
Stadia offers a combination Netflix or Xbox Cloud Gaming style flat rate and traditional store experience, with games that must be purchased individually. One advantage over Microsoft's service is that games such as «Assassin's Creed Valhalla» or «Cyberpunk 2077» will be available at launch.
How and where to use Stadia?
Stadia can be used on almost any device with a Chrome browser. Laptops, PCs, smartphones or TVs via Chromecast Ultra are all available. If you know a work around, even gaming on an Android or Google TV is possible. The Stadia app isn't officially available on those, but you can sideload it manually. In a roundtable video chat, the Head of Business Development at Stadia, Samuel Peterson, also admitted that this was a bit absurd. But an update should follow.
You don't have to install anything apart from the app. In fact, in the browser, all you have to do is log into Stadia.com and you're good to go. You can choose whether you want to play with a mouse and keyboard, an Xbox controller or a smartphone with touch controls. However, this isn't recommended in most games, as they aren't specifically designed for smartphones and you'll just get your fingers tangled. The best way to play is with a Stadia controller. It's the only periphery that connects directly to the data centre via Wi-Fi and thus ensures the shortest input delay. In direct comparison with an Xbox controller, which sends commands first to my PC and then to Google's data centre, the Stadia controller is definitely more responsive.
Chromecast Ultra with a Stadia Controller is available in the Stadia Premiere Edition for CHF 119.99. Separately, the controller costs 79 francs.
Uniquely, Stadia allows you to move your session from your smartphone directly to your PC or TV without having to interrupt the game. To do this, simply start Stadia on a new device without ending the old session and continue playing at the same point.
To use the Stadia controller on a new device, all you have to do is hold down the Stadia button and then enter the key combination that appears. In my test, I was able to switch from a smartphone, to my PC or TV without any problems.
How's the performance?
My main criticism during the first VPN test was the performance. Input lag, poor image quality and sound delays were near constant. Thanks to the Swiss launch, I won't have to resort to proxies any longer. As expected, this does improve performance. You'll get an especially splendid result via Chromecast Ultra and a LAN cable. The image quality is at max, the input lag is the lowest it can be. It's also the only way I currently get HDR at all. An untrained eye is unlikely to notice the difference from a local game version on PC or console to Stadia. As long as you don't get artefacts and noise or can count the individual pixels when the connection is down, that is. However, this hardly ever happened with me (Wingo with 1 Gigabit/s).
Personally, I immediately noticed the graphical difference, especially in games that I also play in my spare time. The image is less sharp and not as detailed. I'll show you using «Assassin's Creed Valhalla». On Stadia everything looks slightly washed out, the colours are just a bit paler. Combine that with UHD resolution and less precise controls. The lag is unmistakably palpable. But if you don't have a locally stored version at hand, you might not even notice. You'll quickly get used to having to press the button a little sooner when countering or attacking. Otherwise, you can also limit the resolution to 1080p or 720p. Depending on the size of your display, you'll hardly notice the visual difference, but the control will be much more precise.
I noticed the differences most on PC via the Chrome browser. For one, it doesn't allow for HDR. The picture quality is also worse than on a TV using Chromecast. And when playing a shooter such as Destiny 2 with a mouse and keyboard, I'm hit with a double-whammy of mediocrity, both in gameplay and graphics. Even with UHD. Any delay is extremely noticeable when using a mouse. Unplayable.
On the other hand, my experience on smartphone or tablets was positive. Every game looks impressive, especially blockbuster titles such as Red Dead Redemption 2, Watch Dogs Legion or Metro Exodus. You don't experience such graphical opulence on the small screen every day – all thanks to Stadia. Input lag is also less of an issue here, because you're already approaching it with different expectations. The fact that the resolution is limited to 1080p also helps. It works well on my home Wi-Fi network, otherwise mobile data can often cause some tearing or a washed out image when the bit rate is reduced.
«Stream Connect» and other special features
Meanwhile, Google has also added a few new peculiarities that should've rightly been ready for launch a year ago. This includes «Stream Connect». This allows you to share your screen with other players in real time. Handy for having a looksie at what your friends are doing during multiplayer games, for example. Currently this only works in the following four games: The Division 2, Ghost Recon Breakpoint, The Crew 2, and Orcs Must Die! 3.
At the push of a Stadia controller button you can stream your game live on Youtube. Via «State Share Beta» your viewers can directly join the streamed game via a link. This currently only works in «Crayta».
With «Crowd Choice», Youtube viewers can determine gameplay by voting. You might be familiar with something similar from Twitch. «Crowd Choice» is available for «Baldur's Gate 3» and «Dead by Daylight».
Conclusion: still impressive, still under construction
Cloud gaming remains mystical: playing «Assassin's Creed Valhalla» or «Red Dead Redemption 2» without installation by simply opening your browser or pressing start on your smartphone. No updates, no expensive hardware, available anywhere, anytime. Now that's what I call comfort.
If you look at Stadia on its own merits, without direct comparison to PC or consoles, there's definitely potential for enjoyment. Image quality and control are sufficient if you don't have high demands. But while you usually only have to compromise on either good performance or good graphics when playing locally, Stadia lacks both. The streaming service loses out to any half-decent PC or console.
Cloud gaming is still in its infancy. Especially at UHD resolution, there are still too many limitations. At 1080p or even 720p, things run smoothly and even hectic games control pleasantly. And the quick switching back and forth between devices without having to interrupt your game is impressive. Now all the rest just has to be fixed.
I'm planning to do a head-to-head comparison between Stadia, Xbox Cloud Gaming, and Geforce Now next. If you don't want to miss that one, click «Follow author» below.
---

Being the game and gadget geek that I am, working at digitec and Galaxus makes me feel like a kid in a candy shop – but it does take its toll on my wallet. I enjoy tinkering with my PC in Tim Taylor fashion and talking about games on my podcast http://www.onemorelevel.ch. To satisfy my need for speed, I get on my full suspension mountain bike and set out to find some nice trails. My thirst for culture is quenched by deep conversations over a couple of cold ones at the mostly frustrating games of FC Winterthur.
---
---
---